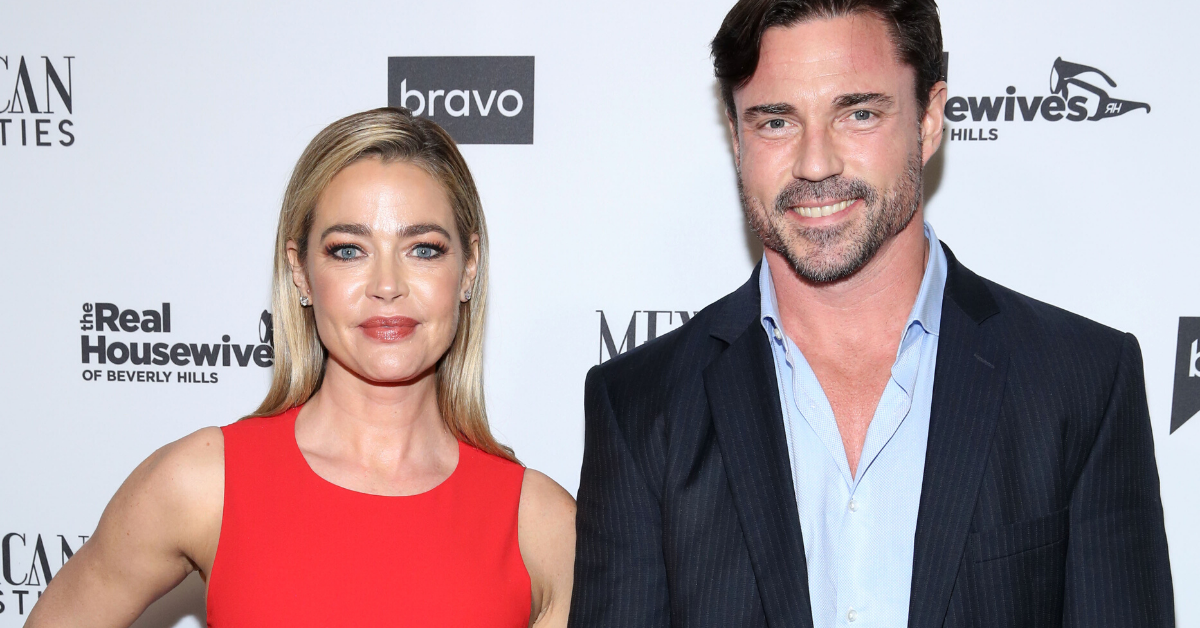 We Witnessed the Shotgun 'RHOBH' Wedding, but Is Denise Richards Still Married?
Season 10 of The Real Housewives of Beverly Hills on Bravo is upon us, and as expected, there's plenty of Hollywood Hills drama in store.
The actress and beauty Denise Richards (perhaps most famous for being playboy Charlie Sheen's ex-wife) is back for her second season. She first joined the reality-star-studded cast in 2019.
Article continues below advertisement
Denise was exceptionally calm, cool, and collected in Season 9, even in the face of her impromptu nuptials and widespread California wildfires threatening her Malibu home and family.
We definitely dug her vibe. But the world is wondering what's happening with her marriage now — and we have the answers.
So, is Denise Richards still married?
Yes, Denise is still married to Aaron Phypers — and apparently happily so. The couple tied the knot during filming in September 2018. She called him her soulmate in a recent Instagram post. The caption read "Everyday I fall more in ❤️ with this man & I'm so proud to be his wife."
Article continues below advertisement
And she's the leading lady of her husband's social media, too, with no shortage of romantic posts from Aaron himself. In a tribute post for her 49th birthday on February 17, he said: "Everyday with you is a blessing. You are the most incredible kind-hearted loving soul I have ever known."
It doesn't seem like there's trouble in paradise, but there are rumors swirling around their marriage that stem back to RHOBH.
Article continues below advertisement
There are rumors swirling that Denise Richards and Aaron Phypers have an open marriage.
According to gossip from notorious former Housewife Brandi Glanville, she and Denise had a physical relationship "for months" in 2019.
A source reportedly told the Daily Mail that Denise had told Brandi that she and Aaron had an open marriage. But they don't, and Brandi is furious, saying that Denise lied. Therein lies the big drama expected to unfold on Season 10 of the popular reality series.
Here's what Denise says about the drama.
Denise says the rumors aren't true. In response to a fan questioning her marriage, she replied, "We actually don't have an open marriage. Absolutely not. 100 [percent] monogamous to my husband."
But that's not all. She "has basically walked away from the show in the wake of the dramatic confrontation, which happened during filming for the new season while the women were on a trip to Rome in late November."
Article continues below advertisement
Meanwhile, Brandi took her anger to Twitter.
In true Brandi form, she had plenty to say on Twitter regarding the scandal surrounding her and Denise.
In one tweet from January 16, she says there's "a huge difference between hooking up with someone a couple of times and having a romantic relationship with someone," seeming to allude to the romantic months she spent with Denise.
In another immediately following, she says she's willing to take a lie detector test and wasn't the aggressor in the situation.
Article continues below advertisement
Whatever did or didn't happen, sources are saying it'll play out on camera this season. "There is a lot of she said, she said going on," adding, "it's going to be very dramatic."
Meanwhile, Aaron is sticking by his woman, and vice versa, continuing to show the love and devotion that fans have come to expect from the couple. Stay tuned!