The Real Housewives of Beverly Hills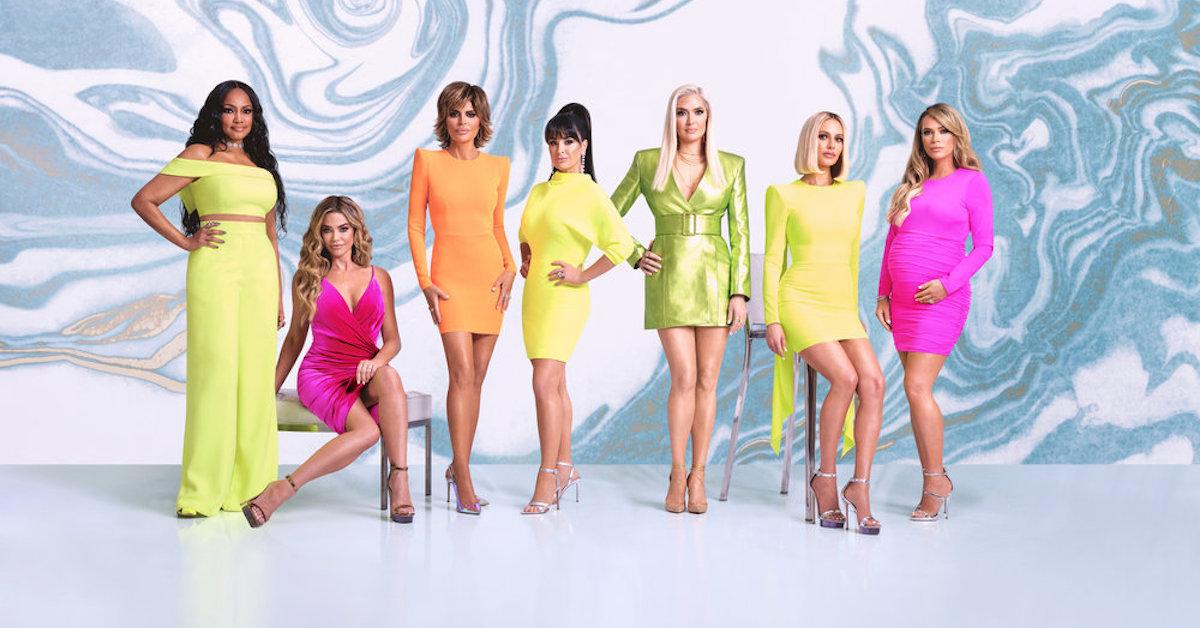 Like the five Housewives franchises before it (Orange County, Atlanta, New York, D.C., and New Jersey), The Real Housewives of Beverly Hills centers around a group of wealthy women who lead luxurious lives.
Unlike the other franchises, RHOBH is considered to be the most glamorous, and the cast members have higher net worths than those in other cities.
The show debuted on Bravo in 2010, and the original cast included Kyle Richards, Lisa Vanderpump, Taylor Armstrong, Adrienne Maloof, Camille Grammer, and Kim Richards. It's since spurred one spinoff, Vanderpump Rules, which focuses on the employees at Lisa Vanderpump's restaurant, SUR.
The show is currently in its 10th season.
Who is part of the 'RHOBH' cast?
Kyle Richards (Season 1-Present) — Kyle is the only remaining O.G. on the show, and she's long been a fan favorite. The former child actress (who is best known for starring alongside Jamie Lee Curtis in Halloween) is married to real estate agent Mauricio Umansky. In addition to being a mom of four daughters, the reality star has a clothing line called Kyle x Shahida.
Lisa Rinna (Season 5-Present) — Known mainly by the cast as Rinna (even though the original Lisa, Lisa Vanderpump, is no longer on the show), Lisa is now the second longest-running housewife on the show. Her past notable storylines have included her feud over the bunny stuffed animal with Kim Richards, and the aspiring modeling careers of her daughters, Amelia Gray and Delilah Belle. The actress is married to Harry Hamlin, who she exclusively refers to by his full name.
Erika Girardi (Season 6-Present) — Unlike most of her co-stars, Erika is focused on music. Her stage persona is known as Erika Jayne, and she's created dance hits including "Painkillr" and "XXPEN$IVE." On Season 10 of the show, Erika is chronicling her journey to play Roxie Hart in the Broadway edition of Chicago. She's married to high power attorney Tom Girardi, and she has an adult son from a previous marriage. Her son, Tommy Zizzo, is a longtime member of the L.A.P.D. We can also thank Erika for being the reason why the other wives now bring glam squads on trips.
Dorit Kemsley (Season 7-Present) — While her British-esque accent threw some of her co-stars off in Season 7 (mainly because she's from Connecticut), Dorit has cemented her status as an icon on the show following the demise of her friendship with LVP. As the fashion queen of the group, Dorit has a tendency to make her co-stars wait for her. She's the creator of Beverly Beach, and she's married to P.K. Kemsley. The two share son Jagger and daughter Phoenix together.
Teddi Mellencamp (Season 8- Present) — The accountability coach's biggest contribution to date on the show is being the one to tell Denise Richards about the affair allegations stemming from Brandi Glanville. As the daughter of singer John Cougar Mellencamp, Teddi has often had to deal with comparisons to him. On Season 10, Teddi is pregnant with her third child. Her daughter, Dove, was born in February of 2020, and she joined siblings Slate and Cruz. Teddi is married to Edwin Arroyave, who has another daughter from a previous relationship.
Denise Richards (Season 9-Present)— The former Bond girl and ex-wife of Charlie Sheen showed her wedding to Aaron Phypers on Season 9, and she quickly became a viewer favorite for her relaxed attitude (which helped earn her a Ragamuffin comment from Kyle). In Season 10, Denise has dealt with affair rumors, allegations that she's being too protective over her daughters, and for over-using the phrase "Bravo, Bravo, Bravo." Denise has three daughters, Sami, Lola, and Eloise.
Garcelle Beauvais (Season 10-Present) — Garcelle made history when she joined the show as the first Black woman to appear on RHOBH. The mom of three sons (Jax, Jaid, and Oliver) has been candid about her divorce from Mike Nilon due to infidelity on his part, and how she struggles to balance her acting career with her obligations to the show.
Sutton Stracke (Season 10-Present)— Sutton is technically a "friend" of the RHOBH cast, but she's attended all of the cast events on Season 10. The Southern belle is a mom of three adults, though her kids do not appear on camera, and she owns a store called The Sutton Concept. Known for her couture clothing, Sutton may steal the fashionista crown from Dorit — but not without a fight.
Aside from the current cast and the aforementioned Season 1 group, the past housewives who no longer appear on the show include Brandi Glanville, Yolanda Hadid, Carlton Gebbia, Joyce Giraud de Ohoven, Eileen Davidson, and Kathryn Edwards.
Is RHOBH scripted?
Considering how perfect some of the jabs are on RHOBH (like "now we said it," and "the morally corrupt Faye Resnick"), it's hard to imagine that the series isn't scripted. The cast members have assured viewers that the show is entirely real, whether they want to believe it or not.
"I was surprised that it is actually not scripted at all. It's real reality!" Denise said when she appeared on Watch What Happens Live.
While the show is real, there are some ways in which the cast tries to cut corners for editing purposes. In Season 10, an inside secret was revealed when Denise kept repeating "Bravo, Bravo, Bravo" in order for the footage not to be used. Kyle later said that the cast would use the phrase when they were fixing their hair or makeup, so they would not look anything less than camera-ready on the show.
How can you watch RHOBH?
New episodes of the show air on Wednesdays at 9 p.m. ET on Bravo. Viewers can catch up on old episodes through the Bravo app, on BravoTV.com, or with a Hulu subscription.
How much does the cast of RHOBH get paid?
The cast members do not get paid the same amount, and the ones who have been on the show the longest generally get the heftiest check. But, for RHOBH, Denise Richards reportedly signed a four-year contract for $4 million, which is the most out of any Housewife on any franchise ever.
The last report for Kyle's salary was in 2019, and it stated that she made $270,000 per season. It's estimated that Dorit and Teddi make around $100,000.
It has been speculated that Erika makes $500,000 per season and that Lisa Rinna makes just under that at $450,000. It's unclear what Garcelle was able to negotiate for her contract.
Latest The Real Housewives of Beverly Hills News and Updates