This Scene from 'Scrubs' Explains Why It's So Important to Wash Your Hands
One poignant scene from 'Scrubs' explains just why hand-washing is so effective when it comes to disease.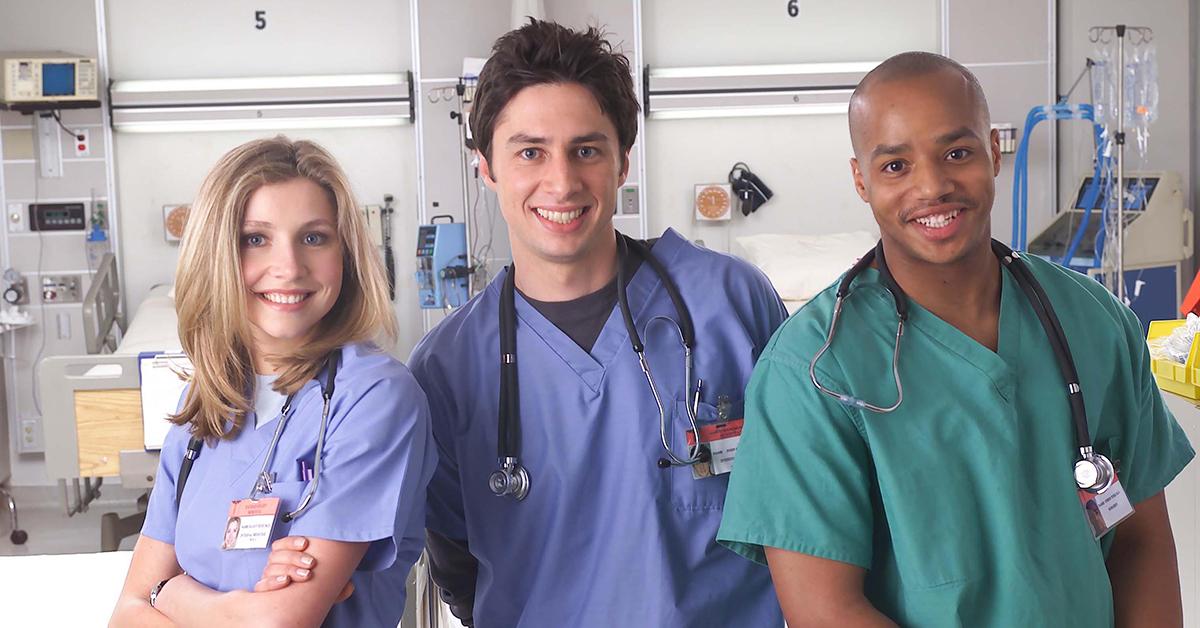 When people ask me what my favorite TV show is (which has definitely happened more since we've all been on lockdown), I always say — without a moment of hesitation — Scrubs. It's easy for me to explain why: Not only is it laugh-out-loud funny (honestly an impressive feat for me personally), but it's also appropriately poignant, emotional, and dramatic.
Article continues below advertisement
Plus, I was always told during its live run that real doctors and nurses said it was the most realistic depiction of life in a hospital, so after countless binges of the entire series, I also feel confident saying I have a pretty sufficient grip on medicine. (I would double check this with my friends who work in healthcare, but they're all on the frontlines in the battle against the coronavirus outbreak, like true badasses.)
All that being said, there probably isn't a single episode that proves how Scrubs can be funny, moving, and educational all at once than "My Cabbage" (Season 5, Episode 12); for those of you who haven't watched the series on loop for the past six or so years, allow me to refresh your memory: Mrs. Wilk, one of Sacred Heart's regular, beloved patients, is ready to be discharged after another lengthy stay at the hospital. .
Article continues below advertisement
As she prepares to leave, J.D. has to tell his favorite intern, Jason "Cabbage" Cabbagio, that he isn't fit to be a doctor and dismisses him; before he leaves Sacred Heart for good, Cabbage picks up a used glove, throws it away (reminder: littering or not disposing your used gloves is an environmental and public health danger), and then goes to say his goodbye to Mrs. Wilk, without properly sanitizing his hands
Article continues below advertisement
As Dr. Kelso had already explained earlier in the episode, the No. 1 cause of death in their hospital is infection — and those infections can be spread pretty easily, without even realizing. (For the sake of full disclosure, sepsis is currently the leading cause of death in hospitals.)
Article continues below advertisement
"Do you know the No. 1 cause of death in the hospital? Infection. And do you know how quickly infection spreads in a hospital?" Dr. Kelso asks Dr. Cox (rhetorically, of course). "Look, infection can start with a simple sneeze, and then a handshake, perhaps an accidental collision, then a simple touch on the shoulder — and just like that, you have a patient in trouble."
Of course, this is especially true with the novel coronavirus — and not just in hospitals; since COVID-19 is still a new disease, experts are still learning how it spreads, but the CDC's current understanding that it is spread from person-to-person "through respiratory droplets produced when an infected person coughs or sneezes."
This is why it's so important to keep staying home and social distance — to keep from not only exposing yourself to germs but also spreading the germs if you're an asymptomatic carrier — and wash your hands!
Article continues below advertisement
Per the recommendations of both the CDC and WHO, the best thing you can do to protect yourself against the virus is wash your hands, with soap and water, for at least 20 seconds (if you're on the go and don't have access to soap and water, hand sanitizer with at least 60 percent alcohol content will also do). It's especially important to wash your hands after you go in a public place, after you sneeze, cough, or blow your nose, and before you eat.
Article continues below advertisement
And if washing your hands just isn't exciting enough (and, hey, call me crazy — but I think potentially protecting your own health and the lives of others is amazing), you can always channel your inner Turk and pretend you're scrubbing in for surgery.
Alternatively, make the 20 seconds you need to wash your hands thoroughly with the following songs:
"Steak Night" (to be sung twice)
"We're going to steak night;
We're going to eat it right;
Steak is such a treat;
It is the world's best meat!"
Article continues below advertisement
"Guy Love" (chorus)
"And sometimes it's easier to hide,
Than explain our guy love, that's all it is;
Guy love, he's mine, I'm his, There's nothing gay about it in our eyes.
You ask me 'bout this thing we share/And he tenderly replies,
It's guy love, between two guys."
Stay safe out there!
The best way to prevent contracting or spreading the coronavirus is with thorough hand washing and social distancing. If you feel you may be experiencing symptoms of the coronavirus, which include persistent cough (usually dry), fever, shortness of breath, and fatigue, please call your doctor before going to get tested. For comprehensive resources and updates, visit the CDC website. If you are experiencing anxiety about the virus, seek out mental health support from your provider or visit NAMI.org.