Server Calls Guy "Broke" for No Tip, Gets Revenge by Tipping Kitchen Staff Instead
IHOP customer gets revenge against server who called him "broke" for not tipping, comes back to give cash to entire kitchen staff.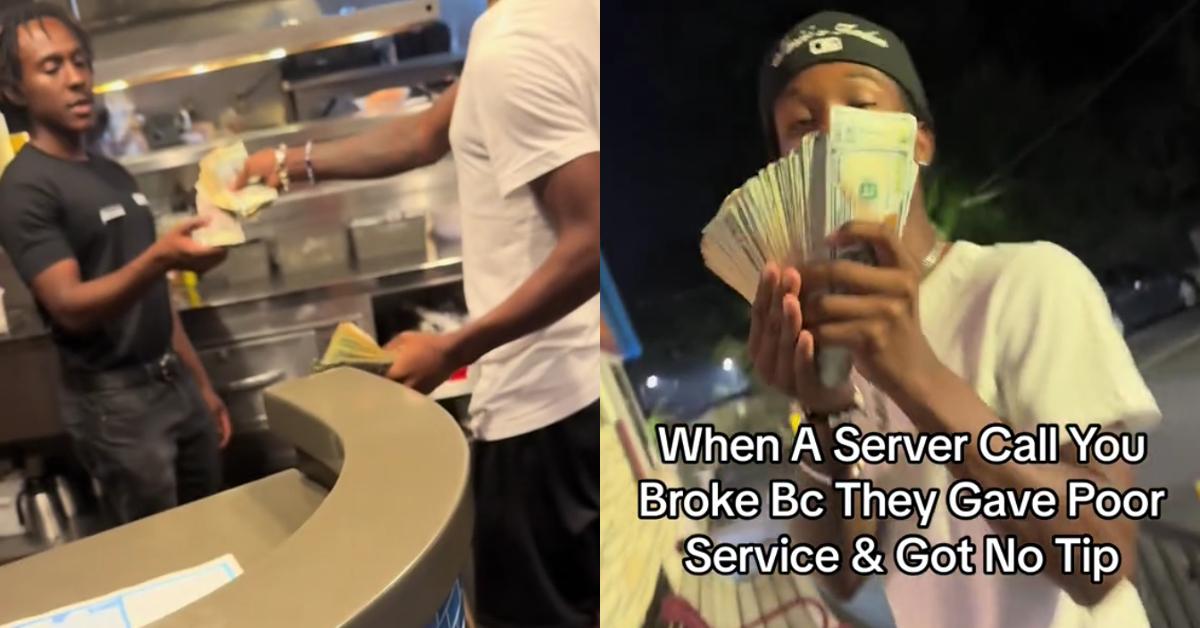 An IHOP customer who was seemingly offended by a server's comment about him being "broke" after he didn't tip staff for their poor service.
So TikToker (@ilikefineshii) decided to flaunt his money while waltzing back into the establishment to tip the Kitchen staff, pretty much everyone but the server who called him "broke."
Article continues below advertisement
"When a server call you broke bc they gave poor service & got no tip," a text overlay in the video reads as the TikToker walks into the IHOP back kitchen with a stack of cash in their hands. They pass off several bills to the folks who prepared their meals, driving home the idea that the reason they didn't initially tip wasn't because they didn't have money, but because they weren't satisfied with the quality of service they received.
He hands over the stacks of cash to a woman behind the kitchen counter, who laughs as she receives her gratuity. The duo exit the IHOP with the man dishing out the cash flashing a stack of money in front of the camera"
Article continues below advertisement
Although he tipped the kitchen staff, it doesn't seem like he did so because he particularly enjoyed his meal. Instead, it seemed like it had more to do with the fact that he wanted to clap back at the server who said that he was broke after he didn't leave a tip for their less-than-stellar customer care: "Food was nasty asf," the TikToker penned in a caption for the post.
Article continues below advertisement
Commenters left a variety of different responses to the IHOP customer's video: "I'm this petty," one person wrote, seemingly approving of the way the patron handled the situation.
"I've def done this exact thing oml," another person remarked.
The video also appears to touch upon a recurring trend of social media users commenting on tipping culture in the United States.
Article continues below advertisement

There are throngs of viral clips uploaded by concerned diners and shoppers who've called into question when tipping is necessary, if it ever is.
Article continues below advertisement
Prevailing arguments that commonly crop up in the comments section of these videos can be classified into distinct categories. There are some individuals who believe that tipping is always required, and not just in full-service restaurants.
Adding an extra dollar or two to a Starbucks order, for instance, in order to help beef up the bank accounts of baristas who may be earning less than you is a great way to ensure that you compliment them for their service and the time they took into making your beverage.
Article continues below advertisement

However, there are some folks who don't see why folks who receive a set hourly wage, like a barista or cafe worker, should be given gratuity for their services, especially if "all they're doing" is grabbing you a bagel or a muffin off of a shelf. These types of tip supporters are those who think that full-service jobs, like being a server in a restaurant who receives an amortized salary that factors in gratuities, should be tipped.
Article continues below advertisement
And then there are those who believe that servers shouldn't always expect a 20% gratuity under every and all circumstances and that they should only be tipped a specific amount based on the service that they give to their customers, which is the gratuity philosophy it seems that the TikToker who decided to dole out money to the IHOP's kitchen staff has adopted.
And then there are those who believe that tipping someone is never necessary because the payment structure of gratuities at restaurants are inherently flawed and shouldn't be endorsed by customers, but they will eat at restaurants without leaving a tip regardless.
Article continues below advertisement

A common rejoinder to these individuals who are staunchly anti-tipping is that the employees they aren't giving gratuities to are aware of the job that they took and knew that this could be an occupational hazard and that if they don't like it, then they could find another line of work.
Article continues below advertisement

What do you think about the "tipping wars?" Are there some industries, like coffee shops and self-service kiosks that shouldn't dare ask patrons to put in a tip? Or do you believe that tipping is always a good thing because any type of service job is a tough gig, or are you team no-tip?