Hilarious Meme Shows the Real Villains of Your Favorite TV Shows May Not Be Who You Thought
By Robin Zlotnick

Updated
Some of the villains from your favorite TV shows and movies might not be the real villains, and a new, hilarious meme is here to share these often hidden-until-now truths. Occasionally, a show will paint one character as a villain, but time and wisdom will reveal that the real villain was someone else all along. Here are our favorite show villain vs. real villain examples out there.
Article continues below advertisement
'Game of Thrones'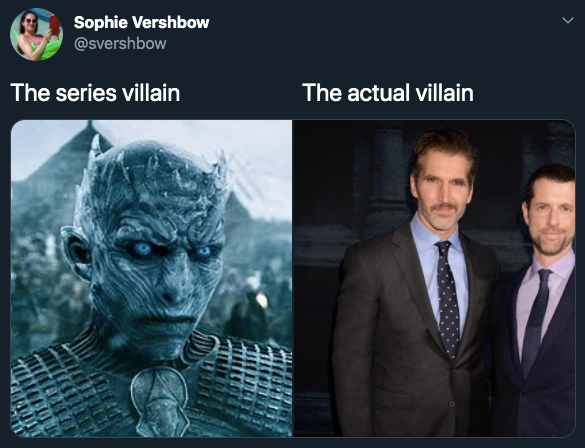 If you slogged through the last season of Game of Thrones with the rest of us, it has to be clear to you that the Night King was just doing what he thought was best for his people. Showrunners David Benioff and D.B. Weiss on the other hand, well, they ruined everything.
Article continues below advertisement
'Scream 3'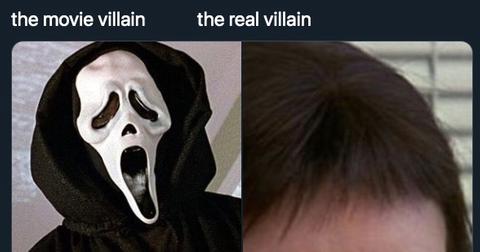 I know it was the year 2000, but there is absolutely no excuse for Courteney Cox's baby bangs in Scream 3. Ghostface may pop up out of nowhere with a knife and stab you to death, but those baby bangs will haunt your nightmares forever.
Article continues below advertisement
'Home Alone 2: Lost in New York'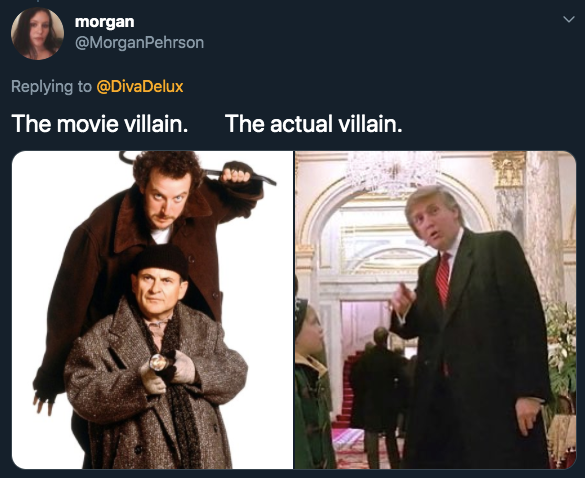 Article continues below advertisement
'The Devil Wears Prada'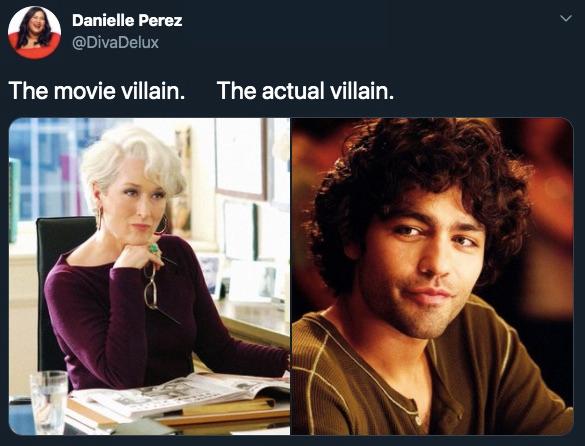 It seems that every few months, the internet rediscovers that the "true" villain of The Devil Wears Prada isn't Miranda Priestly, Andy's overbearing, abusive boss, but her boyfriend who wants her to stop following her dreams because she seems extremely unhappy all the time and is changing her entire self right before his eyes.
Article continues below advertisement
In case you can't tell, I have a teensy bit of sympathy for the guy. I think there's nuance there, and there's probably a middle ground he could have struck in still supporting her, but if you think Miranda isn't also a villain, you're living in a fantasy world. Which brings me to the next one...
'The Devil Wears Prada' (Again!)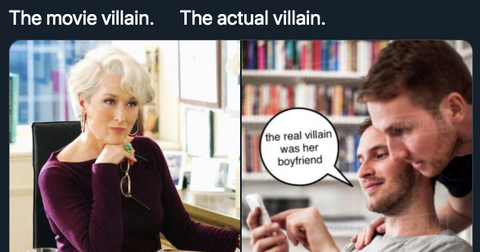 It's gotten to the point where people who "ACTUALLY" other people about the villain of The Devil Wears Prada are the actual villains of the movie. Let's all just step away from this one for a while and move on.
Article continues below advertisement
'Gilmore Girls'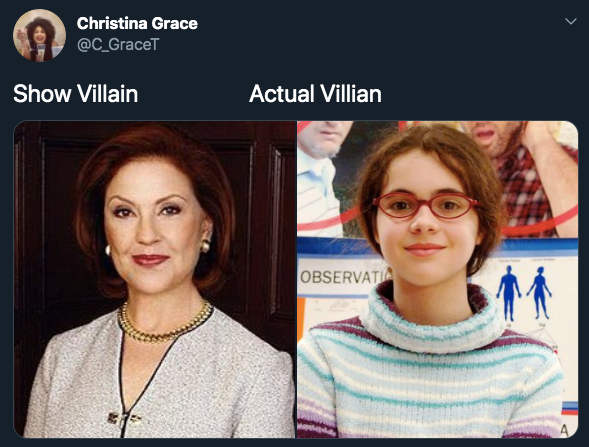 In recent rewatchings, it becomes clear that Emily Gilmore isn't the heartless villain we all thought she was when Gilmore Girls was on air. Sure, she's racist and stubborn and has the potential for cruelty, but she's also strong and ultimately cares a lot about her daughter and granddaughter. Luke's long-lost daughter April Nardini, on the other hand, has in time been branded an evil force, one that completely ruined the show.
Article continues below advertisement
But I'm going to lay down some truth right now. Are you ready for this? You don't hate April Nardini. You hate what April did to Luke and Lorelai. And that's no one's fault but Luke's and Lorelai's. April is innocent. Justice for April Nardini!
'Breaking Bad'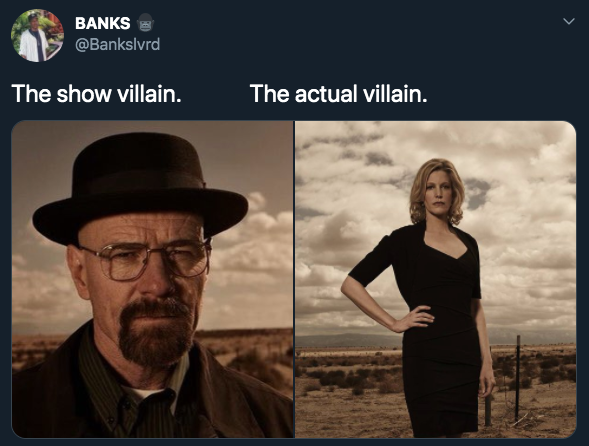 I share this one not because I agree with it but because it's so wildly out of touch. Skyler White's husband lied to her and lived a double life as a drug lord and people got mad because she was upset??? Actress Anna Gunn got extreme, unwarranted backlash for the Skyler character during the run of the show. If you want to make this one accurate, reverse it! What Walter White did to his family is unforgivable.
Article continues below advertisement
'Breaking Bad' (Again!)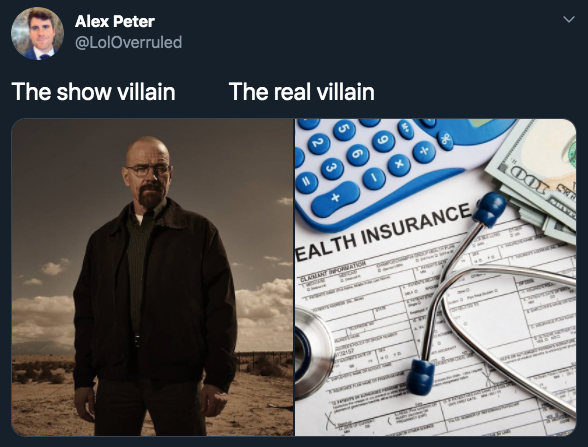 Of course, a show like Breaking Bad would have never existed if the United States health care system wasn't so broken from the inside out. The whole premise of the show — a chemistry teacher starts cooking meth to make sure his family isn't driven into insane debt because of his illness — would be moot in a country with universal health care.
Article continues below advertisement
'Us'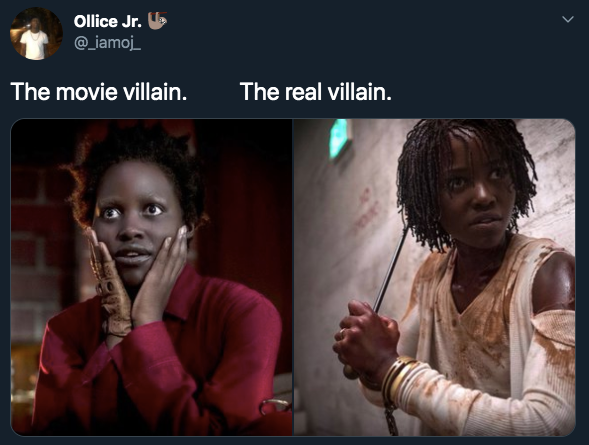 Finally, spoilers for Us ahead! The Tethered are painted as the movie's villains. After all, they come up from the pipes to terrorize and murder the families that look just like them.
Article continues below advertisement
But in the final moments of the movie, you realize that when Adelaide faced her Tethered years ago, as a child, and her Tethered switched places with her! The "real" Adelaide has been living underground for almost her entire life, croaking and running into walls. Of course, the true villains in Us, if you look a little deeper, are the American class system, capitalism, privilege, and racism!