Woman Discovers She's "Single" From Boyfriend's FB Post Looking for a Room
A woman was shocked to find her boyfriend's request for a roommate on Facebook, which makes no mention of her or their children.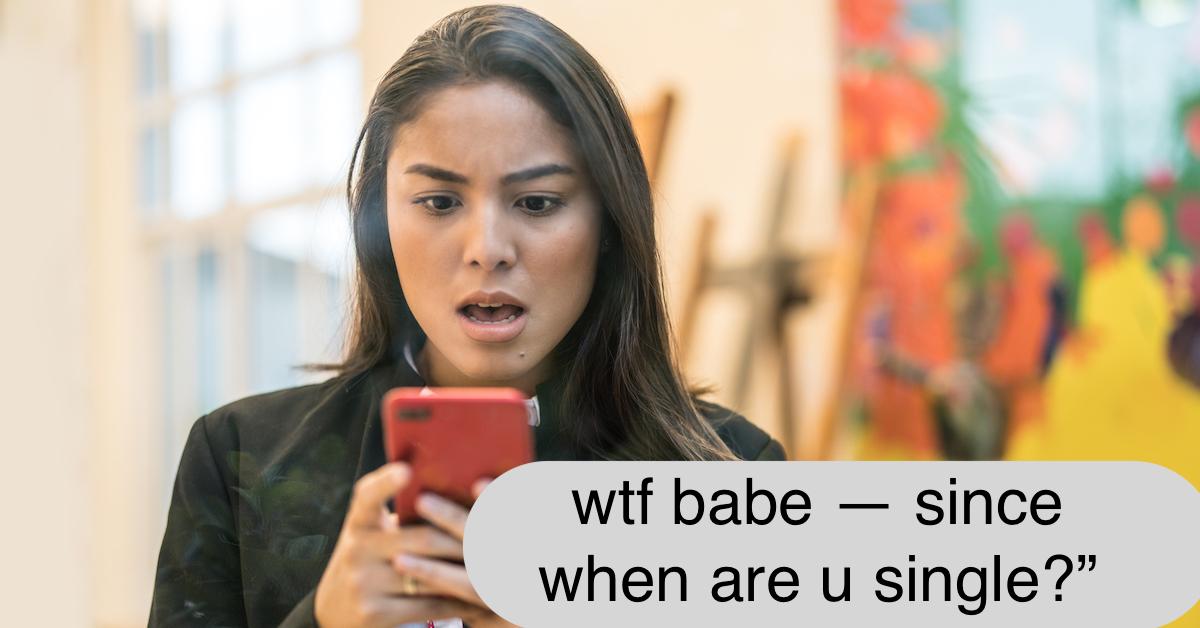 An Australian woman couldn't believe her eyes when she came upon a Facebook post from her boyfriend asking for a room.
Article continues below advertisement
But when it comes to matters of the heart, the temptation to go about things in a "cowardly" way is very, very real. It's easy to want to exit a situation as painlessly as possible without having to ever confront the nasty bits of your own personality or someone's anger.
There's a problem with going about breakups this way, however. The first is that it leaves the other person in a state of limbo.
They don't know what happened or why you decided to up and leave without so much as a goodbye. And if it's a romantic partner you share kids with, that only further complicates matters. Without a plan for how you'll raise your children in separate households, there are a lot of tense, emotional issues you'll have to reconcile all on your own.
But this dude didn't seem to be concerned with that at all when he made the following post.
Article continues below advertisement
Posted to the Adelaide Rental Property Group Facebook page, the man's request specified that he was looking for a room for up to $200 a week, which includes utilities. He mentioned that he has great references and works full-time. All very run-of-the-mill room request stuff. But then he detailed that he was single, which was news to his girlfriend.
Article continues below advertisement
This gentleman must've been either very dense, or hopeful that his (ex) girlfriend wouldn't see the post, because a request like that posted to a public platform is bound to be spotted sooner or later.
It didn't take long for her to see his request online. After probably picking her heart and jaw up off the floor, she let him have it in the comments section of the posting itself.
Article continues below advertisement
The conversation was screencapped and put up on an Adelaide Instagram account that highlights some of the more unsavory conversations and postings relevant to goings on in the South Australian city.
Some couldn't believe anyone would be that callous, while others thought it was kinda trashy of the jilted girlfriend to air their "dirty laundry" in the open.
Article continues below advertisement
Giulia Simolo on Bolde wrote about the psychological effects of being dumped on Facebook, and they aren't pretty. In addition to feeling "humiliated" and "blindsided" by the whole thing, that sadness and shock soon turns to feelings of self-loathing. She didn't call out her ex-bf online like our friend above did. However, she did try reaching out to him, but was ultimately ignored. Sounds like she's better off without him though, honestly.
Article continues below advertisement
As it turns out, the Instagram account that screencapped the online room rental drama is a treasure trove of cringe-inducing, local posts. You'll be happy to know that if you're in the Adelaide area and you want a pair of gently used blue jeans, you don't really need cash. All you need is a "g" of blow and you'll be strutting around the town in style! What a bargain!
Article continues below advertisement
The same goes for this "stain-free" fitted sheet. I guess the only question I'd have for the seller is if there were ever any stains to begin with, or if they were removed? The fact that it was even mentioned in the first place, much like the woman's boyfriend above who had to specify that he's "drug and alcohol" free, should immediately raise a red flag.
The best thing about the internet is you can literally get free course materials from MIT online... or spend your time bashing your ex in a public arena. Isn't the World Wide Web a truly magical place?