People Are Furious at "Smug" Disney Employee Who Ruined Couple's Proposal in Viral Video
A Disneyland Paris employee received a ton of flak for the way he handled a couple's proposal at the Most Magical Place on Earth.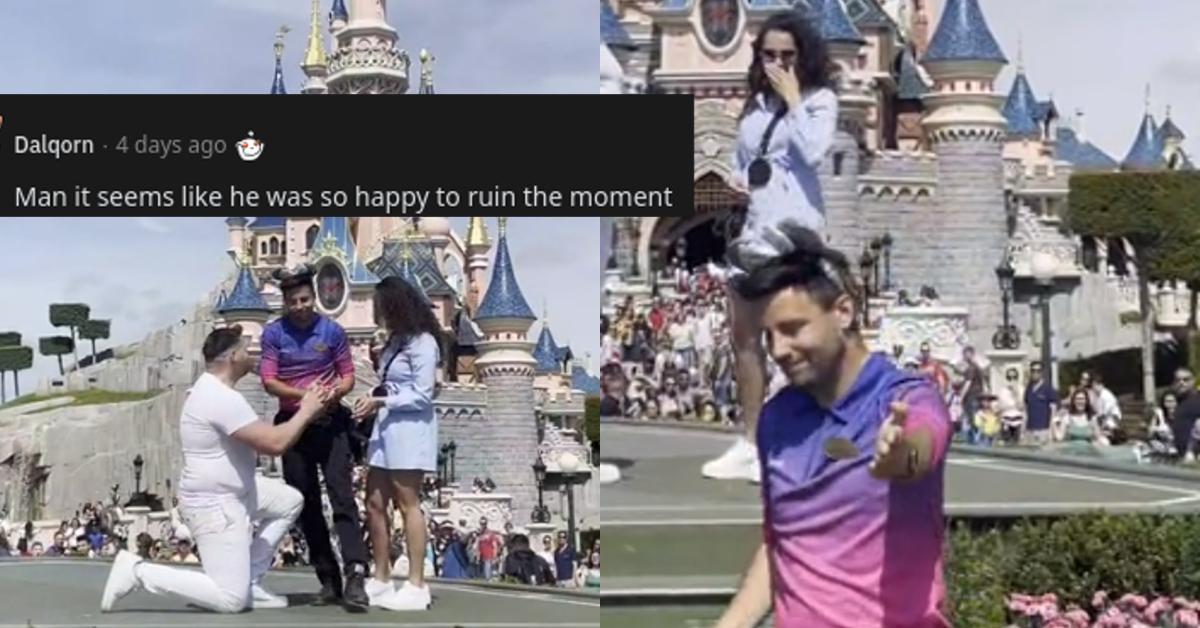 There's a stereotype that Parisians are extremely particular about proper etiquette and that they will go out of their way to insult and/or scold foreigners who dare to transgress these rules of propriety. Or dare not even attempt to speak French. Or if they do speak French, then they will ridicule the way that they speak it. They have very strong opinions on cuisine and are overall "snooty."
Article continues below advertisement
However, there are tons of personal accounts from non-French nationals who will vehemently deny any truth to this stereotype. There are many tourists who've visited Paris and loved every second of their experience there.
Except for this one couple who dealt with an, unfortunately, "smug" Disneyland Paris employee who ruined their magical moment at their park.
It's no secret that there are tons and tons of people who propose to their significant other at Disney parks. Doing so while in Paris is like a double dose of romanticism, which is something that this Redditor's best friend and his (now) fiance got to experience. But it wasn't without its hiccups. And by hiccups, I mean an employee of the park snatching the ring out of his best friend's hand to find a "better" spot to propose.
Article continues below advertisement
Newsweek reported that a spokesperson for Disney stated the incident occurred right in front of the park's castle, which is modeled after the one in Sleeping Beauty.
In the video, a couple can be seen standing in front of the castle, which is centered behind them. The man gets down on one knee, as the woman covers her mouth in surprise.
Article continues below advertisement

A crowd of people behind the couple begin cheering from the moment the man gets down on one knee, but as he's proposing, a Disney parks worker runs out between the two of them, snatches the ring, smiles, and then signals to another area in an attempt to usher them off of the elevated platform.
Article continues below advertisement

The worker then appears to be shaking his head "no" something said to him by someone off-camera. The cheers from the crowd turn to boos, as the man points to an employee behind the Disney parks worker, "she said yes," he tells the man who snatched the ring.
Article continues below advertisement

"Yes, that's great but over here will be even better," the worker says.
Redditors who saw the post were absolutely miffed by the response. Some questioned whether or not the couple cut a line to go up on the platform, but OP said that they got permission beforehand, something supported by the man in the video who mentioned to the man there was a woman who said it was OK.
Article continues below advertisement

"The woman gave him permission, [then] this POS ran up to him and [grabbed] the ring," OP said.
Newsweek also reported that the Disney rep said, "We regret how this was handled. We have apologized to the couple involved and offered to make it right."
Article continues below advertisement

There are many guidelines that Disney employees are expected to follow, including some perks like the ability to hand out "Magic Moments" to Disney guests that could range from anything to free ice cream, to a fast pass for a ride, to merchandise or arranging a special visit with their favorite character.
Article continues below advertisement

These "magic moments" are based on a belief that all park employees are there to facilitate the best guest experience possible. Many commenters responded to the Reddit video that this was a clear instance of a park employee doing the exact opposite of that.