SNEAKO Is Once Again Embroiled in Controversy After Meeting Young Misogynistic Fans
Right-wing personality SNEAKO was confronted by his own beliefs when young fans approached him spewing misogynist rhetoric. Now he's buried in controversy.
The Gist:
SNEAKO is a right wing social media influencer.
He was recently confronted by young fans shouting out misogynistic and transphobic things.
An apology video was posted to Twitter, but he didn't mean it.
Article continues below advertisement
People like Russell Brand and YouTube influencer SNEAKO have one significant thing in common: They used to present themselves as thoughtful artists, depending on what you like, but now traffic mostly in the online manosphere. Allegations of rape and sexual assault were lodged against Brand in September 2023, but he has plenty of supporters after cultivating a distrust in the media over the course of several years. He claims to peddle the truth, but perhaps not his own.
SNEAKO has spent most of his life creating content on YouTube. As a kid, he urged his young fans to listen and think critically, but all of that changed after a fallout between SNEAKO and his friend-turned-employer, MrBeast.
Since then, he has gained followers the old fashioned way, using hate. Recently he stepped into some controversy after a few young fans excitedly echoed his own misogynistic and transphobic language upon meeting him.
Article continues below advertisement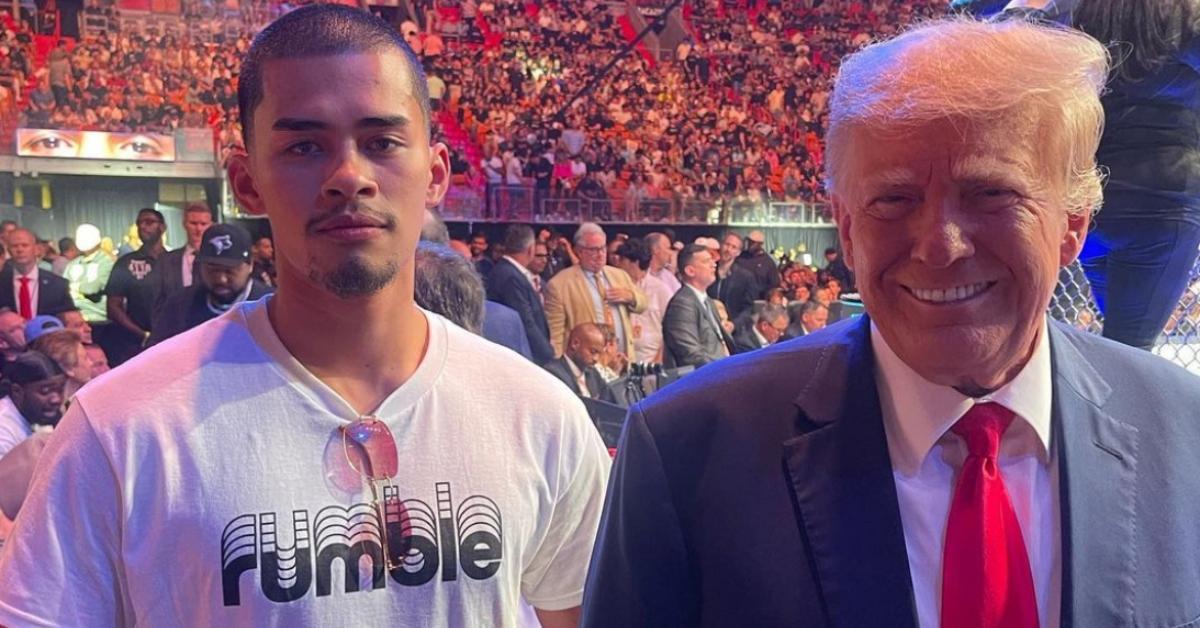 The SNEAKO controversy is no laughing matter.
For a moment, the world mistakenly thought SNEAKO saw the error of his ways when he encountered three young fans in the wild. The boys, who look to be about 10 or 11 years-old, excitedly asked SNEAKO for a selfie. He obliged and as he began taking pictures, one excitedly began scream, "F--- the women! F--- the women," to a seemingly shocked SNEAKO.
Article continues below advertisement
"No, no, no, wait, we love women," he says to the misogynists-in-training. The kids then countered with, "But not like, 'transgenders.'" Based on everything SNEAKO has said publicly, he should have been thrilled by this horrifying follow in his bigoted footsteps. However, he tried to steer the kids in a different direction.
Article continues below advertisement
SNEAKO attempted to tell the children that "we love everyone," but things took an even darker turn. "All gays should die," screamed one of the deeply misled youth. With a haunted look on his face, SNEAKO turned to the phone that recorded the entire exchange and asked, "What have I done?" This could be a canon moment for the man who once preached self-reflection but alas, he doubled down on his vitriol.
SNEAKO released an apology video with a twist.
On Sept. 19, 2023, SNEAKO tweeted out a video response to the viral TikTok where he appears to very nearly regret his actions. He begins by saying the "liberals were right" and that "YouTube was right to ban him." Honestly, he went in too hard up top. It's clear he was not being serious. He goes on to say that he just didn't see the impact he was making on the young people who followed him.
Article continues below advertisement
When SNEAKO alluded to the insane Colleen Ballinger apology video, by wishing he had a ukulele, it was clear he learned nothing. Fake crying is followed by the mask slowly slipping off. "I think we can deeply apologize for being the most racist, homophobic, transphobic, misogynist, not giving a f---, 'schizo' stream on the internet."
Article continues below advertisement
He then pulls out a variation of locker room talk, but swaps out the locker room for Call of Duty. According to SNEAKO, this is how middle schoolers talk. Specifically, this is how they speak to each other while playing games like Call of Duty. Even though the kids very clearly ran up to SNEAKO in order to shout things to him that they heard from him, he is not responsible for their hate speech. It's video games.
SNEAKO then says that he loves everyone and has never said he hates a group of people. This is after he told a story about being 12 years-old and seeing two men kiss in a grocery store, which caused him to point at them while yelling GROSS. He believes kids just inherently know that's wrong.
Article continues below advertisement
According to Parenting Science, babies are born with the ability to recognize a parent's voice, certain melodies, some language, and a "rudimentary sense of number or quantity." We didn't see anything about believing gay people are gross, but maybe that study hasn't been conducted yet.
If you or someone you know is a member of the gay, lesbian, bisexual, transgender, queer, and questioning community and need support, the LGBT National Help Center provides free and confidential resources.