The Tate Brothers Tell Adin Ross He Wouldn't Last a Day in Prison — So Now He's Planning a Jail Stream
The controversial figures spoke recently, and now Adin Ross is planning a massive jail stream to prove Tate wrong.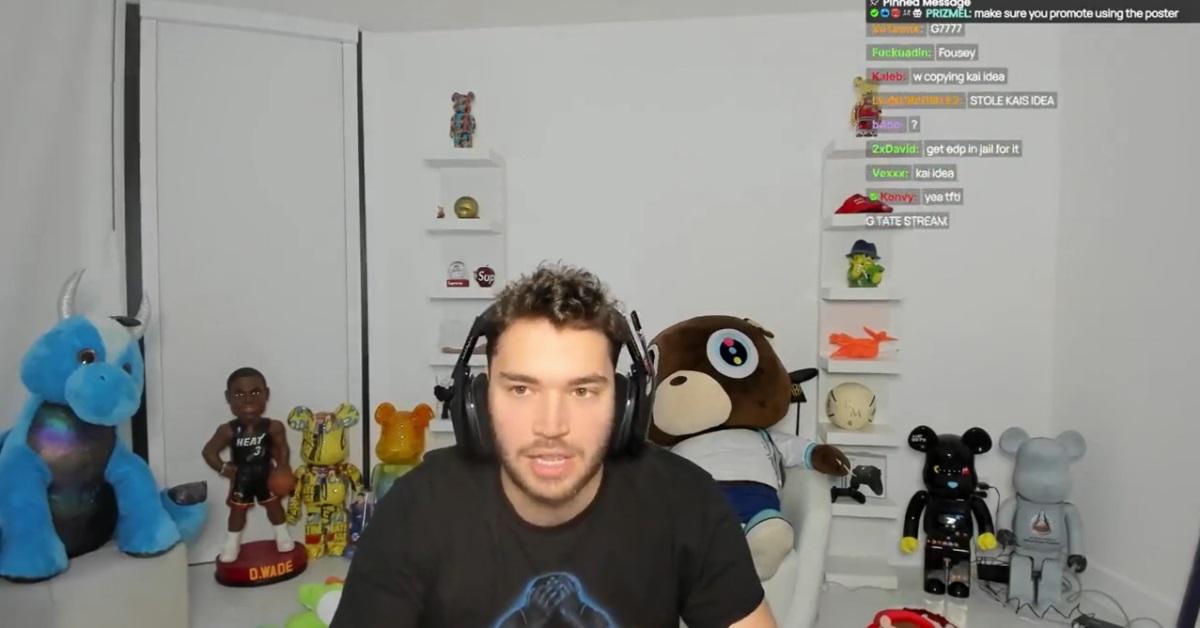 The gist:
Adin Ross recently talked with Andrew and Tristan Tate, and they said he wouldn't last 24 hours in jail.
To prove them wrong, Adin is building a prison in a warehouse and will stream from the location.
Fans think he is stealing the idea from Kai Cenat, but Adin says he was "inspired" by the Tates.
Article continues below advertisement
Adin Ross is the biggest streamer on Kick, and it sounds like he has big plans for a future stream. After talking with Andrew Tate and Tristan Tate, both of whom are currently under investigation for sexual exploitation and human trafficking, Adin has constructed a massive jail inside a warehouse and plans to stream from the location along with a few other creators.
But why is Adin planning a jail stream? And did he steal the ideal from Kai Cenat?
Adin Ross is planning a jail stream to prove Andrew Tate wrong.
During Adin's recent conversation with the Tates, they told Adin that he wouldn't last more than 24 hours in jail. Naturally, Adin is determined to prove Andrew wrong — but instead of going to a real jail, he's constructed a fake one inside a warehouse.
"On Wednesday, we've booked out a warehouse, we built out a whole jail," said Adin during a recent stream "We [have] a couple of other people as well."
Other people involved in the stream will include Sneako, Cheesur, and ShnaggyHose.
Article continues below advertisement
It's a bizarre concept for a stream, but it's far from the first time a content creator has used a "jail stream" to build an audience. Andrew Tate performed a jail stream, and Kai Cenat broadcast a similar one earlier this year, and many folks think Adin is simply stealing Kai's idea.
"Bro tyna steal Kai idea," wrote one user. Another chimed in with "Copying my GOAT Kai I see."
Article continues below advertisement
Tristan Tate quickly jumped to the streamer's defense.
"To be fair to Adin Ross, I did say he wouldn't be able to handle it. So I see this as him taking on a challenge I threw I don't see this as copying me."
Others think the entire ordeal is pointless, as the fake jail won't even come close to simulating the real experience. Instead, Adin will simply be sitting in a room with limited amenities.
Article continues below advertisement
"Wouldn't it be a challenge if it wasn't a controlled environment? Prison is…more mentally torturing than physical," wrote one fan. "Would a controlled environment where Adin Ross knows he is a free man be anything close?"
Whatever the case, Adin is going forward with the stream, claiming that he didn't steal the idea from anyone but was "inspired" by those before him. He also notes that his team "built out more scenes" and isn't doing anything like trying to escape from his prison cell.
Adin says the stream will happen on Wednesday, so be sure to tune in to Kick if you want to watch the streamer sit in a prison cell with his friends.