'Jersey Shore' Star Nicole "Snooki" Polizzi Says She's Raising Her Kids to "Not Judge Anyone" (EXCLUSIVE)
'Jersey Shore' star Nicole "Snooki" Polizzi says she's raising her kids to "not judge anyone" after being mom-shamed by internet trolls.
While the world may know her as Snooki, Meatball, or even her alter ego, Dren, Nicole "Snooki" Polizzi's kids simply refer to her as "mom."
But before becoming a mom to three — Lorenzo, 10, Giovanna, 7, and Angelo, 3 — the MTV star became a household name after appearing on the 2009 hit series Jersey Shore.
Article continues below advertisement
Nicole, who partnered with Cheez-It, spoke exclusively with Distractify about making her mark on reality TV culture, as well as how she handles criticism and being mom-shamed by online trolls.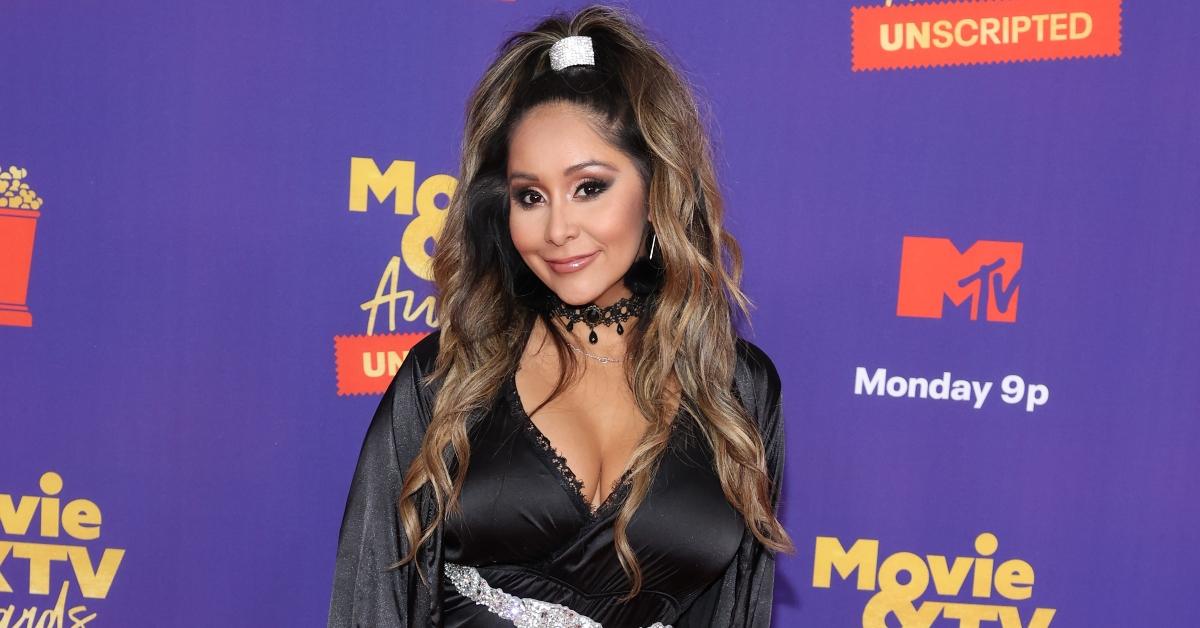 Article continues below advertisement
'Jersey Shore' star Nicole "Snooki" Polizzi says she's raising kids to "not judge anyone"
Since catapulting to fame in the mid-2000s with the cultural TV phenomenon known as Jersey Shore, Nicole has had to deal with her share of internet trolls and criticism. So, since becoming a mom, has her perspective changed on how she deals with haters and negative comments?
"In general, [the members of the Jersey Shore cast] don't care what anybody thinks about us and we know we're good people. So, like, a stranger's not going to tell me something and make it hurt my feelings," she said.
However, the reality star told us that when it comes to someone making a comment about her kids or mom-shaming her, that's when the "mama bear comes out."
"I feel like when it comes to us being parents and having to defend ourselves, we're definitely100% for that ... [haters] don't even know what [they're] talking about. So stop. That's annoying," she continued, adding, "But also, I'm raising my kids to, like, not judge anyone."
Article continues below advertisement
The host of MTV's Messyness explained that she's teaching her kids to overlook any negative comments that someone might say about her to her young ones.
"I feel like if people are gonna, you know, go up to them one day and say something about me, like, my little Lorenzo is gonna be like, 'Yeah, alright, whatever. My mom's cool, moving on,'" she told us.
Overall, Nicole is trying to instill a sense of confidence within her kids so negative comments won't affect them.
Article continues below advertisement
'Jersey Shore' star Nicole "Snooki" Polizzi says she scored some "cool" points with her kids.
From Halloween costumes to their own slang words becoming widely used terms, like G.T.L. which stands for Gym. Tan. Laundry, there is no denying that Jersey Shore has had a massive influence on pop culture and the trajectory of reality television.
Therefore, it's not surprising that Snooki teamed up with Cheez-It to celebrate the 30th anniversary of reality television, and her face can now be seen on limited edition boxes of the salty snack food.
Article continues below advertisement
"I'm honored because Cheez-It is literally, like, my favorite snack as a mom and, like, my kids are obsessed," she gushed. "My kids literally think I'm so cool because I'm on a box. ... They want to take it to school."
As for why she feels Jersey Shore has made its mark in reality TV history, the mother-of-three told us, "People had never seen people do that on a show before when it [came] to, like, partying all the time and ... hooking up and fights and all this stuff."
Plus, she noted that the East Coast squad just spoke a "different language" that others wouldn't understand if one wasn't from that tri-state area.
"I just feel like it was like a cultural shock to everybody. And, I don't know, it was just, we were wild, we made an impact," she said, adding, "I wouldn't have it any other way."