Son Gets Brilliant Revenge on Greedy Stepmom Who Married Ailing Dad for Money
The evil stepmom is certainly an overblown movie trope, but it looks like some of them actually exist. This young man got expert level revenge though.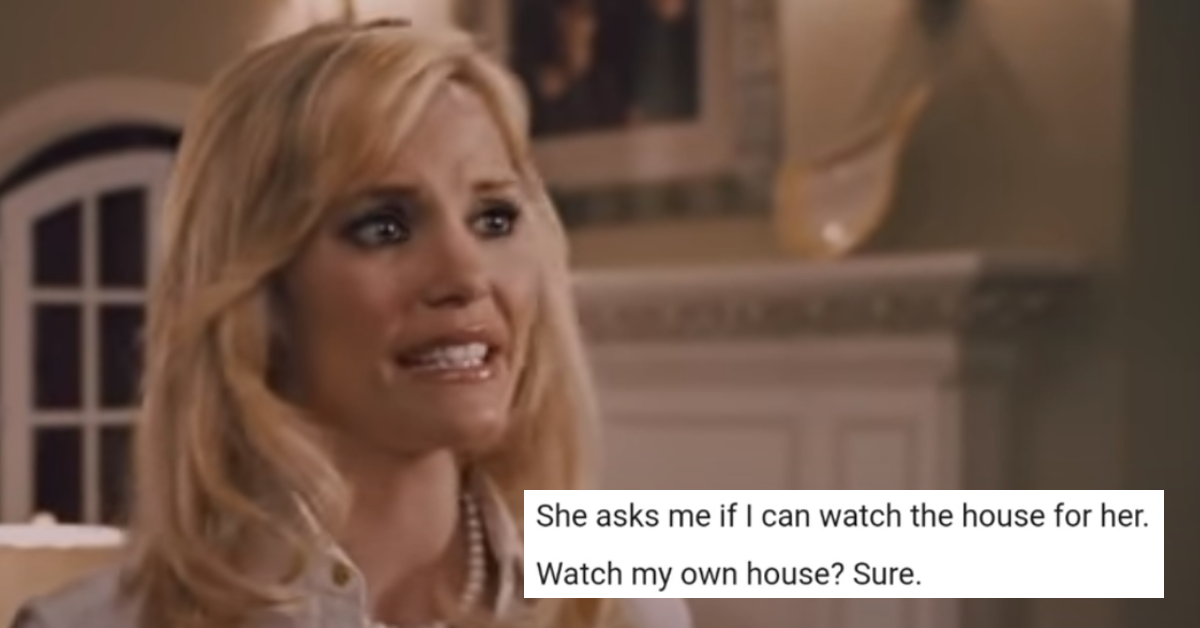 Step-parenthood is the subject of many a cautionary fairytale and heartwarming '90s family comedies that prove you can still honor and love your biological parents while having a darn good life with your other parent's new significant other. And while my folks come from a background where divorce, no matter how miserable both people are, is usually not an option, I always felt like the flicks and children's tales featuring an "evil stepmom" were blown way out of proportion.
Article continues below advertisement
But if Jamie Foxx and Kanye West's 2005 musical collaboration that functioned as a case study into the phenomenon that is known as "gold digging" taught me anything, it's that yes, individuals who feign romantic interest in others purely for monetary gain actually do exist.
And unfortunately for this young man on Reddit who had his PlayStation 4 given away without warning, this seems to be the case.
OP is an only son who was born to a loving couple. Unfortunately, his mother passed away at 55 years old when OP was only a teenager, leaving both the young man and his father completely heartbroken. Eventually his father became involved with a woman by the name of "Grace", whom OP didn't trust from the get go. He thought the woman was playing all the right emotional notes, but wasn't entirely sincere.
Article continues below advertisement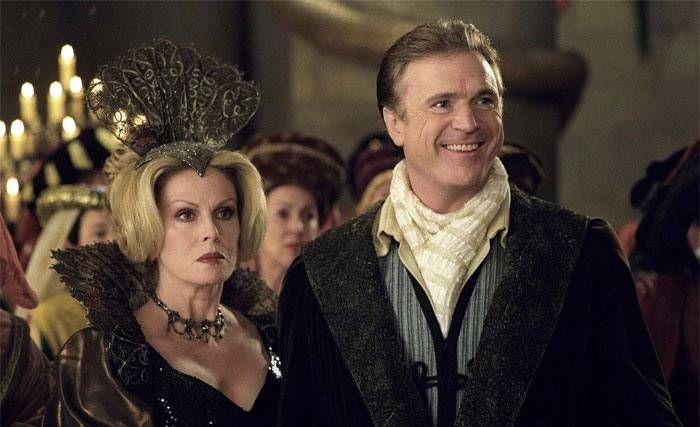 Not one to toy with his father's emotions, the son didn't say anything about the new relationship, or the fact that while his dad mourned his mom for a year, Grace would be calling every single day to "check in on him". Once the year was over, Grace began assiduously pursuing a relationship with his dad despite being 15+ years younger than him.
Again, OP didn't trust the relationship, but he was happy to see his father stop being so pessimistic all the time.
Article continues below advertisement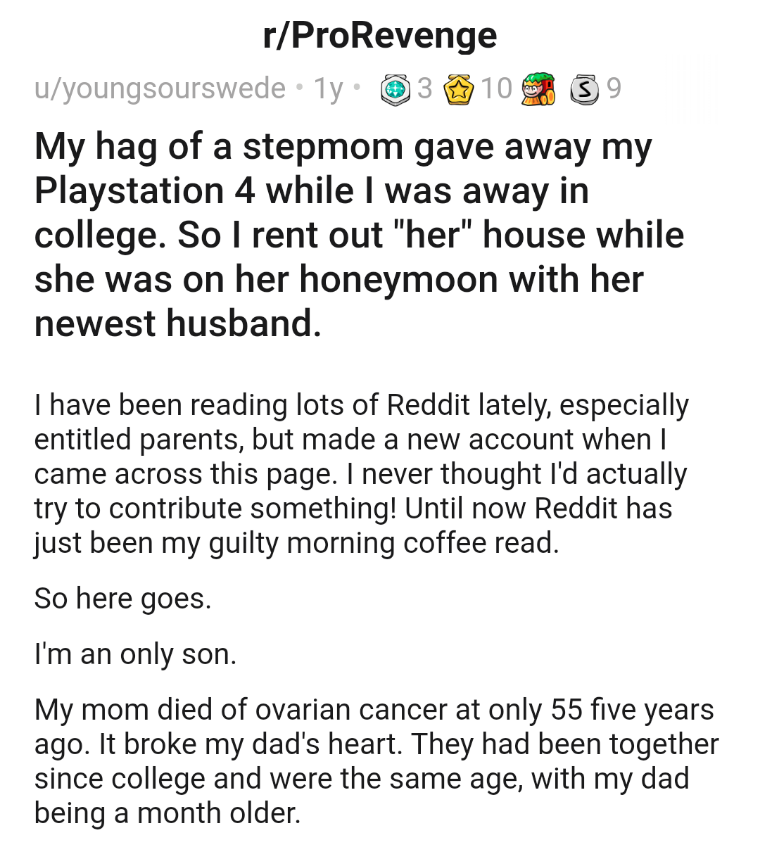 While OP gave Grace "the benefit of the doubt", he still didn't quite believe she was sincere, especially because his father had amassed quite a bit of a money as a banker leaving the man with a decent amount of wealth.
After six months of dating, his father and Grace became engaged and then married, but deep down inside, OP's father never got over his mother. That, coupled with health issues of his own, saw a rapid decline in the man's well-being.
Article continues below advertisement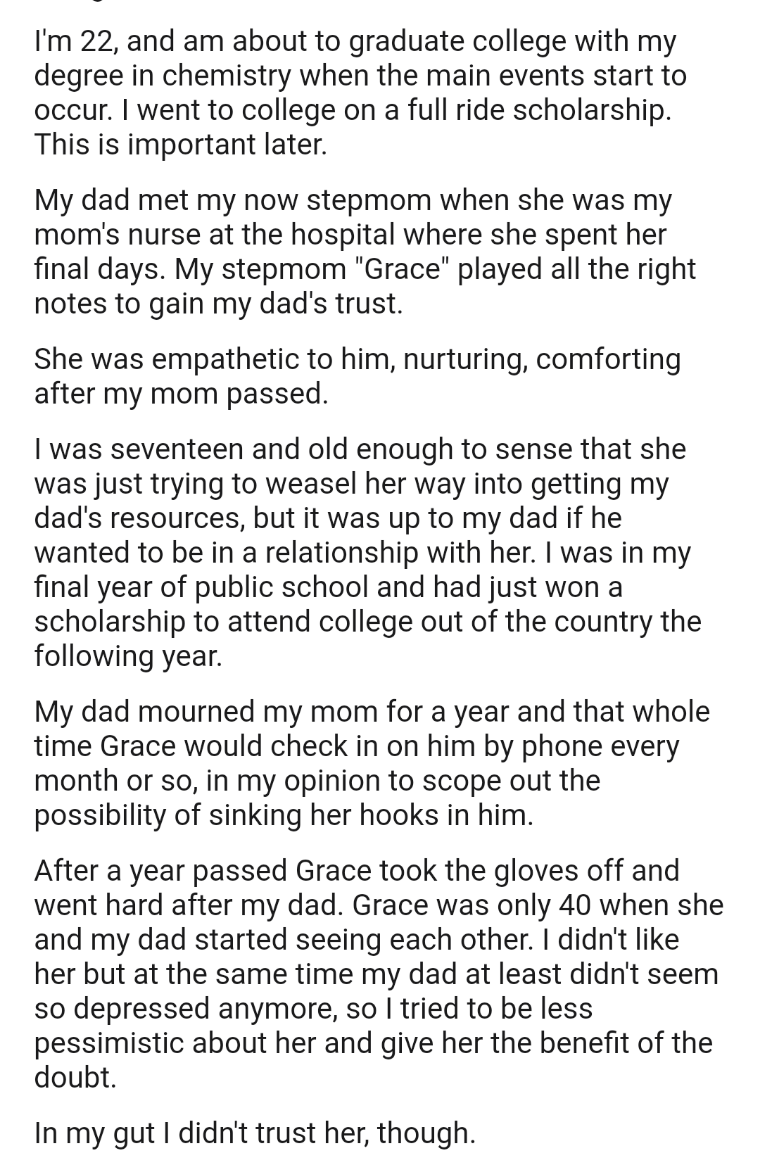 While this was going on, OP was enjoying a full-ride to University outside of the country (they live somewhere in Scandinavia) and his father, knowing he was getting progressively sicker, asked OP if he needed anything money-wise. OP declined, saying his schooling was sufficient and urged his dad to have a more positive outlook on life as he had a lot to live for.
However, OP's dad had never really recovered from the death of his first wife.
Article continues below advertisement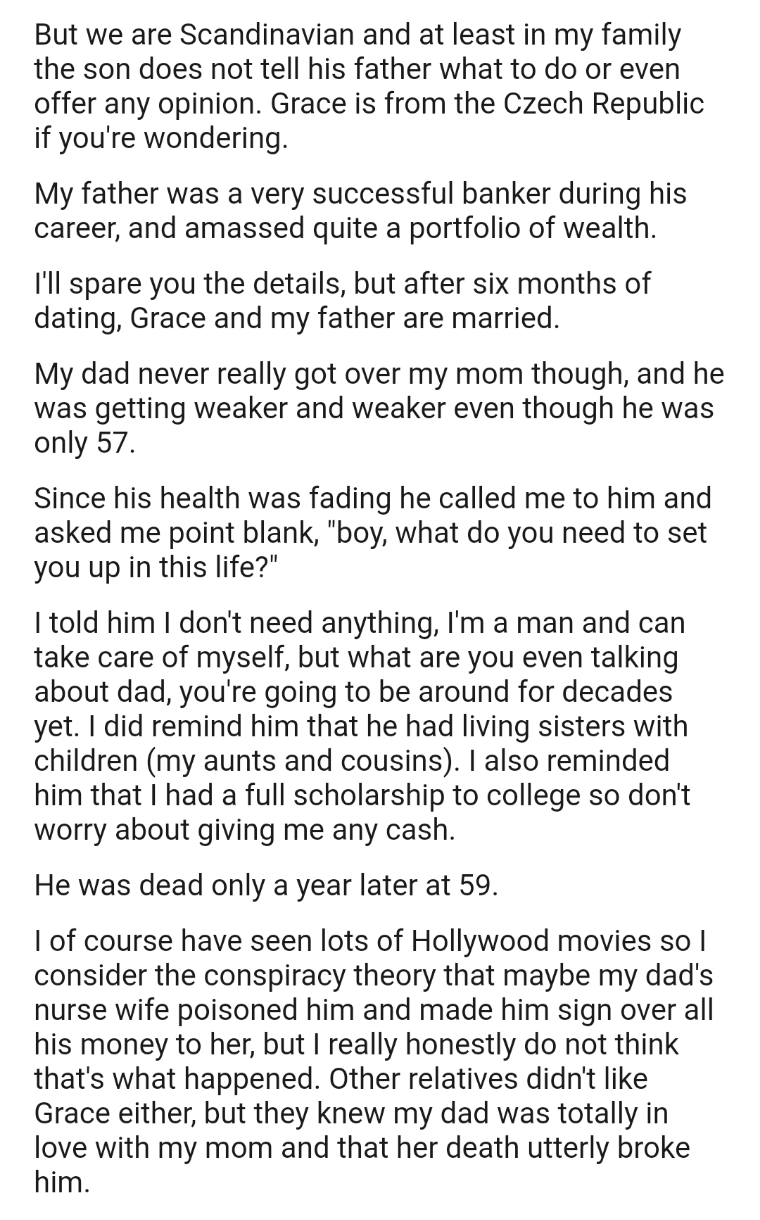 It's believed that his grief greatly contributed to his loss, and he was dead about a year from that last will and testament conversation he had with OP.
It was after his death that Grace began to show her "true" colors. 80% of his liquid assets were left to Grace, with the 5-bedroom home, which was located in a primo real estate location, being left to OP.
Grace continued to treat the home as hers, which was fine with OP, at first.
Article continues below advertisement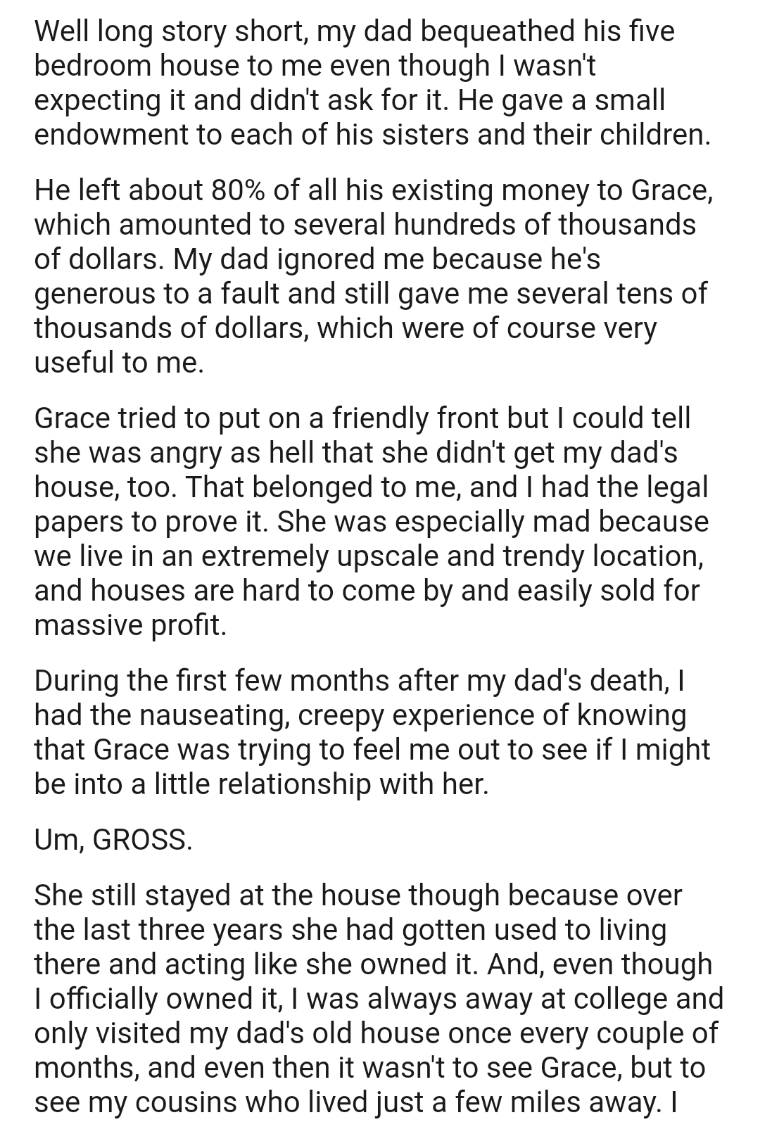 He could tell that she was upset she wasn't bequeathed the five bedroom house, which rubbed OP the wrong way. Even worse was when she was intimating that the two of them could be in a relationship with one another, which OP summed up as, "Um, GROSS."
He wasn't in a hurry to kick her out and let her live there to be a "good sport", plus he'd only really stay in the home while visiting family members while on break from school.
Article continues below advertisement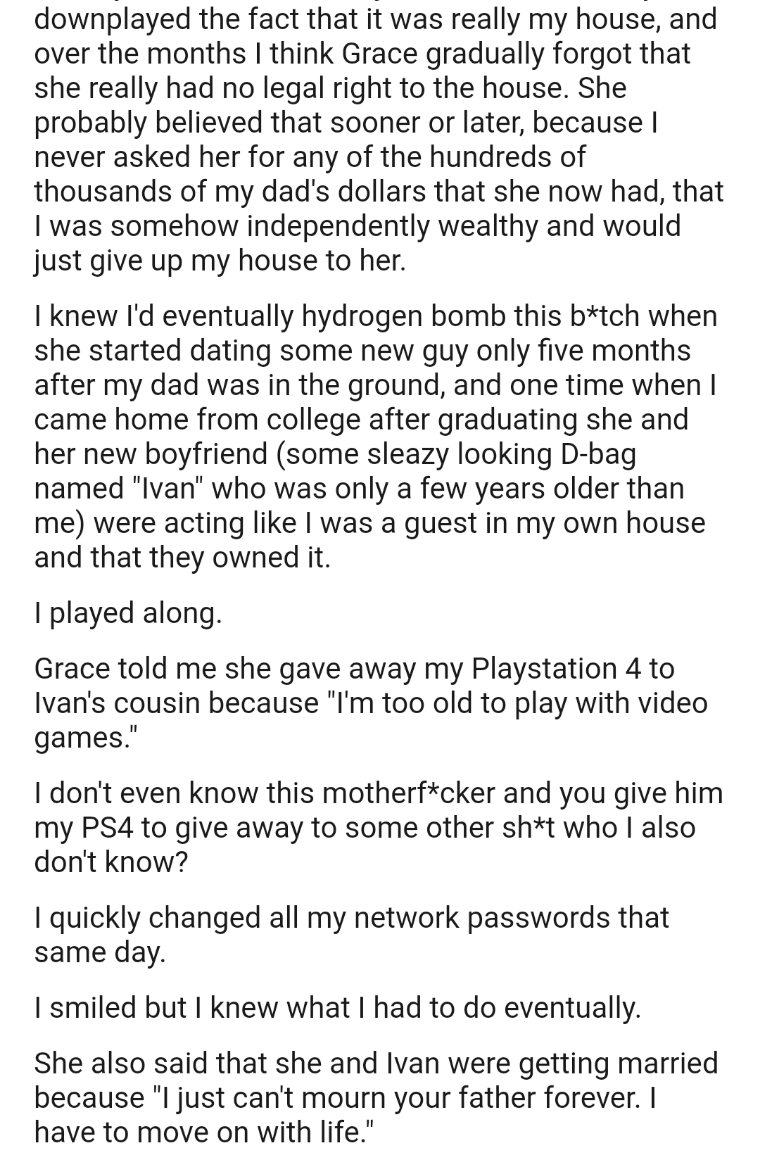 Things took a turn for the worse when five months after his father died she began dating a dude named Ivan who was only a few years older than OP. Ivan began living in the house, which didn't sit right with OP. To make matters worse, Grace decided to give away his Playstation 4 to Ivan's cousin, which was the straw that broke the camel's back.
Even though he didn't play video games, he couldn't believe she'd up and just give his property away to someone.
Article continues below advertisement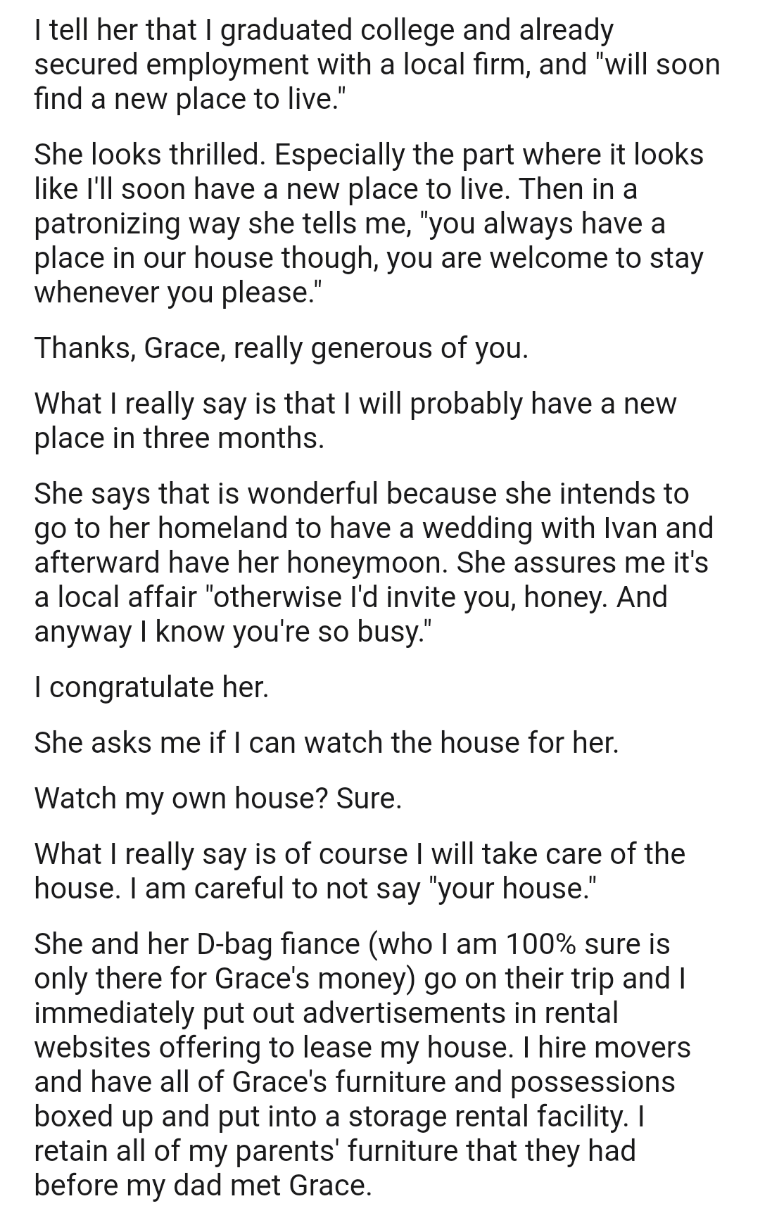 Especially when he never once asked for a single dollar of the inheritance his father left Grace. To make matters worse, she announced she'd be marrying Ivan, OP just smiled and nodded the whole time.
When Grace leaves the premises to go on an extended marriage and honeymoon ceremony in her country he immediately has movers come and take all of her stuff and put it in storage.
Article continues below advertisement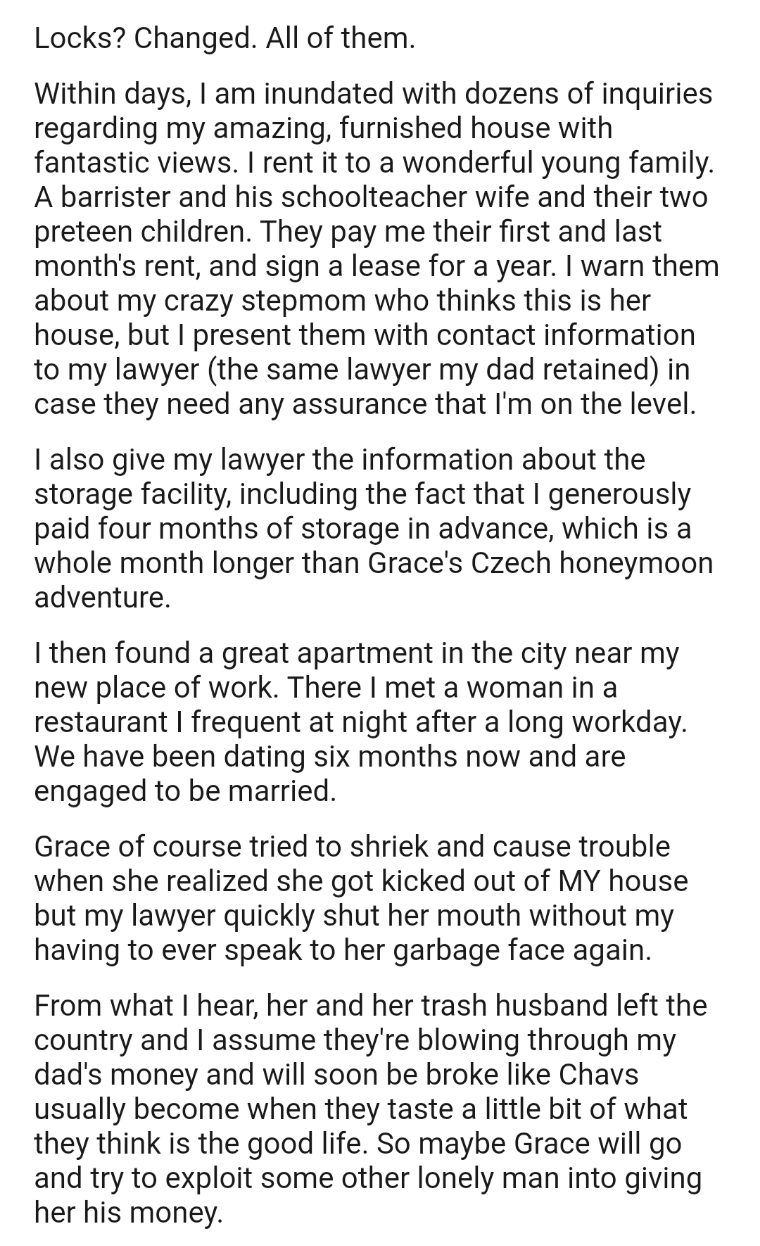 Then he began putting lease ads out on the home and received tons of responses, ultimately settling on a family with preteen kids. He changed all of the locks in the home and made sure to get a lawyer involved in the entire process, and even paid for four months of storage for her belongings, a month longer than their three month honeymoon.
Obviously Grace was unhappy and "shrieked" when she discovered she no longer had a home after returning back with Ivan.
Article continues below advertisement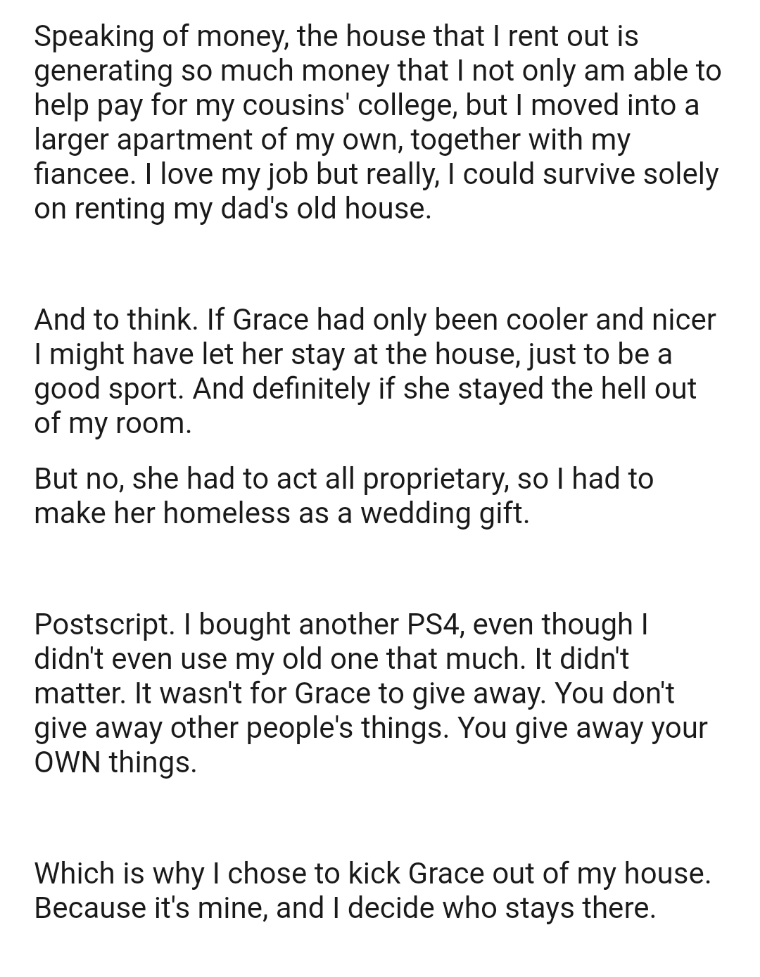 Last OP heard of her, she left the country. And while he was very calculated and final in his decision to separate her from the home, he concedes he probably would've let her stay in it, free of charge, if she had only behaved better out of respect and in memory of his father.
But now he's just enjoying a ton of money renting out the home and is pretty much set for the rest of his life.
Do you think he was too harsh on Grace? Or, by his account, do you think she got exactly what was coming to her?