The 'Southern Hospitality' Cast List Is Here — Details on the 'Southern Charm' Spinoff
A new 'Southern Charm' spinoff, 'Southern Hospitality,' is coming to Bravo in 2022. Take a look at the new season's cast and the show's premiere date.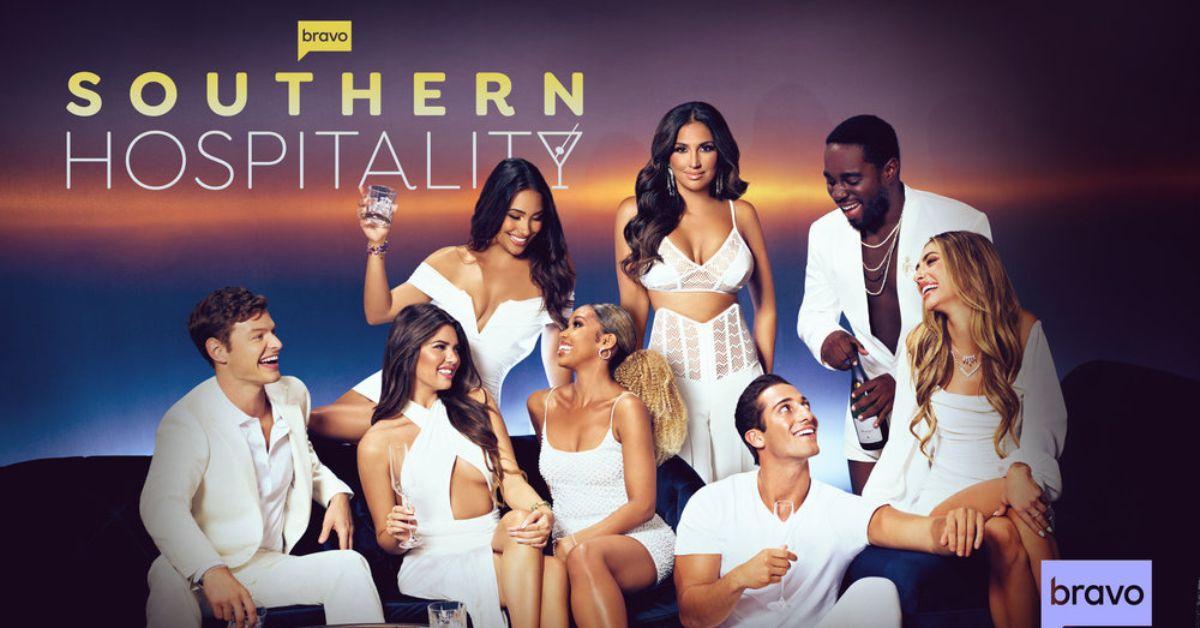 As Bravo fans already know, the network's team loves to find spinoff opportunities for its hit shows. Southern Charm, which has been on Bravo since 2014, is the latest series to receive the spinoff treatment.
Article continues below advertisement
Leva Bonaparte is back with a new series inspired by her and her husband Lamar's restaurant Republic Garden & Lounge. Like Vanderpump Rules and Kandi and the Gang, Southern Hospitality will focus on Leva's staff and the inevitable drama that occurs when multiple young, eligible employees work under one roof.
In Southern Hospitality, Leva leads with her magnetic personality fans watched on Southern Charm. However, who is in the rest of the Southern Hospitality cast? We've got all the details below!
Maddi Reese
While fans aren't used to the Southern Hospitality cast yet, Leva's explosive cast is filled with her longtime staff members. Maddi Reese, for instance, has worked at Republic for four years and is the VIP Hosts manager. Despite her promotion, Maddi wants to make it big in the music business and uses her job to perform and promote her music. The Charleston, S.C. transplant also has a hectic love life, which fans will see firsthand in Season 1.
Article continues below advertisement
Mikel Simmons
Mikel works under Maddi as one of Republic's VIP Hosts. While Mikel typically makes everyone at the lounge feel welcomed and ready to party, his personal struggles have plagued him from living authentically. However, Mikel is ready to come out to his family and loved ones despite the stigma he may face as a Black gay man living in the South.
Article continues below advertisement
Grace Lilly
Grace is Republic's VIP Concierge with strong southern roots. Although she grew up in the south, Grace wants to see much more than Charleston. When she isn't traveling and partying worldwide, the astrologer prioritizes self-care by routinely not showing up for her shifts. It's unclear how Leva feels about Grace's work ethic, but it will likely come up this season.
Article continues below advertisement
Joe Bradley
Joe is another VIP Host who feels he has something to prove. The Atlanta native grew up with a prosperous family but has tried to make a name for himself by moving to Charleston and working multiple entry-level jobs. Now that he's found his calling as a host, Joe's ambitious drive could affect his and Mikel's relationship and connections with his other co-workers.
Article continues below advertisement
Lucia Pena
Lucia is originally from New York and is one of Republic's VIP servers during the night shift. When she's not working, Lucia navigates her personal life, which includes her 2-year-old son and a complicated relationship with her baby daddy. Lucia and her ex have been in an on-and-off romance for quite some time. In Season 1, fans will see if she can make their relationship work for good when they decide to give each other another chance.
Article continues below advertisement
TJ Dinch
TJ often speaks his mind at Republic, but has the experience to do so. The Virginia native moved to Charleston to specifically thrive in the food and beverage industry and eventually transitioned to the lounge's bartender. As the bartender, he strives to protect the business's brand, even when it's unwarranted. In the new season, TJ's actions will affect his relationships with his co-workers, Grace and Mikel.
Article continues below advertisement
Mia Alario
Leva hired Mia as Republic's Hostess, though she doesn't need the job. The double economics graduate has a day job working at a financial institution and seemingly wants to stay there and keep Republic for a reason to go out and have a good time. Mia is always down for a party. Unfortunately, her "outspoken" and unfiltered opinions land her in trouble with her co-workers. Some have even questioned if Mia is committed to her position.
Article continues below advertisement
Will Kulp
Will works as a bartender at Republic and isn't quite sure what he wants his next move to be. The Charleston native had a stint in New York where he began trying out for modeling jobs after being discovered by a talent scout. When he eventually moved back home with his parents, Will used his disappointment to criticize his fellow staff members. This season, fans will see if Will steps up and applies himself at work or pursues a career in law. Additionally, Will and his girlfriend, Emmy, will provide a glimpse into their romance.
Article continues below advertisement
Emmy Sharrett
Emmy is the lounge's VIP server and a recent College of Charleston graduate waiting for her first post-college job. Emmy and Will are Republic's golden couple, and Leva describes them as having a "flawless outward appearance." Unfortunately, the good times won't last long, as a scandal involving one of Emmy's co-worker's boyfriends could end her and Will's relationship.
Article continues below advertisement
Bradley Carter
Bradley is another one of Republic's VIP Hosts, but he started out pursuing a different career. The Citadel military college graduate has ambitions to become a personal trainer — and certainly has the body and fitness regimen to prove it. His looks often get him in trouble, though, as he seemingly doesn't mind dating his co-workers. During the season, one bartender accused Bradley of cheating on them with another bartender, which he denies. Nonetheless, the rumors could damage the team's hard work and solid bond.
Article continues below advertisement
When is 'Southern Hospitality's' premiere date?
Bravo announced plans to premiere Southern Hospitality Season 1 at the network's annual BravoCon event. In addition to sharing the show's official teaser trailer, fans also learned its premiere date. Southern Hospitality will air on Monday, November 28, 2022, at 9 p.m. After the new episodes air, fans can catch up by streaming the show on Bravo's official streaming service, Peacock.
Catch new episodes of Southern Hospitality Monday nights at 9 p.m. EST.