YouTuber SSSniperWolf Sparks Drama With Jacksfilms After Recent Visit to His House
The drama between YouTubers SSSniperWolf and Jacksfilms has taken a controversial turn. Jacksfilms calls for SSSniperWolf to be "de-platformed."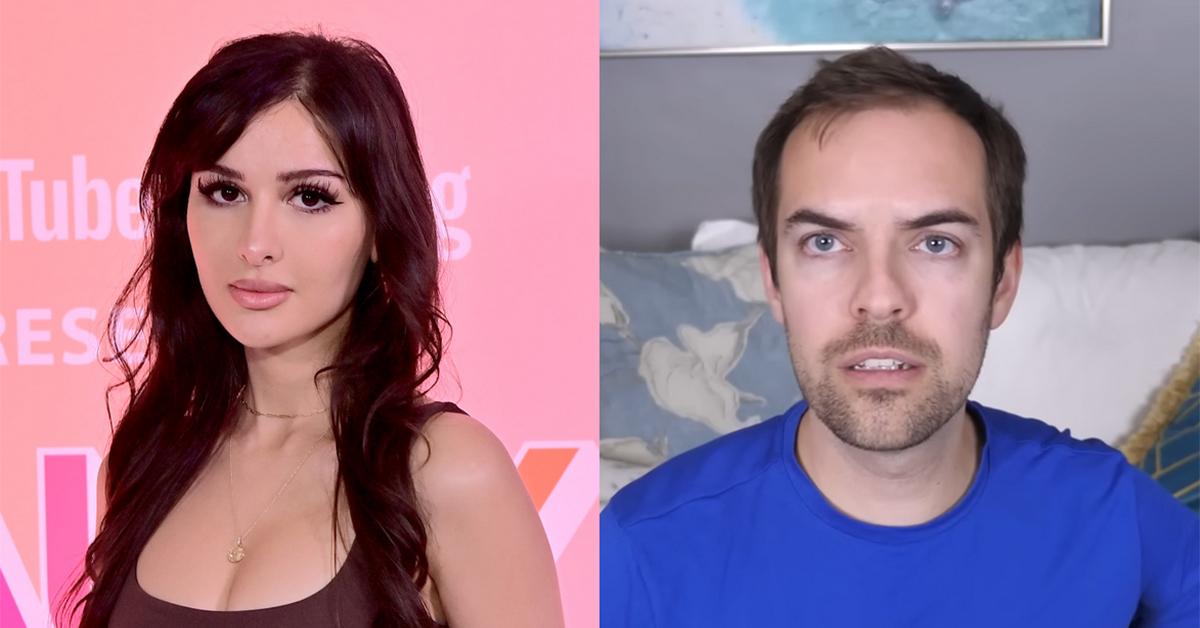 The Gist:
The ongoing drama between YouTubers SSSniperWolf and Jacksfilms ramps up.
SSSniperWolf posted herself making an unsolicited visit to Jacksfilms' house.
Jacksfilms has accused her of doxxing and stalker behavior.
Article continues below advertisement
No public personality is immune to public drama in their lives, but YouTubers and streamers seem to have their dirty laundry aired out more often than even the most popular and well-known celebrities. Many of them find themselves embroiled in controversies, scandals, and problematic allegations that typically stand to tarnish their online personas.
To that end, SSSniperWolf may have gone way too far with fellow YouTuber Jacksfilms.
Article continues below advertisement
Alia Shelesh aka SSSniperWolf is a popular YouTuber known for her gaming content, reaction videos, and various meme content. She currently has over 34 million subscribers on the platform.
Meanwhile, John Patrick Douglass aka Jacksfilms is a sketch comedian on the same platform and posts satirical musical content to the tune of 4.8 million YouTube subscribers.
The two of them have been engaged in some heated drama that's taken a controversial turn. Let's break it down.
We explain the ongoing drama between SSSniperWolf and Jacksfilms.
Alia and John have been contending with each other since 2022. For his part, John has posted several videos criticizing Alia's content. Throughout his SSSniperWolf-targeted uploads, he accuses her of stealing content by not properly crediting original creators in her own reaction videos. This has led to some intense back and forth, with John even creating a separate YouTube channel in which he specifically reacts negatively to Alia's content in parody videos.
Article continues below advertisement
Alia has since responded by accusing John of sexism and content theft. While this could have easily been chalked up to another one of your run-of-the-mill YouTuber feuds, Alia decided to ramp up the conflict in a highly controversial move.
Article continues below advertisement
On Oct. 14, 2023, Alia reportedly posted two Instagram stories in which she specifically placed herself outside of John's house. The stories have since been deleted.
Apparently, Alia was on a "shoot" that happened to take place near his home. She even asked her followers if she should confront him.
On Twitter, John accused Alia of openly attempting to doxx him and endanger his safety IRL. He called her IG stories "creepy, gross, [and] violating."
"What you do is disgusting," Jack tweeted. "You steal content and stalk YouTubers."
Alia has since responded, claiming that John is simply playing victim. She even accuses him of defamation.
"I have no ill intentions," she wrote on IG. "It's so sad when people have to constantly create drama to pay their bills."
Article continues below advertisement
On Oct. 14, 2023, John responded to Alia's actions in a short but succinct YouTube video in which he calls for her to lose her platforms on social media.
"She turned from a mere content thief to someone who doxxes and stalks her critics," John claims, though he went on to say that he and his wife feel violated by the incident. He continues, "We no longer feel safe in our own home because we're dealing with someone who genuinely thinks they're in the right for A) stalking me, and B) posting our home to her massive audience."
Folks across the internet seem to have taken John's side in the conflict. Many have not only voiced their support on Twitter, but some have even commented on Alia's recent videos in an attempt to call her out for her recent behavior.
As of this writing, SSSniperWolf has not made any more responses with regard to her drama with Jacksfilms.