TikToker Shows How Starbucks Employees Are Using the Johnny vs Amber Trial to Get More Tips
A TikToker spotted an ingenuous way a Starbucks staff secured more tips for themselves: a Johnny vs Amber tip jar.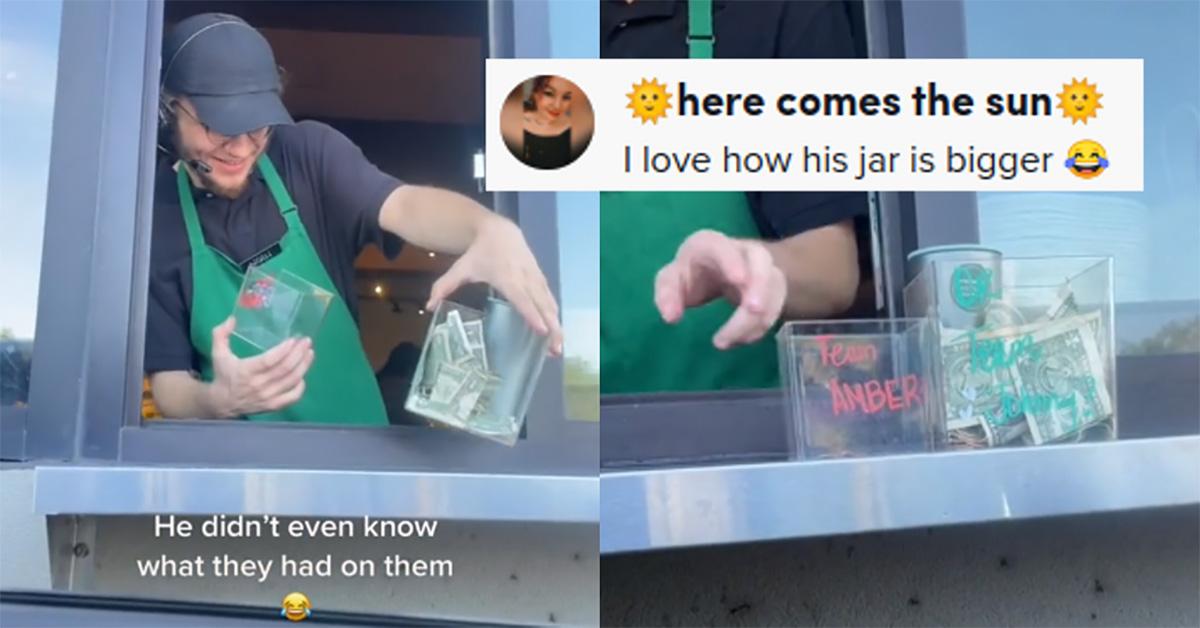 People are obsessed with the lives of celebrities. They're also obsessed with true crime. And while the combination of two separate phenomena doesn't always receive warm receptions (take the film Cowboys & Aliens for example), folks love themselves a great celebrity crime story. Just take a look at Armie Hammer's "cannibalism" comments that people somehow connected to the Wonder Valley deaths, despite the fact that the actor wasn't considered a suspect.
Article continues below advertisement
And when you've got yourself a celebrity trial on your hands, folks are going to want to watch it in droves, and honestly, the shallower, dirtier, more violent, and dragged-through-the-gutter said the trial is, the "better" it is for viewers at home.
Take the trial between Amber Heard and Johnny Depp which has become a full-blown circus. You can't scroll through a single social media feed without seeing memes about some of the more repulsive acts that were committed between the two during their relationship.
What's more is that other high-profile public figures, business people, and actors are being brought up in the trial, like Elon Musk and James Franco.
And while the court proceedings have become a ridiculous sideshow attraction rife with laughter, perpetual gaffes from Amber Heard's legal team (like her lawyer objecting to his own question), and petty exchanges that have revealed some lurid and gross details, at the core of the trial lies a very real conflict.
Article continues below advertisement
And that conflict is whether or not Amber Heard led people to believe that Johnny Depp had abused her and banked on the #MeToo movement to not only garner sympathy for herself but destroy Depp's career in the process.
However once the trial went underway, many believe that the developments unequivocally show that while the two clearly had a toxic relationship, Depp was on the receiving end of more abuse than Amber was subjected to.
Article continues below advertisement
And while you only need to spend a bit of time online to see just how many people support Johnny Depp, it appears that this Starbucks has decided to take an IRL poll themselves by literally having people put their money where their mouths are by using gratuities to show who they support.
Article continues below advertisement
In a now-viral clip uploaded by TikToker Amy Eliza who posts under the handle @kingdomofamy_ she shows off a tip jar that has two separate cups: one for folks who support Amber Heard and those who support Johnny Depp. The "Team Johnny" cup is filled with bills and change while the Amber one appears to be entirely empty.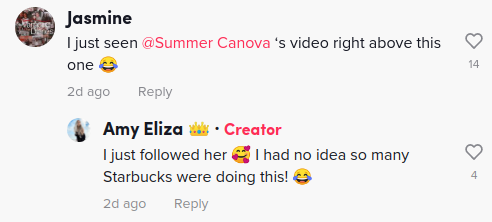 Article continues below advertisement
The TikToker wrote in the clip's caption: "If I carried cash I would have given more than just coins," followed by the hashtags "#johnnydeppisinnocent #amberheardisaliar."

Article continues below advertisement
Even prior to the trial and before specific details that highlighted several contradictions in Amber Heard's claims, there was a growing social media movement online that demanded #JusticeForJohnnyDepp.
Warner Bros., for instance, removed Johnny from Fantastic Beasts and Where to Find Them but kept Amber Heard in Aquaman 2.

Article continues below advertisement
After the progression of the trial, however, it's been rumored that the production studio has cut Amber out of the film as much as possible and shrunk her on-camera time in the upcoming flick to a mere 10 minutes. What's more, is that many are also speculating that her co-star in the film is implicitly supporting Johnny Depp in the wake of the trial after he followed the actor on Instagram.

Article continues below advertisement

As of this writing, the Johnny Depp/Amber Heard trial is slated to finish on May 19, 2022. Many are predicting that Depp will win the defamation case, especially considering all of the gaffes carried out by Heard's legal team, like revising the article Depp was suing over (i.e. lying if they did so knowingly) and submitting the revised article as evidence.