Starbucks Customer Blasts 'Out of Control' Tipping Expectations After Drive-Thru Encounter
A Starbucks customer went on a viral rant against tipping culture on TikTok, sparking debate among people who viewed her clip.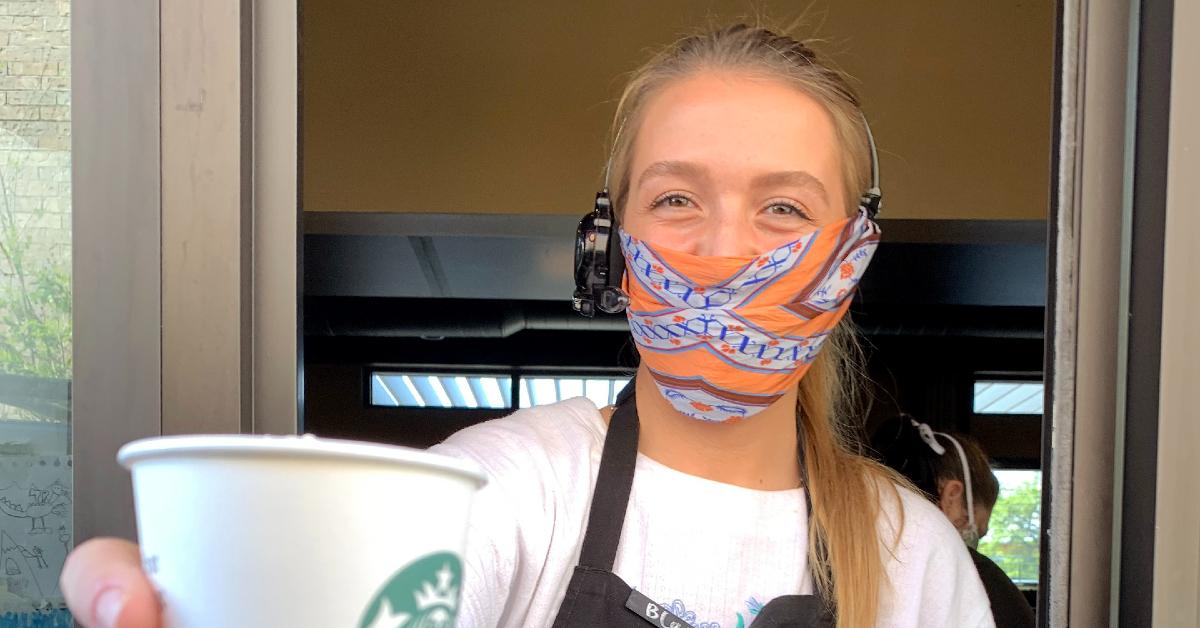 You won't have to search hard on social media platforms to find folks who are absolutely befuddled that more and more businesses are prompting customers to leave a tip in situations where it wasn't previously expected. Especially now that Starbucks has changed its system to include tipping prompts on all transactions.
Article continues below advertisement
Like other "iPad" style transactional systems such as Square and Clover, customers are forced to select whether or not they're going to give an employee a gratuity on a transaction before they can go through with their order. This can lead to some awkward situations for some customers, who may feel like they're being pressured into paying more for an item they didn't intend on giving a gratuity for.
A TikToker by the name of Nicki (@hi_itsmenicki) expressed her frustration over the fact that she was being prompted to leave a tip on a coffee she purchased through the drive-thru. Which begs the question: what's considered a tippable service?
She says in the video: "Okay I'm probably gonna ruffle some feathers but I don't even care right now."
Article continues below advertisement
She continues, "So why are all of these restaurants asking for tips now? Like you go around the drive-thru and you order something and they hand you this little card thing that says like if if you want to give them a tip or not."
Article continues below advertisement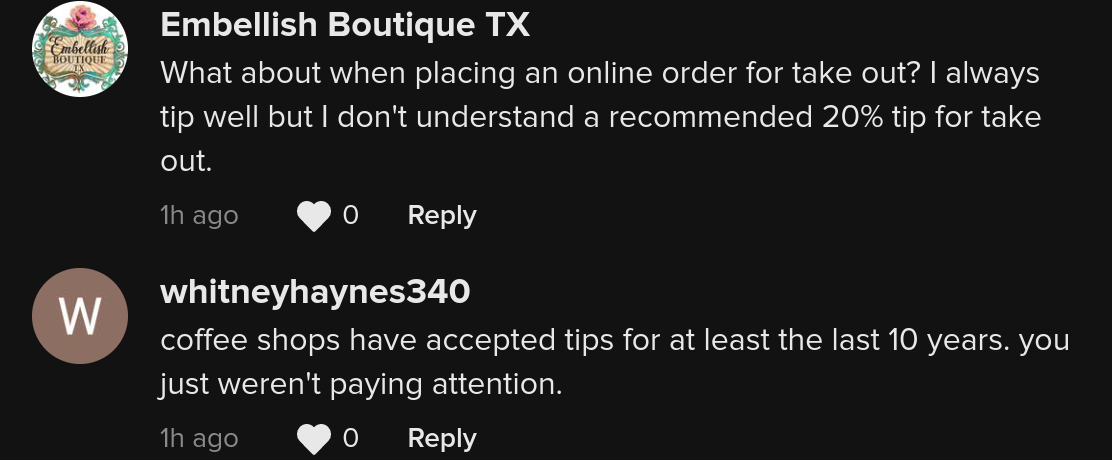 Nicki continues her monologue as she holds a cup of what appears to be a chilled coffee beverage from Starbucks: "No, no ma'am I don't actually you are doing your job and you are getting paid hourly I am not tipping you why are all of these places doing this now?"
Article continues below advertisement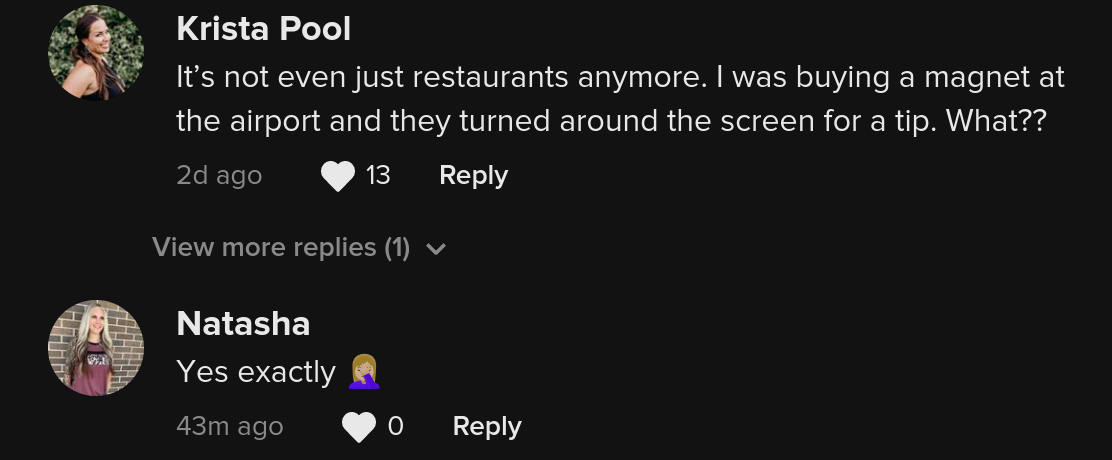 Nicki made it clear that she's drawing a line of where gratuities begin and end when it comes to making purchases in the food service industry: "No, no that's not happening. If I go sit down and eat somewhere and I have a waitress or a waiter yes I will tip them very well. Me and my husband always do but if I go around the drive-thru and get my freaking coffee I'm not tipping you."
Article continues below advertisement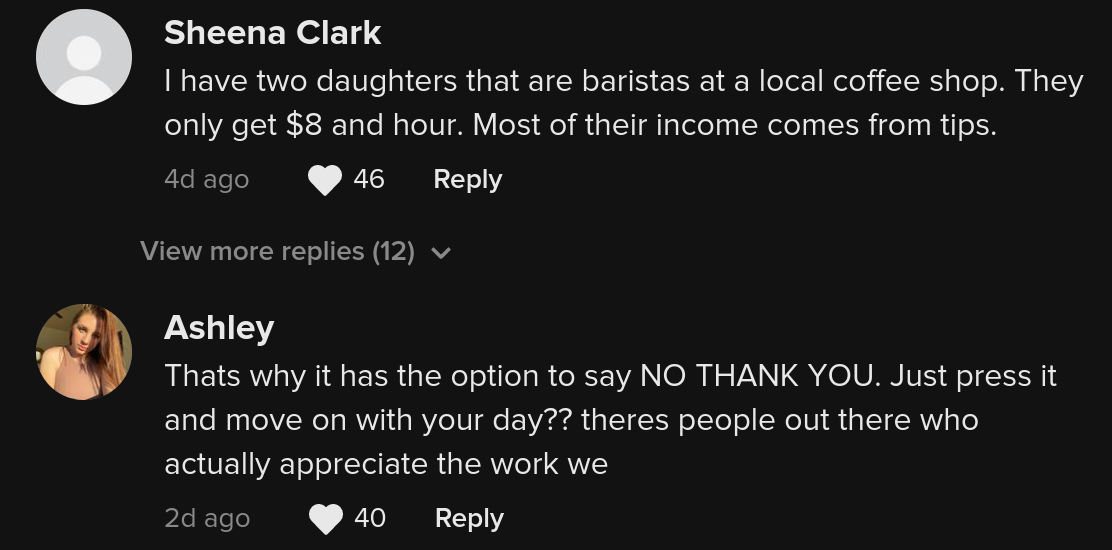 This isn't the first time that tipping culture rage has gone viral on the popular social media platform. Another TikToker by the name of Lily posted a skit where she pretended to be a barista working at a coffee shop who utters a statement that so many anti-tippers dread.
Article continues below advertisement

It's a phrase that usually happens after they spin around the touchscreen self-checkout system their eatery uses to handle customer transactions: "It's just gonna ask you a question."
That question is if you want to tip for the coffee/bagel/scone or whatever it is you just purchased.
Article continues below advertisement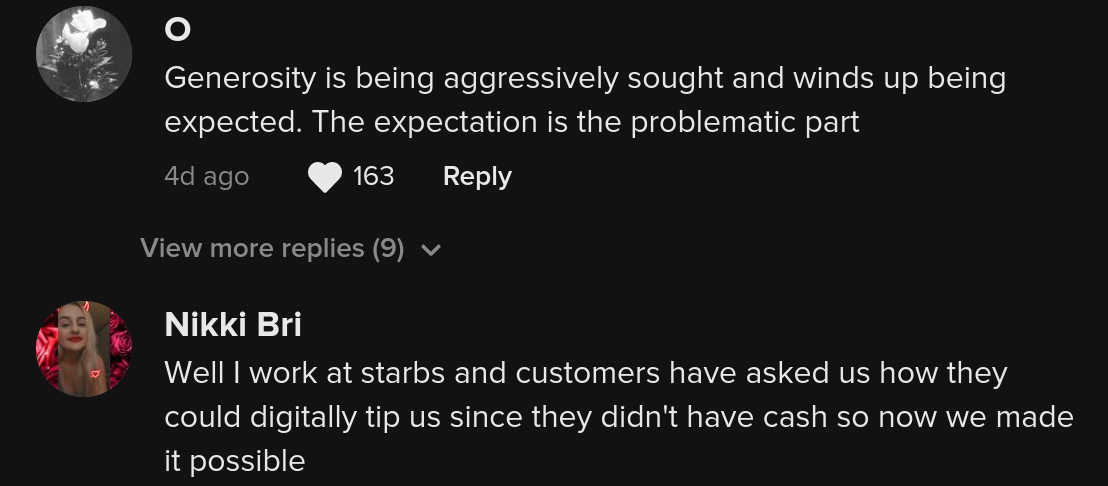 Many viewers who saw Nicki's post shared in her rage towards "excessive tipping" as well. A TikToker who goes by S'mores on the platform wrote: "Especially Starbucks when it's already $10 for my coffee."
@Ambernorris83 also wrote: "Amen tipping culture has gotten out of hand"
Article continues below advertisement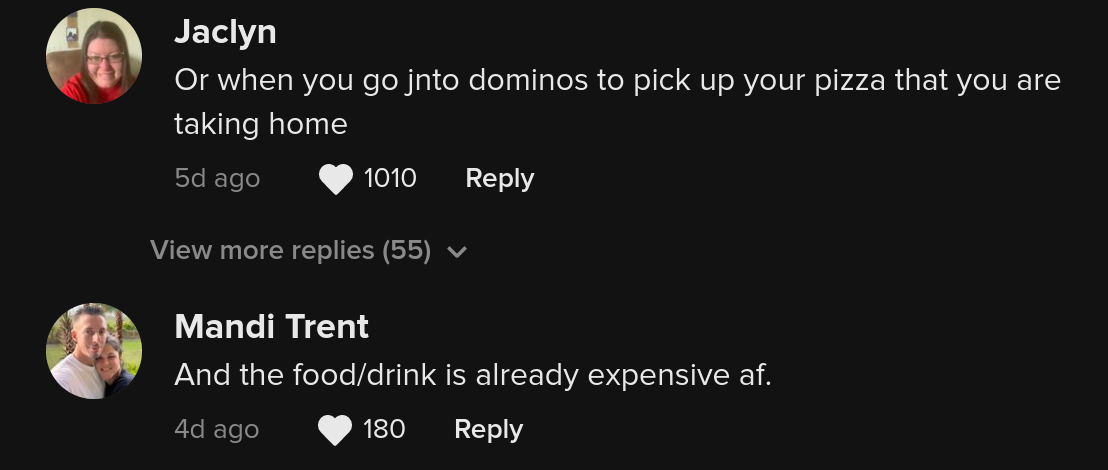 Others brought up that if baristas and food service workers can be tipped for handing off items to customers, they they should get gratuities in their respective vocations as well. One user remarked that they should be getting tipped for "working in the medical field."
Article continues below advertisement

Another user named Jacyln also said that she's also been asked to tip at a Domino's pizza location when she was the one who drove to the store to pick up her own order.
One user, O, wrote that the reason behind the surge in tipping expectations occurred because "Generosity is being aggressively sought and winds up being expected. The expectation is the problematic part"
Article continues below advertisement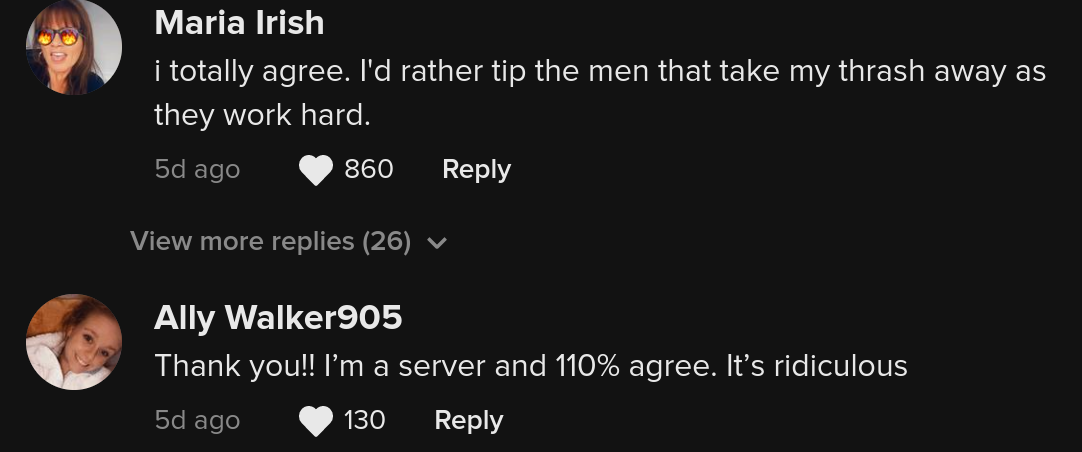 TikToker Nikki Bri who says she works at Starbucks says that the tipping prompts were born out of customer requests: "Well I work at starbs and customers have asked us how they could digitally tip us since they didn't have cash so now we made it possible"