Starbucks Accused of "Punishing" Union Employees by Removing Tip Options at Checkout
A Starbucks customer stated that corporate is intentionally preventing Unionized workers from receiving tips on in-store card transactions.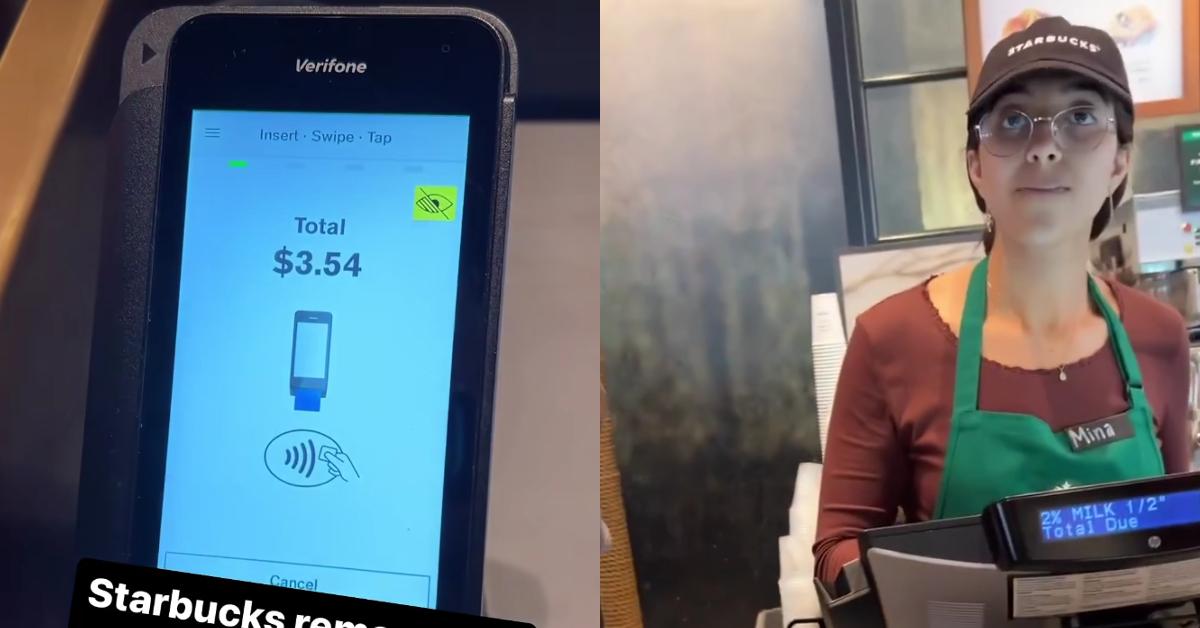 Article continues below advertisement
NPR reported in October that a number of workers for the global coffee chain "fear retaliation" from the business for their pursuits to unionize, writing that the company has engaged in "scorched earth" practices in an effort to stymie Union growth.
The outlet writes: "Under its legendary CEO Howard Schultz, who returned to lead Starbucks in April, the company has taken a wide array of measures to aggressively fight the union — from blanketing employee communications with anti-union messaging, including in one-on-one meetings, to announcing raises and benefits for nonunion stores only, to firing workers identified as union leaders."
Article continues below advertisement
And if what a post from the @notsosecretemenu Instagram account says is true, then some of those aforementioned "scorched earth" policies could be precluding unionized workers from receiving charged-to-card gratuities from customers.
Article continues below advertisement
The chain's decision to implement an automatic tip prompt on its POS systems has stirred up controversy online, as numerous customers complained of the brand's decision not to allow them to process their transaction without entering a tip amount or waiving giving one altogether.
Baristas themselves have expressed the added difficulty they've encountered while on shift, with some facing backlash for simply hitting "no tip" for customers before handing them a card reader so that they can pay for their order.
Article continues below advertisement
According to the video posted by @notsosecretmenu, however, it would appear that Baristas who work in unionized locations have the opposite problem: there's no way for customers to put a tip on their card for employees should they choose to do so.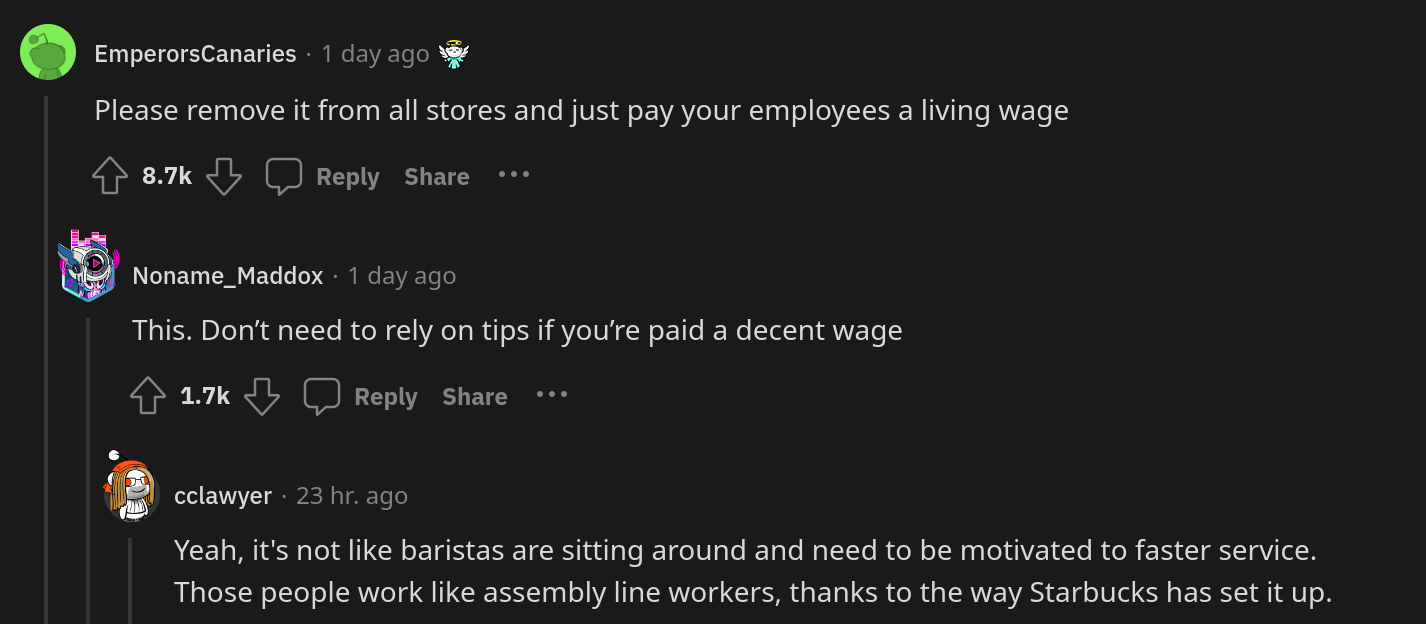 Article continues below advertisement
In the video, a customer can be seen inserting their card to pay for a $3.54 order. Immediately a "Please Wait" and then "Authorizing" prompt comes up on the POS system, and then finally a message alerting the customer to let them know that their payment has been received.
They're then asked to remove their card from the machine. They then pan the camera up to an employee and ask the worker where the tip option is on the POS system.
Article continues below advertisement
The employee at the register smiles and then looks away to a male coworker, who then tells the man, "We don't have it in this store."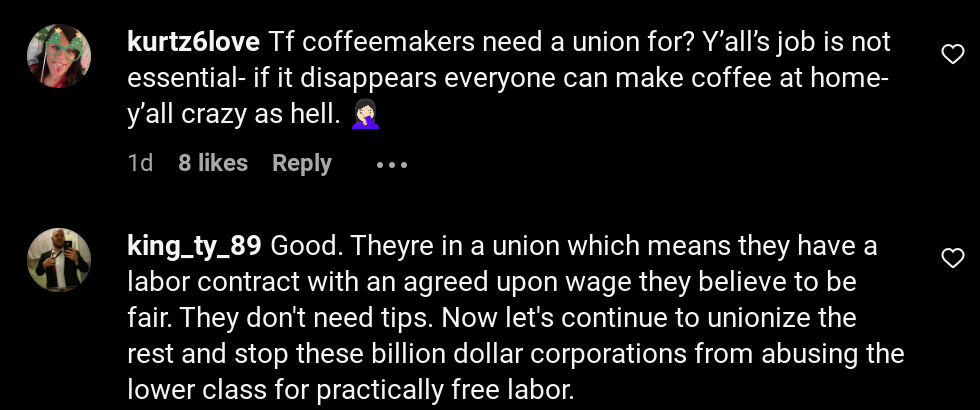 Article continues below advertisement
A text overlay in the clip reads: "Starbucks removes tip option to punish store employees for joining Union"
Local news outlet PIX 11 reported that the chain is indeed removing the default tipping option at unionized stores in what appears to be an attempt to dissuade employees from voting in favor or labor unions.
Presumably, finding ways to adversely affect a worker's bottom line by removing the tipping prompt is another "union busting" technique implemented by the coffee chain, however, PIX 11 stated that Starbucks has denied the "allegation."
Article continues below advertisement
According to the company, customers can still tip workers via cash or via mobile ordering, and said in a statement: "We encourage Workers United to live up to their obligations by meeting us in person to discuss these subjects and to move the good faith bargaining process forward."

Article continues below advertisement
A rep for Unionized Starbucks employees in New York and New Jersey stated that the chain outright refuses to enter into bargaining agreements with its workforce: "They have repeatedly walked out of bargaining within minutes of them starting," spokesperson Leanne Tory-Murphy has stated.