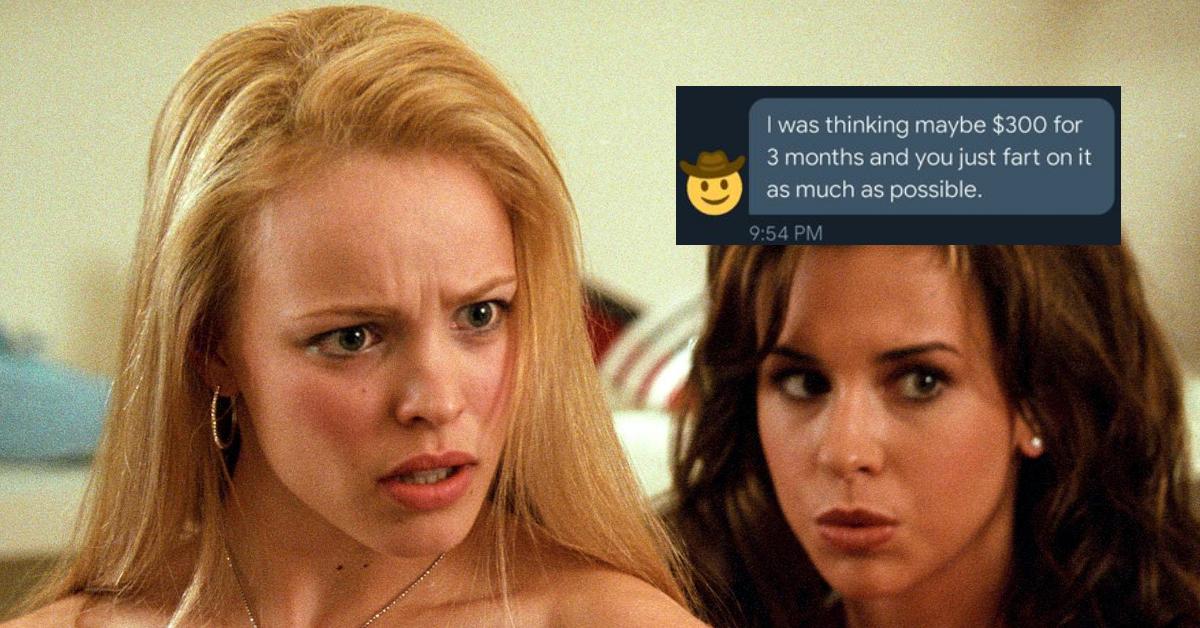 This Female Streamer Got Offered $500 to Fart on a Guy's Jacket for 3 Months
There's pretty much a fetish for everything. From getting trampled on with spiked heels to having your ears and nipples munched on while listening to classic 80's cartoon intros, people love getting their rocks off in oddly specific ways. With some deep psychological digging, you could probably get to the bottom of why we get so much pleasure from the weird things we like, but I'd say some fetishes are better left unexplored.
Like this guy who wants women to fart on jackets for him.
Article continues below advertisement
I know it's not cool to judge people for what they like — kink-shaming and whatnot — but what in the world happened to this dude who messaged Twitch streamer, Jambo, asking if she could fart on his jacket for three months?
The best part is that this dude was serious as all heck to get it done: he asked if she would sit on his jacket during her streams and pass gas for $300 over the course of some 90 days.
Jambo, however, saw this as a golden opportunity to show the man how much work she was putting into this hypothetical venture — and the amount of money he was offering her was nowhere near enough for the kind of labor he was expecting of the gamer.
She screenshot the entire conversation and uploaded it to Twitter, with an inspirational message: "KNOW YOUR WORTH." The clap emojis really drive the point home.
Article continues below advertisement

The gentlemen, who, at the very least acknowledges the weirdness of his request, asks Jambo if he could mail her his jacket for the fartacular excursion. When she scoffs at the idea of getting paid only $300 for three months worth of work, he immediately sweetens the pot and offers up $500. (Not bad for tooting on some clothing while you're going about your streaming business anyway.)
Article continues below advertisement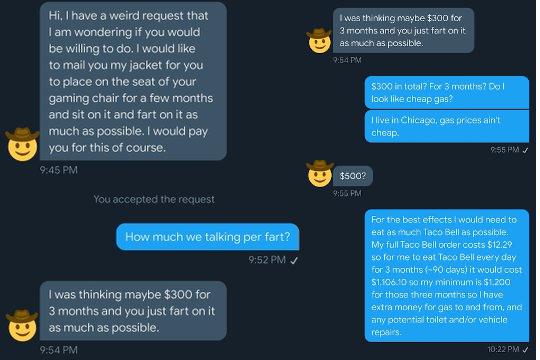 Using very sound logic and economics, she laid out what a full Taco Bell order would cost that would get her the maximum gas every single day and factored in some extra money for "any potential toilet and/or vehicle repairs."
You had to give Jambo some credit, while she was having fun at this weirdo's expense, she was, at the very least, breaking it down with some strong facts.
Article continues below advertisement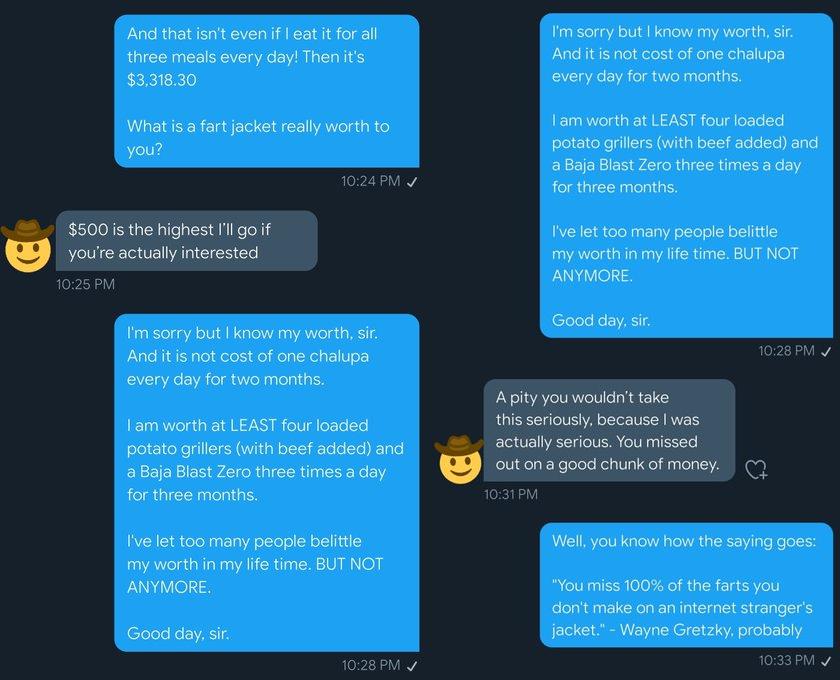 The man was disheartened to discover that Jambo was making jokes in their exchange, while I think she was just driving a hard bargain. Jambo then ends it with a wonderfully adapted Wayne Gretzky quote.
As weird as it sounds for a dude to proposition a Twitch streaming for some jacket farts, it turns out that Jambo isn't the only person this man has hit up with the same enticing offer.
Article continues below advertisement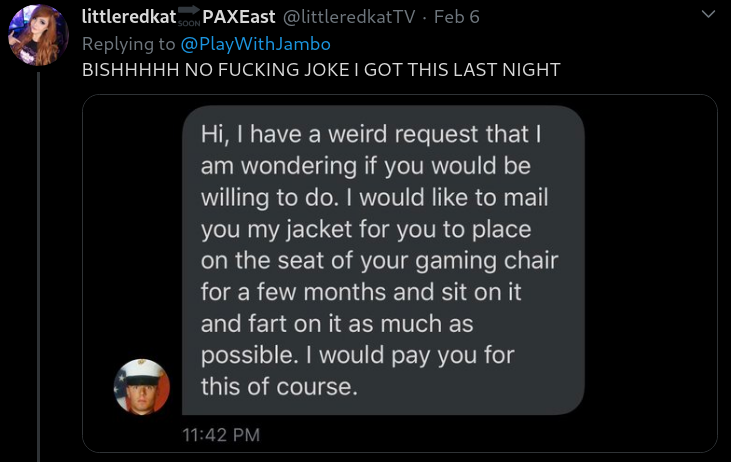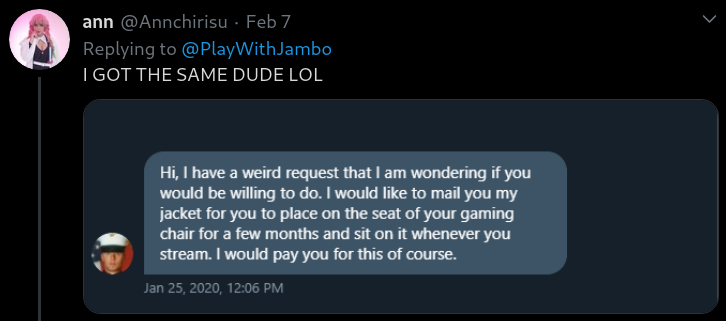 Article continues below advertisement
Jambo's followers made some good points about the fart-lover's replies of her not taking the potential transaction "seriously". She took it very seriously, providing itemized breakdowns for why she's charging the fart-rate she gave him. I don't know how much more serious she could've gotten about the entire thing.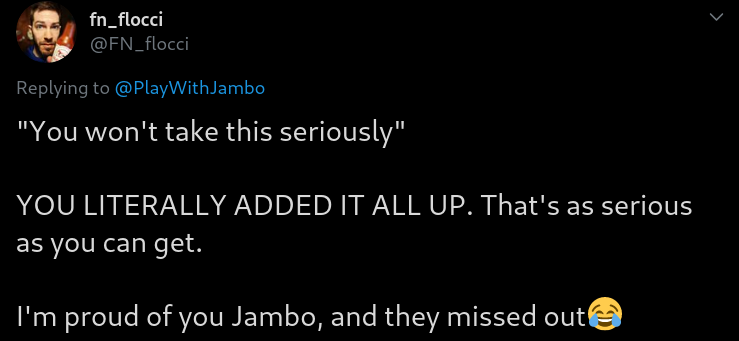 The year is 2020: People can probably make a living farting on stuff for strangers while playing video games in a front of a webcam. What a time to be alive.