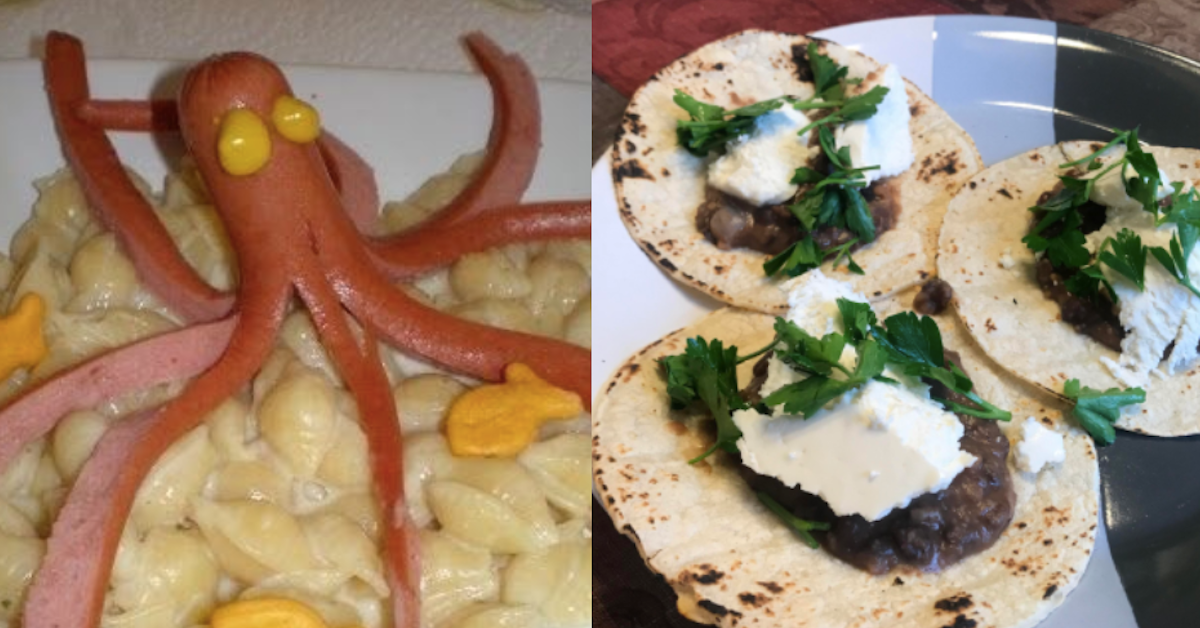 People Share Their Quarantine 'Struggle Meals' That Are Surprisingly Delicious
I'm not going to lie. I had tortilla chips and queso for dinner last night. It was not my finest hour. But we're all quarantined, time means nothing, and groceries are scarce. It's prime time to give in to the "struggle meal." These are the meals we make when times are tough. Maybe it's the week rent is almost due, so you're scrimping. Maybe you have a ton of people to feed and a small budget to do so.
Article continues below advertisement
Maybe you're stuck in your house while there's a pandemic and you bought way too many cans of beans and not enough... anything else. I don't know your situation. All I know is that sometimes, a struggle meal can come in handy.
And @jaboukie recently asked Twitter to share the struggle meals that they grew up with that are actually super tasty. You might not want to read this on an empty stomach.
Article continues below advertisement
Bean tacos with fresh cheese, courtesy of one Twitter user, don't exactly look like a struggle meal, but if you think about it, the ingredients are quite simple! Black beans (or pinto! or any, really!) mixed with some spices, heated up, slapped on a tortilla, and topped with cheese and cilantro (if you got it!). So simple. Pretty nutritious. And probably surprisingly delicious.
This sort of hearty, simple comfort food seems to be a trend. Many people suggested things like colcannon and corned beef and cabbage. Soups were big too. One Twitter user's suggestion of "Dumpling Soup" got a lot of love.
Article continues below advertisement
And it's simpler than it sounds! She writes, "Any veggies you have + salt and garlic/onion powder, a Maggi cube if you're lucky enough to have one, flour, water, butter/lard for the dumplings. And flour to thicken the broth. Feels very WWI when eating it, but you won't starve lmao."
Sounds pretty delicious to me! Although the specifics varied, so many of the meals had some combination of starch, vegetable, and / or meat / protein of some kind. Lots of pasta, rice, bread, and eggs. Oh, and one octopus. Well, a hot dog octopus, also known as a hot dogtopus.
Article continues below advertisement
This one even comes with swimming Goldfish. The person who suggested this meal made sure to clarify that it works with "spaghetti or macaroni," which, thank goodness. It's important to know it works with all pasta shapes.
Article continues below advertisement
Erica's favorite struggle meal is "rice with egg, soy sauce, and sesame oil." And honestly, that sounds delicious. It's basically quick-fried rice. I don't know what it is about sesame oil, but it makes everything taste 1,000 times better.
Similarly, Richard grew up in an Asian household eating eggs and rice with pan-friend Spam. This has become a staple breakfast in my household, too. My husband is Hawaiian, and Spam is huge there. It's also delicious. It gets a bad rap, but Spam fried until it's crispy with eggs and rice? Man, there's almost nothing better.
Article continues below advertisement
Speaking of Spam, Elizabeth grew up eating fried Spam on toast. I don't know that I've ever actually tried that, but I have a feeling it's yummy. I want to know if anything goes on the toast before the Spam. Maybe some sriracha mayo if you're feeling fancy?
Article continues below advertisement
One person suggested ramen with an egg cracked in it, to which I say, "Heck yes!" Another suggested fried bologna sandwiches with beans and franks on the side. And Corey stole my answer with, "Italian sausage, steamed broccoli, and penne pasta."
I can't tell you how many meals I have eaten in my life that were some combination of pasta, broccoli (or spinach or zucchini), and sausage (or chicken, or ground turkey). That's probably like...70 percent of my body at this point.
But the person who came in with the kicker was Crystal, who suggested the all-time great struggle meal, "tortilla chips with shredded cheese microwaved." I don't know what happens to cheese when it gets zapped in the microwave, but it's magical.
I hope these struggle meal suggestions have given you some ideas. When we're constantly struggling, every meal is a struggle meal. But at least we're all struggle-cooking together, right?