Student Says Professor Refused Exam Extension After Her Friend Died, Calls Them Out Online
A TikToker blasted a UCF college professor who made them take an examination the same week that their close friend died in a motorcycle crash.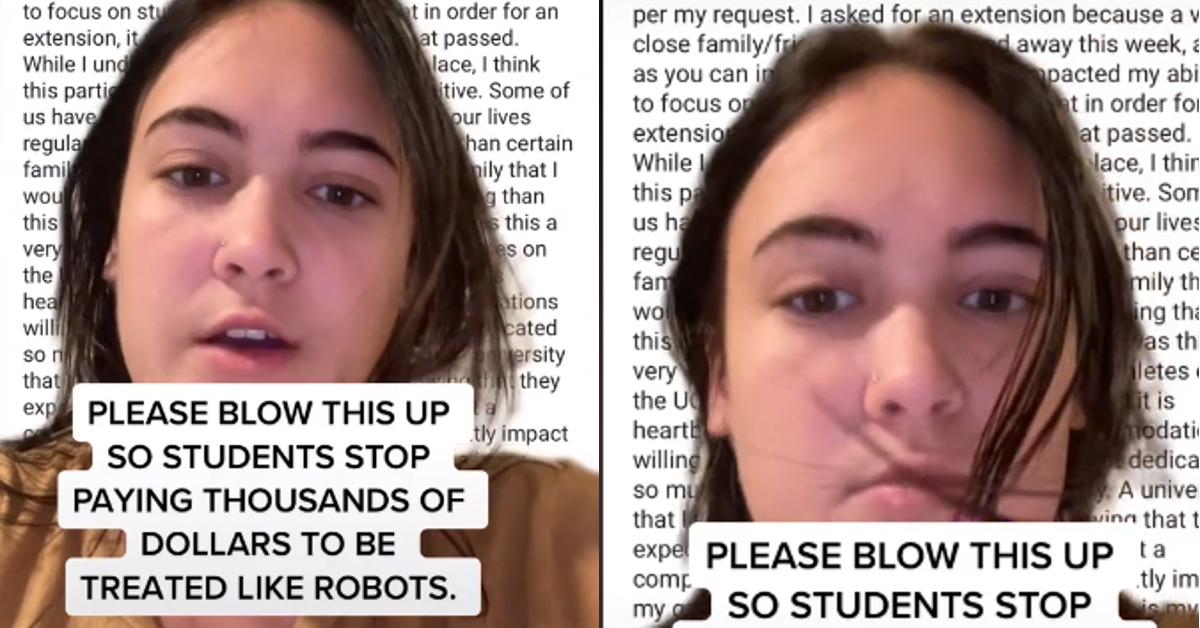 Jadyn Fowler, a student at the University of Central Florida claims that a professor at the school didn't give her an out for an exam the same week that her friend died.
"No 22-year-old should have to go to their 22-year-old best friend's funeral and be expected to shut their emotions off like a robot and take an exam," she said.
Article continues below advertisement
Jadyn, who posts under the username @jadynelizabethh on the popular social media platform, is referring to the death of her fellow cheer team member Nixolas Thomas who perished in a motorcycle crash. WESH reported that the 22-year-old was involved in a wreck that occurred on highway I-4 in Deltona.
Students at the university praised Thomas' demeanor saying that he was always quick to bring a smile to people's faces and that he had an effusive, ebullient energy he always carried with him. His mother says that he not only used this energy to hype up UCF events, but that he also loved helping and working with cheerleaders with disabilities.
Article continues below advertisement
Nix's ultimate dream was to become a commercial airline pilot, a goal he'd been working towards since he was a child. Remarkably, Nix was able to acquire his pilot's license in 2017 while working with John Rousch at Highlands Engineering and Aviation Technology Academy. "Following him through the years and seeing him develop into that type of a young man, it just, it just broke me to see that taken away in a heartbeat," Rousch said.
Article continues below advertisement
The aviation instructor said he was shocked to hear the news' from Nix's mom. "She said Nix is not going to be a pilot and that was one of the first things she said to me. Then she said he got killed yesterday [Tuesday] and that's when I lost it. I just felt so helpless, sad and angry. He had everything ahead of him."

Article continues below advertisement
Jadyn, like many of those close to Nix were broken up over his passing and when she learned that he died, she reached out to both her professor and the chair of the Business department requesting an extension for her exam. At first, her professor told her that "there was nothing she could do about it."
The department chair echoed the teacher's sentiments: "While I understand it is difficult to lose a friend Dr. Willox is properly following UCF policy regarding excused absences."
"I know damn well that if this man lost a friend as close as I did, he would not be at work," Jadyn said.
Article continues below advertisement

Jadyn writes in a text overlay on the video: "PLEASE BLOW THIS UP SO STUDENTS STOP PAYING THOUSANDS OF DOLLARS TO BE TREATED LIKE ROBOTS."
In her viral TikTok, she shared screenshots of her email correspondence with UCF faculty.
Article continues below advertisement
Folks were critical of Nix's teachers, but also of colleges in general.
"Colleges treat you like children sometimes and treat you like adults other times, whichever is convenient for the current situation"
"why do professors forget that we pay their salary??"
"college does NOT prepare you for the real world. nothing does."

Article continues below advertisement
Other TikTokers in the comments section shared their own UCF horror stories: "I failed a class @UCF last fall because of the attendance policy in the Early childhood education program because I was in the HOSPITAL with documents."
Others were gobsmacked by the fact that they were treated so poorly by an institution that they were paying money to.
"It's even funnier that jobs THAT PAY US to accommodate us more than when WE PAY for a school to treat us like this."
"My best friend died at 17. The school did not care. Got a zero for missing a lab quiz to attend her funeral. They don't care about us."
"i got mono, had documentation, and was told it "wasnt a major illness" while i couldn't even get out of bed. failed the class."
"I constantly feel failed by ucf. It's way too huge and ran like a business, not a university"
Article continues below advertisement

There are plenty of thought-pieces, personal anecdotes, and "bang for buck" financial analysis that allege how much of a "scam" higher education is. The COVID-19 pandemic has greatly reduced the number of Americans who've attended college, but some experts believe that this is a trend that will continue, with fewer and fewer people enrolling in universities.