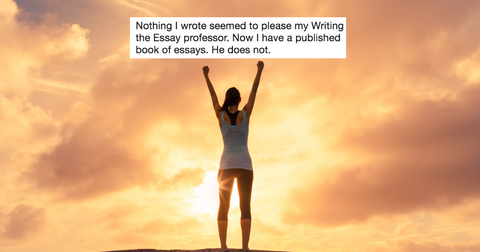 These Stories of People Succeeding Out of Spite Will Inspire You
By Robin Zlotnick
When I was in fourth grade, I was furious that the boys who played baseball could pitch in their games while coaches still pitched in girls' softball games. It was sexist! It was discrimination! It was wrong. If I wouldn't be allowed to pitch, I'd simply join the boys' team and pitch for them. So I did, and I was moderately successful. I sure showed them. But the point is, I went ahead and did something when people said I couldn't.
Have you ever been told you couldn't do something or would never achieve a goal and then went on to do it anyway? Perhaps that naysayer even drove you to prove them wrong. Spite can be a powerful motivator, as proved when TV and comic book writer Amanda Deibert asked people on Twitter to share the moments when they succeeded out of spite.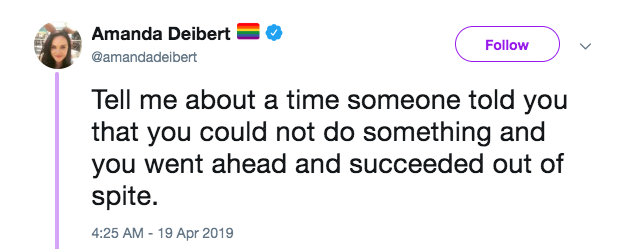 Judging from the 5,000 responses this tweet garnered, Amanda's question really resonated with people. Almost everyone has at one time or another been discouraged from pursuing their dreams. So they took that spite and anger and channeled it into something positive.
Here's a girl after my own heart!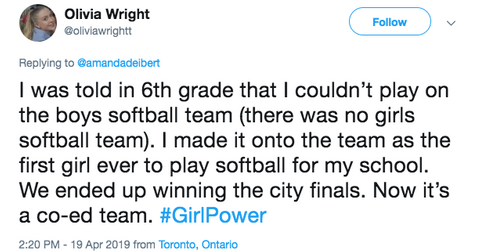 Heck yeah! I'm all about girls showing up the boys on the field, no matter what the sport. Not only did she prove them wrong, but she changed the whole program just by being the solid softball player she knew she was.
Perhaps no one knows what it's like to be underestimated more than women of color.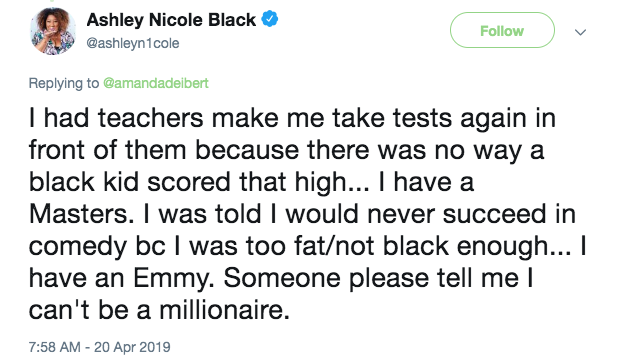 Black women often have to work twice as hard as many other groups to gain the level of respect that is simply assumed for most white people. It takes incredible strength to persevere through that!
Well, I guess he was *technically* right.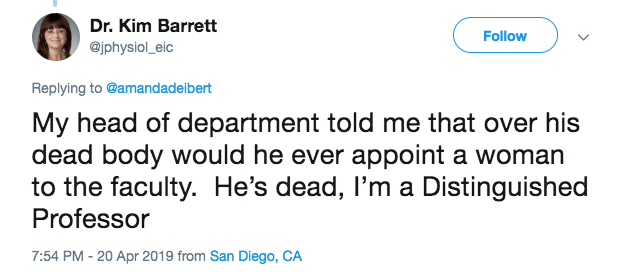 This story makes me want to kiss my fingers like an Italian chef. It's perfection! The "over his dead body" comment really came back to haunt him, eh?
There are whole populations of people constantly told they'll never amount to anything.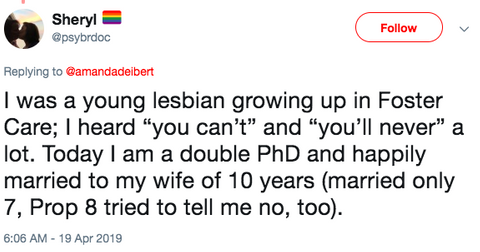 I can't imagine how hard life must have been for Sheryl growing up. I'm just glad she had the wherewithal to ignore the barrage of voices constantly reiterating all the things she could never do. Plus, a single PhD is impressive enough, but she went ahead and got two!
Talk about making lemonade out of lemons...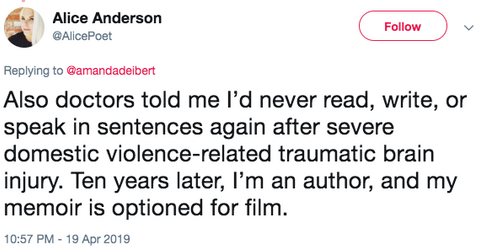 What she went through was a horrific tragedy, and it takes an untold amount of strength to be able to not only physically recover the way she has but to share her story in such a powerful way. Cool, now I'm crying at my desk.
As we're learning, the "boys' club" mentality is way too real.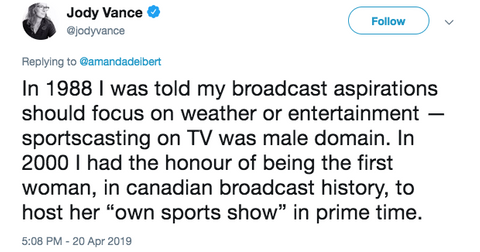 If there's one thing that really enrages me to the point where steam comes out of my ears, it is when women are told to stop pursuing a career path because it's in a traditionally male industry. You know what else is a traditionally male industry? Every industry! It's called the patriarchy, and that's why we have to smash it.
This one is super relatable for the self-defeating folks out there.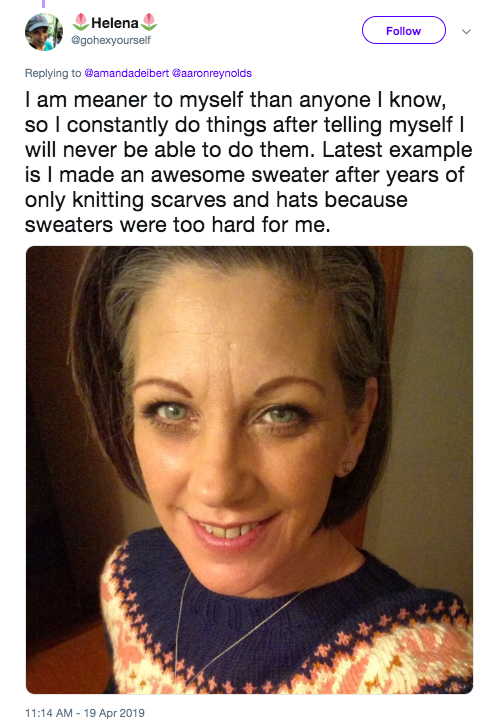 Often, we are our own worst enemies. I know there are jobs I haven't gone out for or activities I haven't attempted because I told myself I'd never be able to do it. This is a great reminder to be nicer to ourselves and to believe in our own abilities!
Sometimes, constant discouragement can be the encouragement you need.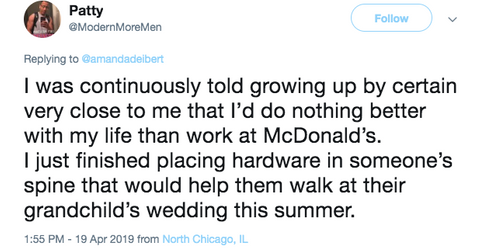 Wow, this one took quite a turn! And now I'm fist pumping the air. It's particularly heartbreaking when someone who is close to you and supposedly loves you tries to tear you down like that (even though there is nothing wrong with working at McDonald's!).
There's only one word for the store manager in this story: RUDE.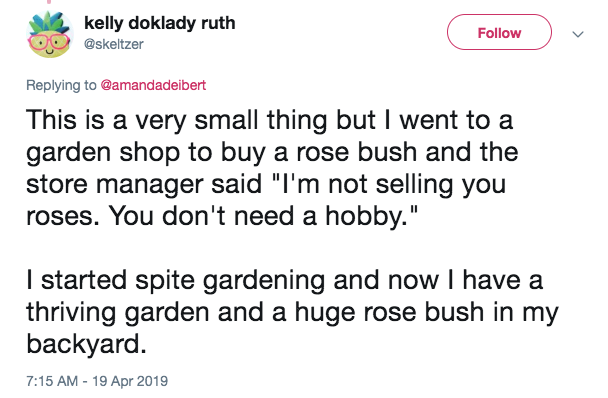 I have so many questions about this. Why would a store manager refuse to sell roses to a paying customer? Where do they get off thinking they can make snap judgments like that about someone? I hope Kelly purchases all her gardening supplies at some other store now.
"Go ahead and tell me no..."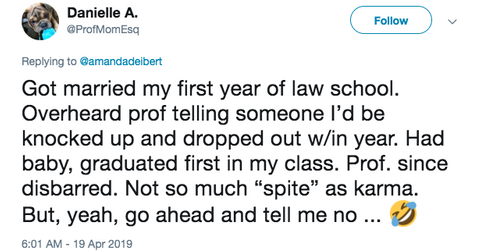 Let this be a lesson to you: Women are insanely strong superheroes who can be mothers and lawyers at the same time because we are consummate multitaskers and from now on you will not underestimate us. That is all.
Actress and writer Mara Wilson shared her own story, too.

Nobody tells Matilda she can't write an essay! It is just the cherry on top that she has now published a book of essays and her professor on Writing the Essay has not.
Lydia was basically told "No!" from birth.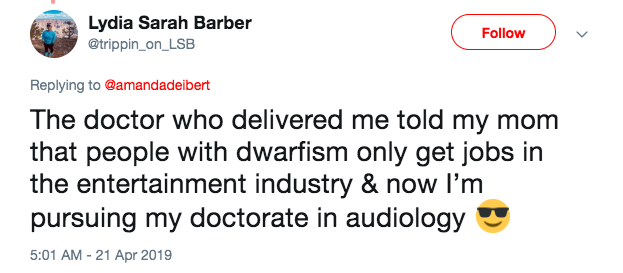 I don't know about you, but I am feeling revved up and ready to prove the haters wrong. Get out there and go for it no matter what they say!