We're Two Episodes In and Sydney is Quietly Stealing the Show on 'The Bachelor'
While we always end up divided on every contestant on 'The Bachelor', fans just can't figure out Sydney. Here's why she plays the game best.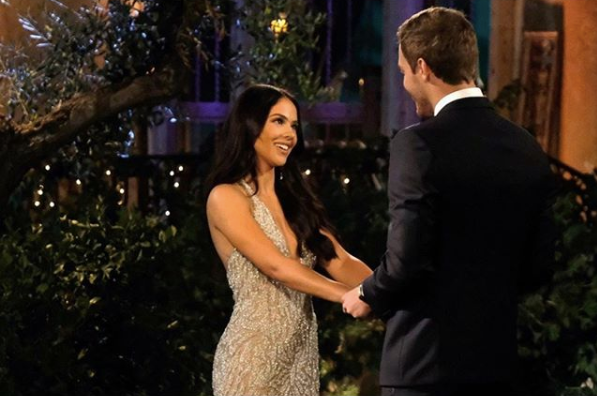 [Spoilers for anyone who has not seen Episode 2 of Season 24 of The Bachelor]
And the winner is....Sydney! Well, the winner of the group date rose at least, but it's a start. Minutes after a heated make out session with Mykenna, Peter handed the first rose of the night over to Sydney Hightower.
Article continues below advertisement
And while some fans are saying that they don't even remember her from night one, others are saying that's kind of the point. This soft-spoken sweetheart knows how to play the game, not by stealing the limelight but by stealing hearts.
Sydney won the group date rose of 'The Bachelor' Episode 2.
After viewers got a rather long scene of Mykenna making out with Peter and many predicted she was bound to get the rose, Sydney opening up about her childhood seemed to have swayed the bachelor into giving her the rose instead. And, honestly, fans were impressed.
Article continues below advertisement
Talking about her past, growing up in an area that she wasn't really accepted, helped to establish Sydney as someone who can overcome challenges. She's strong and independent and capable, but she's also sensitive and empathetic. It's a smart strategy and it's a great way to tug the emotional heartstrings of not only Peter but also the audience as a whole. It's why fan favorites on every reality show tend to lean into their challenging backgrounds.
Article continues below advertisement
Let's be real. Those who do best on The Bachelor have some kind of archetype. We all may dislike the Villain but we love to watch them and that's why they tend to last very long into the season, even though the other girls in the house are begging for her to leave.
But there's many different archetypes on The Bachelor. Sydney established herself as the Relatable Outsider. She overcame where she was and the boundaries that other people put on her. How could we not root for that? In some way, we've all been there. Fans also pointed out that, while speaking to Peter, she was very careful with her words, not trash talking or complaining about Hannah B. like some of the other girls did.
Article continues below advertisement
But Sydney's background is also a reminder of another girl in Peter's life.
During the group date, Sydney tells Peter that she's from Alabama, which led to some jokes about why she got the rose (hint: Peter's former flame Hannah B. is an Alabama girl). But, honestly, those Bachelor fans might be onto something. Because Sydney only told half of the story. Not only are she and Hannah B. from the same state. They went to the same high school.
Article continues below advertisement
Although Chris Harrison previously announced this news in the "Meet the Women" livestream, perhaps even he didn't have the full story. They were actually in the same year.
Hannah B. was the Vice President of her graduating class at Tuscaloosa County High School and her fellow graduate was Sydney. It's unlikely that the two never crossed paths, although it does make us curious about the nature of their relationship when Sydney talks about feeling like an outsider and being bullied growing up. These two might have a strange and maybe even darker past that we'll find out about this season.