'Queer Eye' Fashion Expert Tan France Is "Obsessed" With His Husband — Meet Rob France
Who is British fashion expert Tan France's husband? Meet the 'Queer Eye' and 'Next in Fashion' star's other half, Rob France.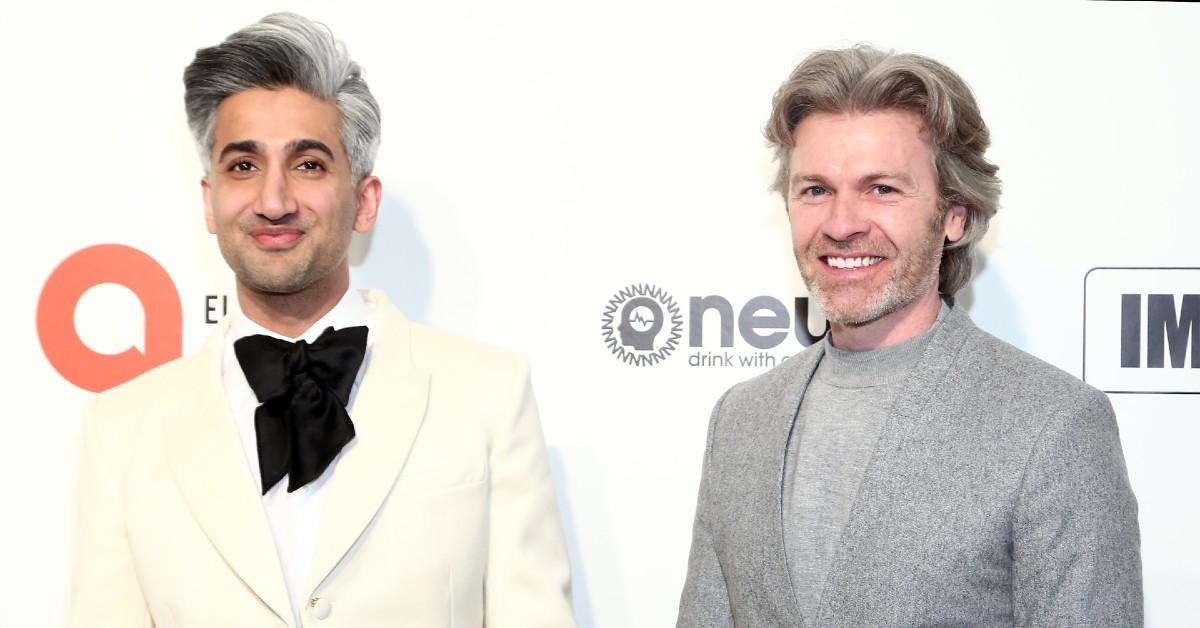 Known for his perfectly coiffed silver hair and impeccable style (not to mention his affinity for the French tuck), British stylist and designer Tan France adds charisma and personality to the Queer Eye reboot.
Article continues below advertisement
With such a charming disposition, it's no wonder the Next in Fashion co-host has a man in his life. So, who is Tan France's husband? Read on for a peek inside the fashion guru's love life.
Article continues below advertisement
Tan France met his now-husband, Rob France, in the early-2000s.
Per a 2018 interview with the New York Post, Tan met his "Wyoming-born Mormon" soulmate in the early-2000s via a dating site. According to Tan, who's Muslim, their shared connection to religion helped unite them.
"It made it easier to date somebody who had similarities to me. I don't drink alcohol, I don't smoke," he shared. "We practice some of our religions' practices. We don't practice them all. We practice what works for us."
Article continues below advertisement
Back in 2015, Rob was working as a pediatric nurse, illustrating on the side. Today, according to Brides, he's a full-time artist.
"I'm a freelance illustrator (self-taught, so it's all kind of experimental). I specialize in figure illustrations and the occasional abstract portrait. I love illustration so much. I pour my heart and soul into each piece, infusing emotion into each piece ... which is the main reason I don't produce prints or replicas. Each piece is sold as a unique, exclusive original," his website reads.
Aside from art, Tan's own Prince Charming relayed to City Weekly that he's "passionate about women's fashion, oddly, and horror/sci-fi films."
Article continues below advertisement
As detailed by Us Weekly, the two got hitched in 2007. Interestingly, they skipped the drama of an engagement period.
"It was just a case of, 'You know we're going to get married one day, right?' We had just agreed that it was going to happen," Tan said during a 2018 Queer Eye episode.
Article continues below advertisement
The Salt Lake City-based couple welcomed a son in 2021.
After over a decade of love, Tan and Rob decided to grow their family in 2021, bringing a son, Ismail, into the world via surrogate in July of that year.
"Anyone who's ever seen an interview of me talking about my husband, I think, finds me sickening and wants me to just rot in hell because I always gush about how much I'm obsessed with my husband — but he really is my favorite person," Tan told Us Weekly.
"He makes me laugh every day. I thought he couldn't get better — and then I watched him with our son and he is the most beautiful parent."
After gushing over the joys of watching his "patient" husband feed their son, Tan got real about how parenthood changes romance.
"Don't get me wrong. It's hard because you are spending so much time focusing your energy on your child, but we make time for each other every evening once we put our son to bed. It is dad time and it's gorgeous," he explained.
Article continues below advertisement
In April 2023, Tan and Rob announced that baby No. 2 is on the way!
On April 13, Tan and Rob shared with People that they are expecting a second baby together. This little one will join their family in the summer of 2023.
Article continues below advertisement
When they learned the news that their surrogate was pregnant, they were "over the moon," Tan said. "It was the best feeling ever. I mean, it felt almost as shocking as the first time. I was overjoyed, in tears, I couldn't believe that it had finally happened again. It was just the most incredible feeling."
This family sets the bar for love higher than Tan's manicured hair.
Season 2 of Next in Fashion is currently streaming on Netflix.