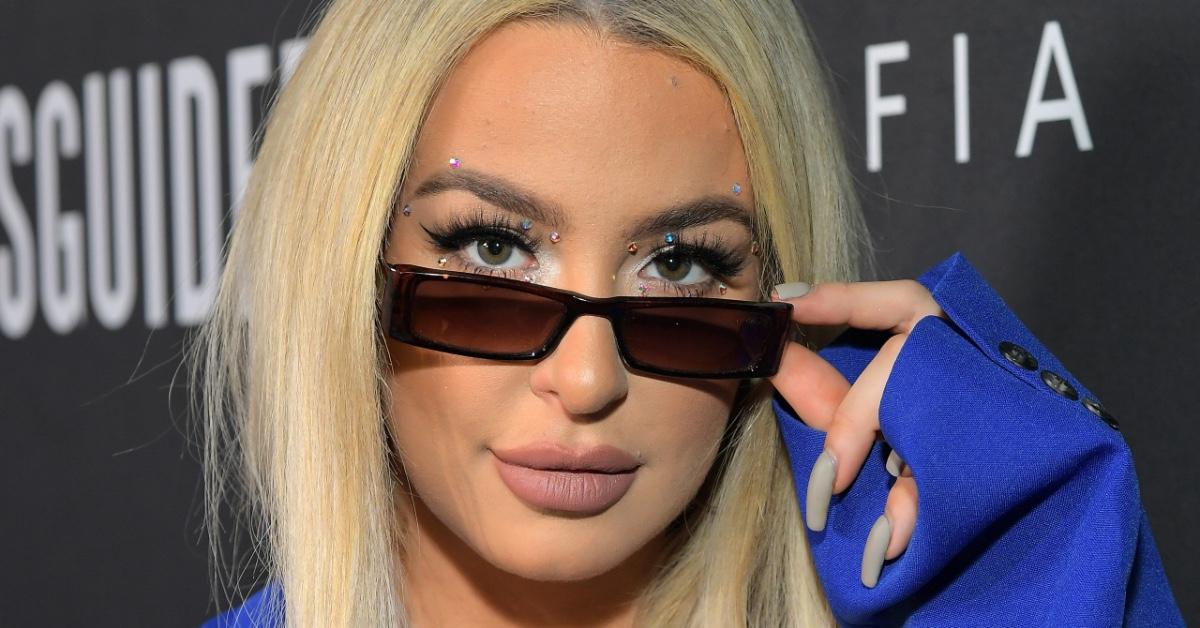 Tana Mongeau Recently Announced Her New Relationship With This Musician
Those familiar with social media star Tana Mongeau know she's faced romantic rollercoasters aplenty. After many exes and even a failed marriage to Jake Paul, it seems the star has finally settled down!
So, who is Tana Mongeau dating? Here's everything we know about her new boyfriend and musician.
Article continues below advertisement
Who is Tana Mongeau dating? This up-and-coming rapper has her heart.
Fans had been speculating the identity of Tana's boyfriend for months after a series of posts to her Instagram included pictures of his hands or back. In one cheeky post, she tags the mystery man "you thought h-e" with a photo of his back to the camera kissing her.
She later posted another photo with the mystery man's hand in the post, further sparking rumors and speculation.
It didn't take fans too long to add up that the person who has been spending so much time with Tana is Chris Miles, a 22-year-old rapper and former America's Got Talent star from Long Island, NY.
The couple went Internet-official on July 8, 2021, when Tana gleefully tweeted their relationship status.
Article continues below advertisement
"I HAVE A BOYFRIENDDDDDDD. 7-7-2021. I LOVE U 4 ETERNITY, @RealChrisMiles," she gushed. Chris responded with his sweet note, quoting her tweet and saying, "I don't want anybody else bye. I love this girl more than anything."
It's clear the pair have a lot of affection for one another, and as one fan said: "Let's hope this ex doesn't also write a song about her."
Article continues below advertisement
Who is Chris Miles?
Tana's new beau has been in the music industry since 2012 when he put out his first mixtape, I Am Me. The rapper is signed to independent music label T3 Music Group, which also produces musician and social media star Jacob Satorius.
Since 2012, Chris has put out five more mixtapes and one EP, with his first studio album Nothing Matters Anymore released in 2020.
It is unclear how Chris and Tana met, but the pair have been involved since at least April 2021. Sneaky fans saw a photo thought to be Tana's feet on Chris's Instagram feed. He has also been spotted in the background of many of Tana's Instagram stories over the past few months, but the pair have kept their relationship status quiet until now.
Previously, Tana said she had only hooked up with one person in the past year—who fans now think was Chris.
Article continues below advertisement
Fans of Tana's are happy she's moved on from the Paul brothers, especially after an embarrassing TikTok faux-pas where she poked fun at her and Jake's previous relationship... and received a scathing reply from Jake Paul himself.
Congratulations to the happy couple, and let's hope this time she's found true love — or at least, someone who won't write a diss track about their relationship.