This Woman's Innovative Hack Helps You Remove Target Security Sensors Using a Seatbelt
Have you or someone you love ever been stuck with a Target security sensor that a cashier forgot to remove? Here's a hack to help!
There's nothing worse than going on a Target run only to realize that the cashier forgot to remove one of the security sensors from a new item.
Article continues below advertisement
You now have a few options: Either you can drive all the way back to the store to get the sensor removed, stick it in the back of your closet to never be seen again, or you could use this handy dandy lifehack brought to us by TikTok user @annalisayhunter.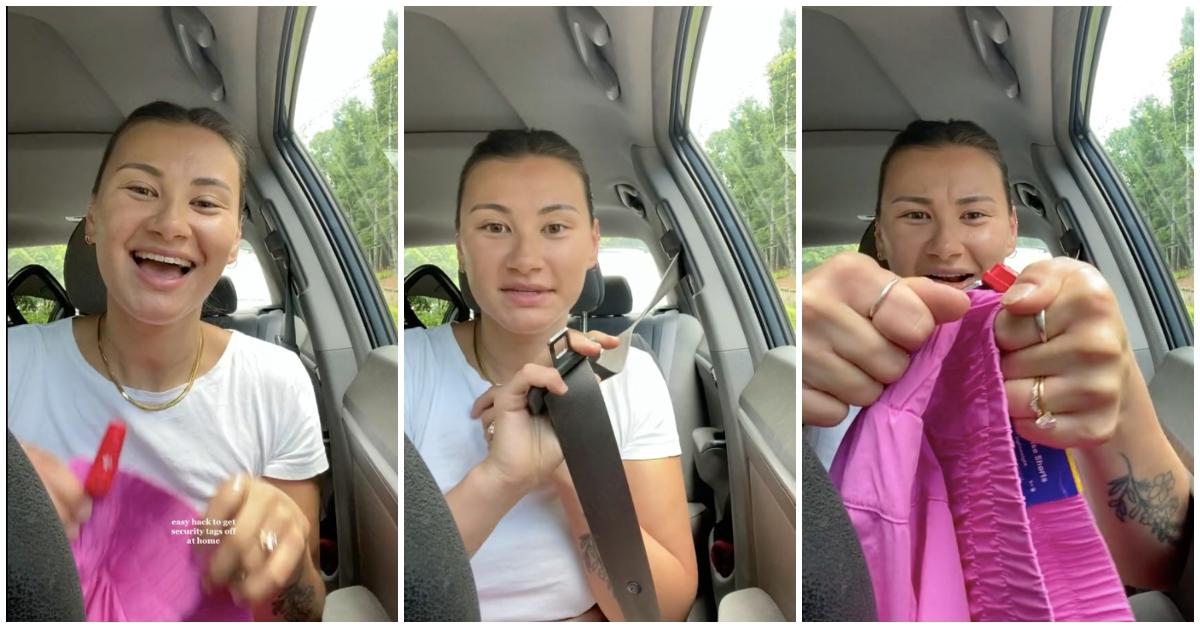 Article continues below advertisement
She has another method of getting those pesky tags off.
Since she shared the tip in a video, others have tried it out for themselves. Surprisingly, it works!
Here's the Target security sensor removal hack you didn't know you needed!
Normally, an alarm goes off when you walk out of a store with a sensor on your person. However, in many cases, the alarm may not catch it. This was the case for Annalisa and thousands of other users on TikTok.
Article continues below advertisement
That said, it only takes a few simple steps to get a Target sensor off of an item of clothing. All you need is a seatbelt. In a viral video, Annalise demonstrated how to use the metal part of a seatbelt to pry the tag off. While it took a little elbow grease to get the job done, Annalisa ultimately succeeded.
Article continues below advertisement
"This entire process took me less than five minutes," Annalisa captioned the clip.
One user commented on Annalisa's video: "I literally just saw that red thing on my dress and I was like 'D---, how how how didn't I see that before?' And then you show up."
Article continues below advertisement
"I literally have a tank top I bought last summer that I haven't worn because they forgot to take off the sensor. Trying this ASAP," another TikToker wrote.
If you're still not convinced, @caitlinschlueter tried it out too.
But, as pointed out by many commenters, Annalisa's seatbelt hack isn't the only way to remove a sensor that was accidentally left on an item of clothing.
Article continues below advertisement
Along with using forks or fire, one can also use a heavy-duty magnet to get the sensor off without ruining the item it's attached to. Granted, Annalisa's way of doing it might be the safest.
Article continues below advertisement
"Well that was a lot easier than the other way I had to do it the other day," @queenpirateelizabeth said.
Someone else chimed in: "I've done it with scissors before but this definitely seems safer [and] easier, I'll try it next time but hopefully this never happens to me again."
There's a dark side to this hack going viral, as it could make stores even more vulnerable to thieves. One user admitted to wishing they had this hack back when they used to help themselves to a five-finger discount.
Article continues below advertisement
"Wish I knew this in high school when I went through my klepto phase and just walked around with a single giant hole in all my clothes," they commented on the post.
Although some stores use security ink tags which are supposed to explode when they are taken off by someone outside of the store, it looks like Target isn't one of them.