TikToker Says Target Christmas Tree Lasts Longer Than Some Workers, Sparking Debate
A Target Worker went viral for claiming that the retailer's Christmas trees have a longer shelf life than its employees.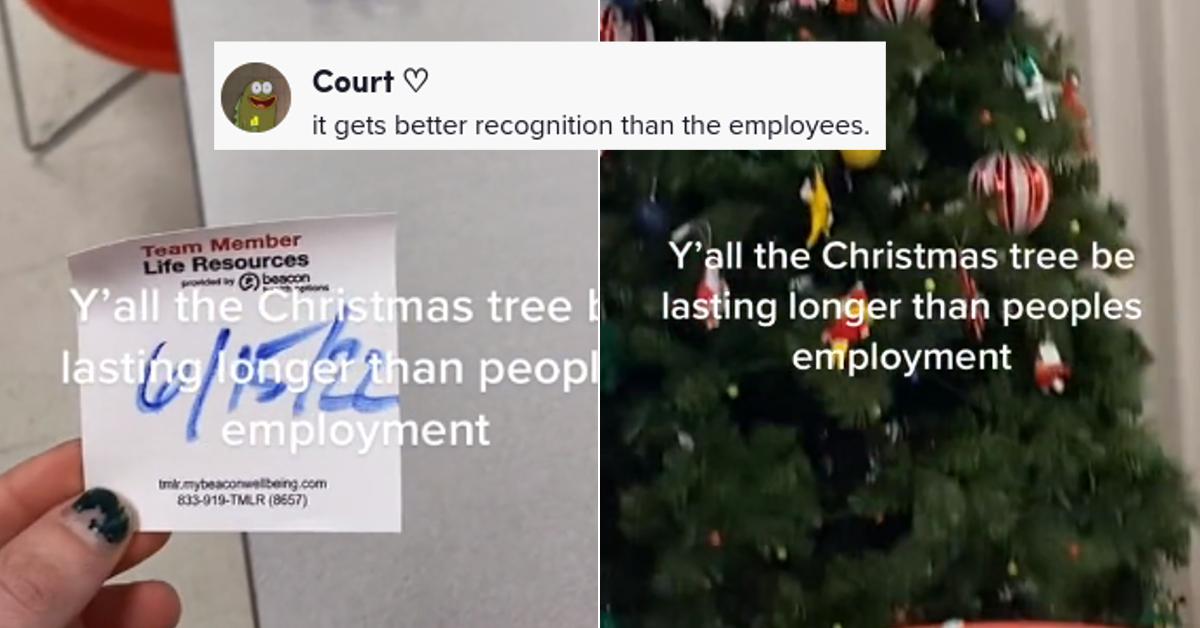 Indeed.com reports that Target received a 3.6 out of 5 stars rating when it comes to job satisfaction based on surveys from approximately 58,900+ workers who were employed by the massive retail chain.
And while there's a certain homogeneity when it comes to huge franchises like Target, each location's efficiency, profitability, and operational success relies on the teams that manage them.
Article continues below advertisement
And according to the TikTok account @Target_Violations, at least one particular store seems to have an employee turnover problem. In the clip, a worker holds a slip that reads "6/15/22." Then the camera cuts to a Christmas tree sitting in the corner of the room begging the question: what is a holiday tree doing up in the middle of June?
Article continues below advertisement
Folks immediately had ideas as to what the lone Christmas tree meant. They took its persistence as a testament to the lack of employees who'll stick around at Target.
"I'm taking this video as a sign to not work at target," one user wrote.
"They fired the person in charge of taking the tree down."
Another wrote, "my store didn't get a tree this last year and luckily I won't be around to find out if there's one this coming year"
"it gets better recognition than the employees."
Some said that their Target has a similar year-long tree issue: "At my store they just change the ornaments for different holidays lmao"
Article continues below advertisement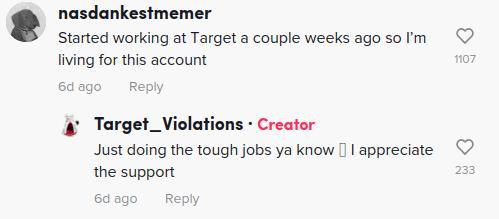 There were plenty of folks who said they worked for the retailer and didn't have the best of experiences either, "Yea really i was fired because of "performance" yet my hours were getting cut. Hm seemed weird that other people got fired for the same thing."
Article continues below advertisement

"Target has Walmart issues! They just cover it well"
Annual retail turnover rates have increased for several businesses from 2016 to 2020. Daily Pay writes: "2020 saw an overall turnover rate of 57.3% according to the Bureau of Labor Statistics (BLS). For context, the turnover rate was in the 42-45% range from 2016-2019, slowly creeping upward. The average turnover rate in the retail industry is slightly above 60%, according to the National Retail Federation."
Article continues below advertisement

But does this extend to Target, everyone's favorite story also affectionately known as "Fancy Walmart?"
While there were plenty of commenters who voiced their displeasure with the retailer in the comments section of the viral TikTok, this doesn't reflect reports about the corporation's actual turnover rates.
Article continues below advertisement

Fox Business reported that Target's turnover rates are officially under America's "national average." WHSV also writes that Target's "turnover rate was lower" in 2021 than it was in 2019, which was echoed by Retail Wire reports as well: "Target cut its employee turnover rate between 2019 and 2021 to a five-year low, but clearly the chain's leaders think it can do better. The retailer made news yesterday when management said it would offer starting wages as high as $24 an hour depending on the job and location. Target offers a $15 minimum wage, which went into effect in July 2020."
Article continues below advertisement

Labor shortages for food service, retail, and hourly jobs generally associated with low wages have seemingly influenced retailers like Target to offer its workers more bang for their buck.
However, even with increased wages, two-thirds of employed Americans are stating that their salary increases are not keeping up with inflation.
Article continues below advertisement

What's your perception of Target as a brand? Do you believe that they do right by their employees? Is $24 an hour for some positions a good enough starting wage or does that depend on the market in which workers are