Like its celestial animal symbol, Taurus is a sign that enjoys bucolic environments, soothing sounds, and a comforting touch. Tauruses are a highly sensual people, who need their creature comforts and value "me" time, while bringing stability to everything they do.
Which is why Tauruses are especially primed for the ongoing lockdown we're all experiencing, thanks to the COVID-19 pandemic.
As an earth sign who despises leaving the house even in the best of times, the Tauruses in your life are probably the most well-prepared for self-isolation. In fact, while the masses were wiping out supermarket shelves a couple of weeks ago, Tauruses were already baking their breads and downloading all 356 episodes of Grey's Anatomy, while mixing up an afternoon cocktail.
Taurus in quarantine memes:
But other Tauruses are missing their favorite restaurants and driving themselves crazy because they don't have the perfect wine to pair with the delicious meal they just spent four hours preparing. So check in on your Taurus friends (even the ones that seem to be thriving in quarantine) and share these Taurus-in-quarantine memes to help propel them deeper into the luxurious comforts of domesticity, while also celebrating the fact that it's their season!
It's Taurus season!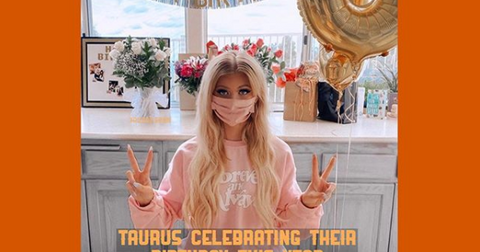 Just because it's your birthday during quarantine doesn't mean you can't fill your home to the brim with balloons, cake, and plenty of bubbly to celebrate one of your favorite people... YOU.
420 all month long!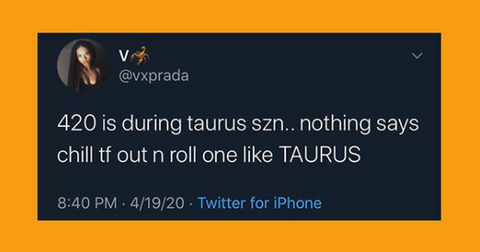 Hope you were an organized little Taurus who saved your kief in order to make yourself an extra-special birthday treat!
When the runway comes to you.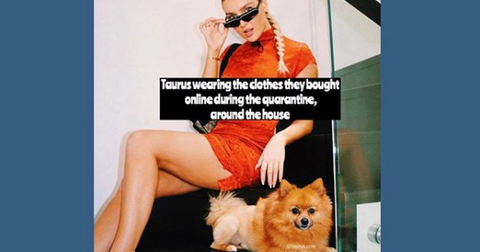 A few comfy things from FashionNova, a couple of trinkets from Urban Outfitters. Some Gucci and Dior to keep things classy. Any other good online shopping tips?
It's called a short-lived hobby, look it up.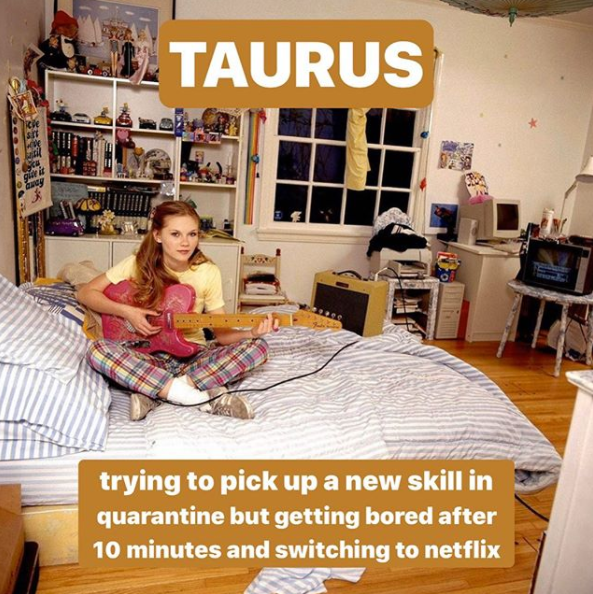 Yes, hi, I'm a Taurus and I own a banjo, harp, harmonica, thumb piano and didgeridoo and can barely play any of them... What's so strange about that?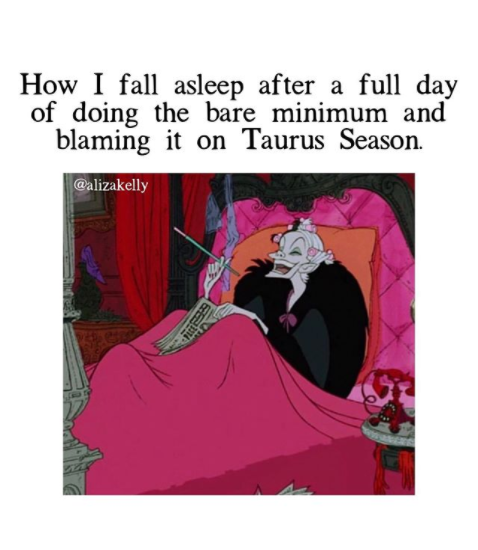 Taureans can seriously take a nap at 2 p.m., 5 p.m., and 7 p.m., only to get sleepy again around 10.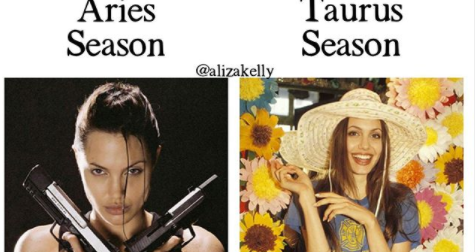 Put down your weapons. It's time to make your living room smell and look like a meadow.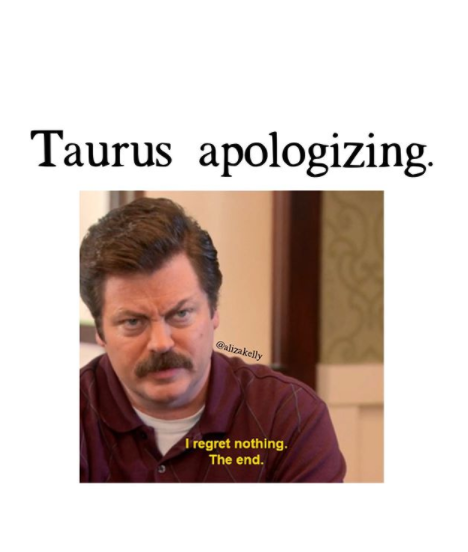 Ron Swanson is the unapologetic, plays-by-his-own-rules Taurus legend, as well as every Taurean's quarantine spirit animal. Hey, we don't make the rules!
Interesting strategy...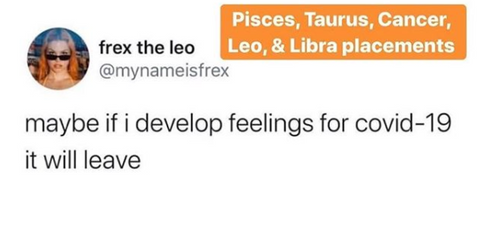 Taureans may seem tough, but on the inside, they're super ultra sensitive.
Weighing the pros and cons...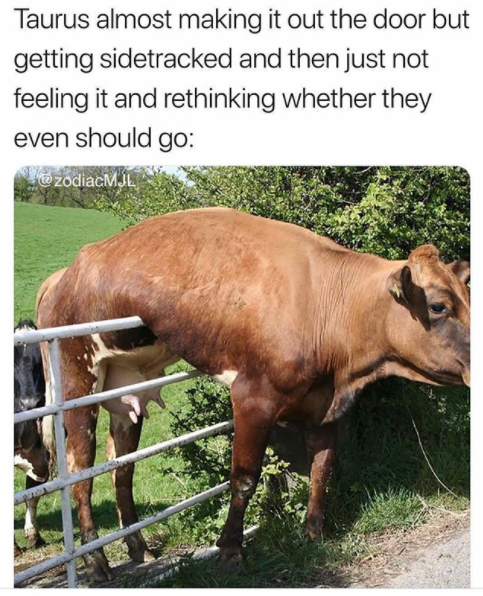 Print it out and hang it up on your bathroom wall.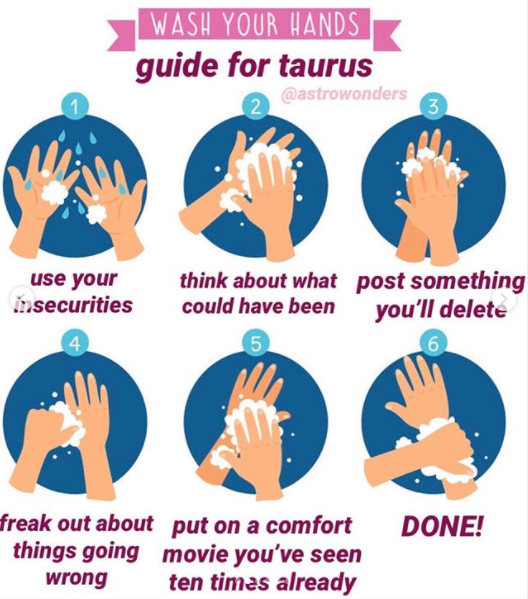 Shall we ruminate on what our lives could have been while watching Clueless for the second time this week?
OK, but Tauruses low-key make for the best chefs.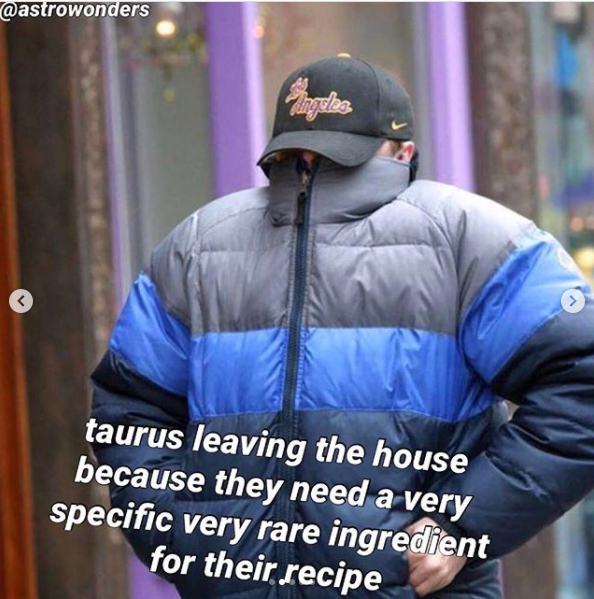 A Taurus would rather die than pair a white wine with their steak.
Spoil them extra this birthday!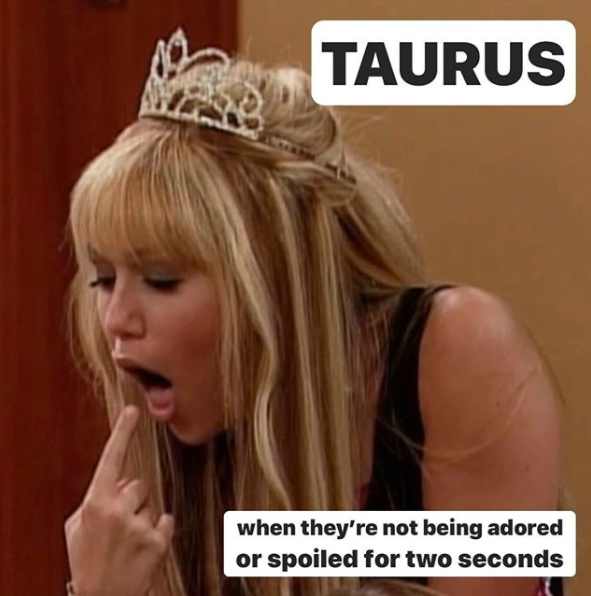 Is it the lack of attention and the accuracy of this meme that's making the Tauruses gag.
The best way to prevent contracting or spreading coronavirus is with thorough hand washing and social distancing. If you feel you may be experiencing symptoms of coronavirus, which include persistent cough (usually dry), fever, shortness of breath, and fatigue, please call your doctor before going to get tested. For comprehensive resources and updates, visit the CDC website. If you are experiencing anxiety about the virus, seek out mental health support from your provider or visit NAMI.org.