Ohio House for Sale Features Basement With Waterfall and Taxidermy Animals
A Zillow listing in Ohio is gaining momentum for its unique basement which features a real-life waterfall and an assortment of taxidermy animals.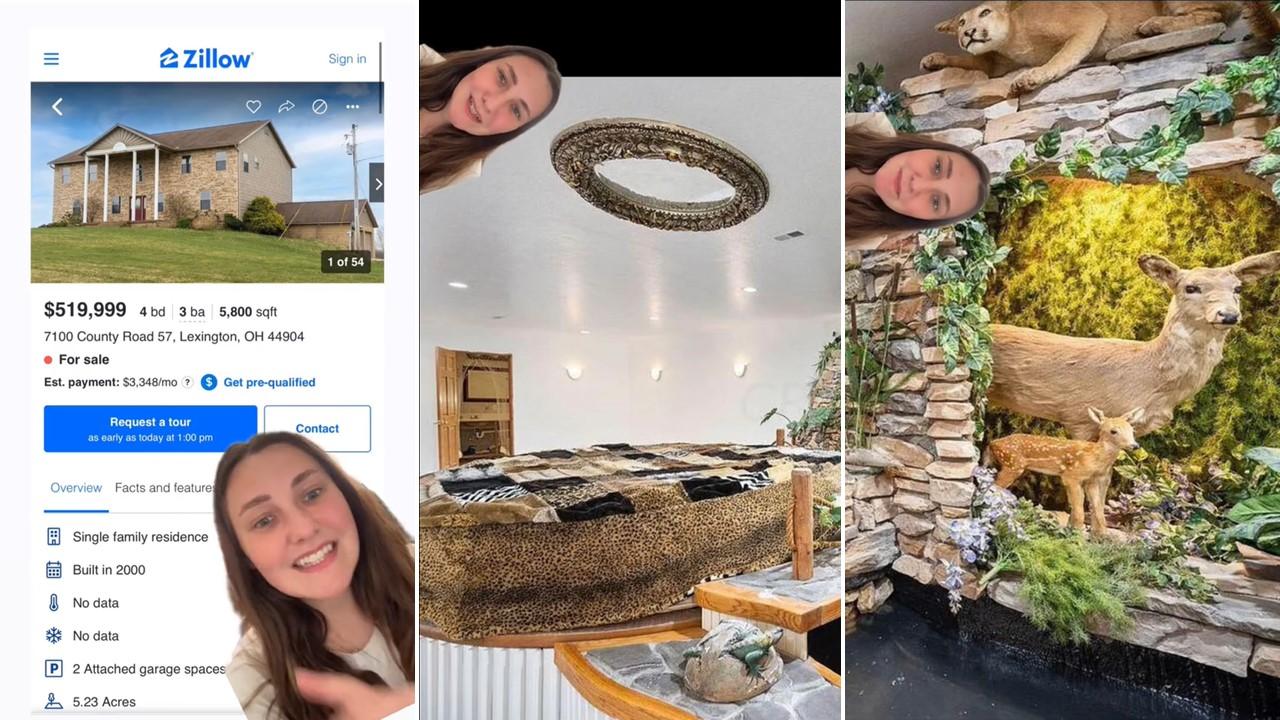 The online real estate marketplace Zillow has become notorious for sharing some rather unique listings. And thanks to popular accounts like @zillowgonewild and @zillowtastrophes, all of these bizarre, double-take listings have been compiled in one place for us to gawk and gag about.
Article continues below advertisement
On TikTok, the latter account just shared a listing in Ohio that includes a basement that contains a waterfall and an assortment of taxidermy animals. Let's take a look.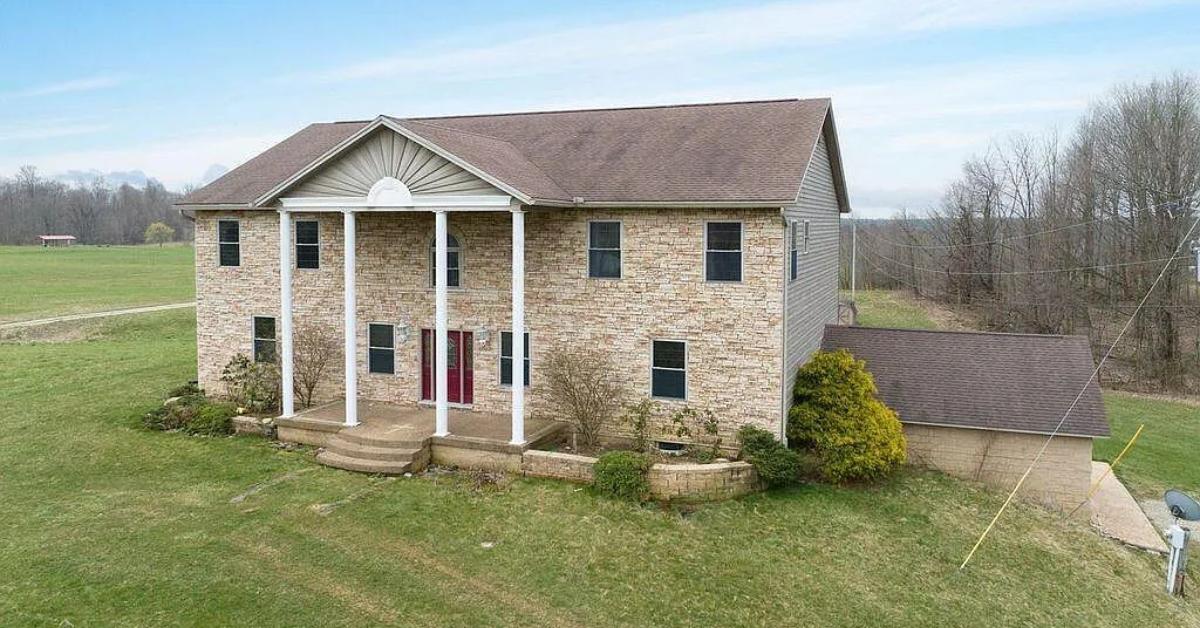 Article continues below advertisement
This home listed on Zillow has a waterfall surrounded by taxidermy animals in the basement.
One sprawling four-bedroom, three-bathroom home located in Lexington, Ohio, is currently going for $519,999, per its Zillow listing. But it seems to be having some trouble selling. Why is that exactly? Well, let's just say that the basement's decor is definitely of an acquired taste.
The TikTok account @zillowtastrophes gave us a peek inside this lux abode using photos from the listing. While the house looks relatively normal upstairs, things get a little more interesting in the basement.
Article continues below advertisement
Per the home's description, the property has been dubbed "The Mansion on the Hilltop," as it is seated upon a hilltop surrounded by a cool five acres of land.
From the outside, it looks like a great house to raise a family in. And for the most part, so does the inside as it boasts white interiors and gorgeous custom oak woodwork throughout.
Article continues below advertisement
But as the listing notes, there's "an exotic water fall in the basement." And when @zillowtastrophes showed us those images in the video, we had to take a moment to collect ourselves.
"Your eyes are not fooling you," she said. "You are looking at a round bed surrounded by a waterfall and features taxidermied animals."
But that's not all. There's also a mirror on the ceiling right above the bed. How fun!
As @zillowtastrophes explains that the waterfall is very much real. "Are you supposed to swim in here or just look at it?" she teases.
Article continues below advertisement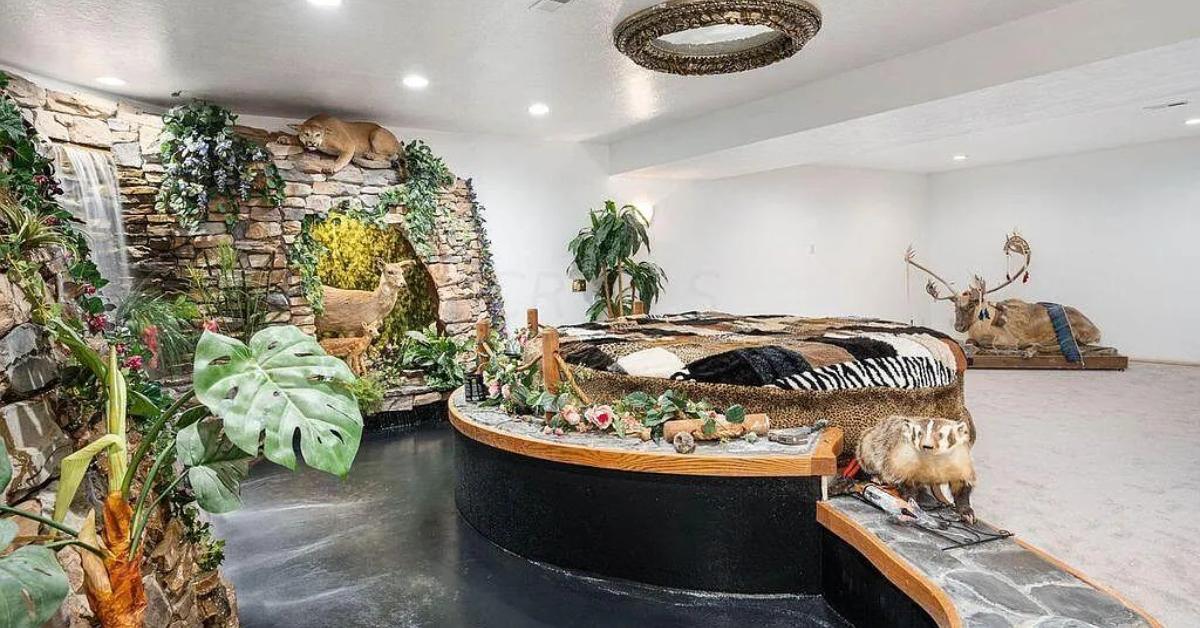 She also points out some of the animal friends that have been placed throughout, which include a reindeer, a mountain lion, a squirrel, and a lizard that almost looks as if it has been cemented into a rock.
There was also a doe and a mother deer facing the bed. "Who stuffed Bambi?" @zillowtastrophes asks.
As she ends her video, she remarks: "I feel like all the animals are saying "Send Help."
Article continues below advertisement
In the comment section, users had a lot to say. "It's giving Cabelas vibes," wrote one person. Another asked, "What in the Tiger King is this?"
Others claimed that without the taxidermy and the ceiling mirror, it actually was a pretty nice place.
@zillowtastrophes shared more details about the home in a follow-up video. Get this? The home had been on the market for 14 years and at one point looked a lot more colorful.
In an old YouTube video of the home, she pointed out there was brightly colored carpeting, exotic furnishings, and lots of plants inside the home. However, the interiors had been whitewashed since then. And believe it or not, that included the basement which had actually been toned down from what it once was.
Article continues below advertisement