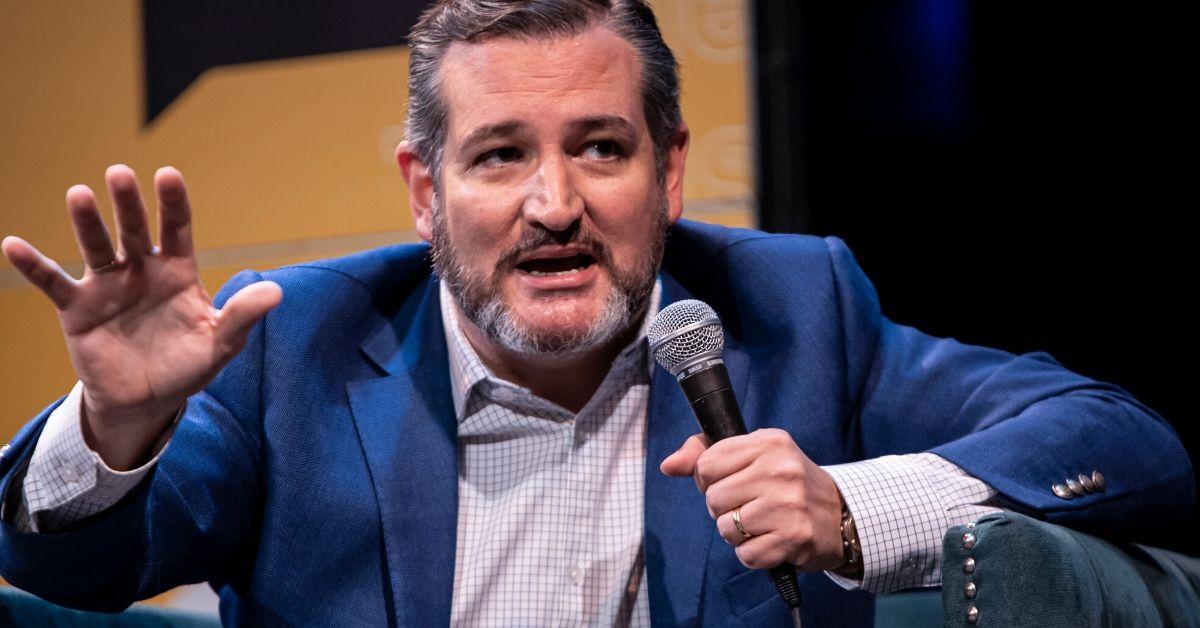 Ted Cruz Was Seen Boarding a Plane Without the Required Mask
There is a lot going on in the world right now that is less than ideal. We're dealing with a pandemic unlike one we've ever had to manage in our lifetime. With it, comes restrictions like a maximum of how many people we're allowed to be around, many of us have to work from home, and there's the whole wearing a mask thing. It's not the most comfortable, not ideal, but it's important to help keep the spread of the infections low. Not everyone seems to respect these boundaries and Ted Cruz has opted to ignore such coronavirus guidelines.
Article continues below advertisement
Ted Cruz goes mask free on a flight during the COVID-19 pandemic.
On July 12, 2020, a tweet went viral with a photo that showed Sen. Ted Cruz on-board an American Airlines' flight without wearing a face covering, which goes against the airline's policy on wearing face coverings while on board.
"Captured today at 10:45am," the tweet read, adding, "@TedCruz on a commercial flight, refusing to wear a mask."
In the photo, the Texas Republican was sitting in the airline seat, coffee cup in one hand while his phone was in the other. He's looking down at his phone and obviously isn't wearing a face covering of any kind.
Article continues below advertisement
The photo was put Twitter by Hosseh Enad, a marketing compliance associate for the Democratic National Campaign Committee. The photo and tweet quickly went viral with over 40,500 retweets and more than 13,000 comments. In a follow-up tweet, Hosseh said that he didn't take the photo, but got it from someone he knows and shared a second image of Ted Cruz from earlier, while he was at the airport gate — still not wearing a face covering.
Article continues below advertisement
According to the American Airlines press release issued on June 15, the airline had already put in requirements for customers to wear a face covering while on board the aircraft but added in more restrictions.
Article continues below advertisement
"American already enforces this policy at the gate and will deny boarding to customers who don't comply," the release read. "American now may also deny future travel for customers who refuse to wear a face covering. American made this change after working in conjunction with Airlines for America on an industry wide response."
Cruz denied he broke any policies.
According to USA Today, Cruz' spokesperson Lauren Aronson says he wasn't breaking any guidelines or policies regarding masks.
"Consistent with airline policy, he temporarily removes the mask while eating or drinking,'' she said in a statement. "Yesterday, during his flight he removed his mask to drink and put it back on afterward. We should all practice common sense measures to slow the spread of the virus."
Article continues below advertisement
Ted Cruz has coronavirus history, too.
Earlier on in the pandemic, in March, rumors started swirling that Ted Cruz had the novel coronavirus. Though he never did confirm if he was infected with the virus, he did have to undergo self-quarantine after a brief interaction with a person who tested positive for COVID-19, which he entered into on March 6.
Article continues below advertisement
He ended up needing to extend his self-quarantine after coming into contact with a second confirmed case of coronavirus.
"Unfortunately, last night I was informed I had a second interaction with an individual who yesterday tested positive for COVID-19," Ted Cruz said in a statement on March 13.
The best way to prevent contracting or spreading the coronavirus is with thorough hand washing and social distancing. If you feel you may be experiencing symptoms of the coronavirus, which include persistent cough (usually dry), fever, shortness of breath, and fatigue, please call your doctor before going to get tested. For comprehensive resources and updates, visit the CDC website. If you are experiencing anxiety about the virus, seek out mental health support from your provider or visit NAMI.org.