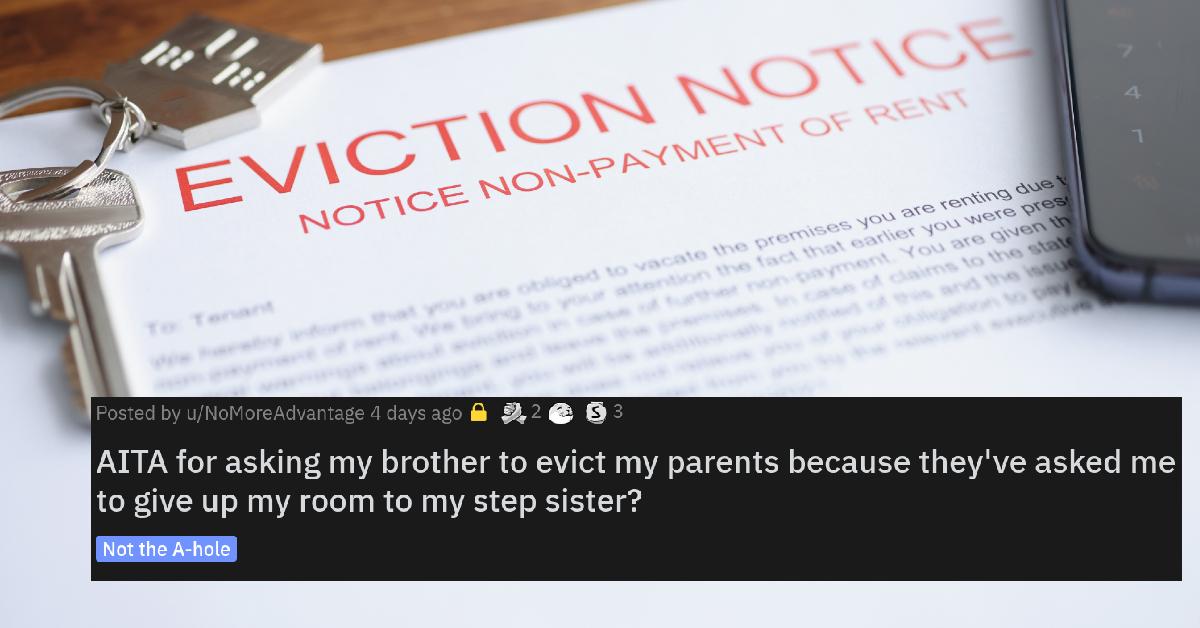 Teen Gets Stepfamily Evicted After Being Forced to Give Up Room to Pregnant Sister's Boyfriend
It's no secret that dealing with family issues can have a severe impact on one's mental health, especially when it comes to children and young adults. Oftentimes, younger kids can feel pressured or even "bullied" into accepting treatment from older family members who use a hierarchical structure in order to benefit from unequal exchanges.
Article continues below advertisement
It can be as simple as an older sibling taking food off of your plate or getting "first dibs" on the Playstation or family computer, or relatives trying to hustle you into giving up your room, forcing your belongings into a shed and making you sleep on the couch.
This is what Redditor @NoMoreAdvantage says happened to them after her stepsister got pregnant.
In a post uploaded to Reddit's AITA sub, where users blog about a situation and ask if they were in the wrong to behave a certain way, OP asked if she was wrong to convince her half-brother (from her mom's side) to evict her parents once they tried to hoodwink her into a dismal living situation.
Commenters who heard her story were overwhelmingly in support of the teenager, who spun a tale that, if true, would make it very difficult to sympathize with her step-family.
Article continues below advertisement

OP was living in a home her half-brother owned, and the house has three bedrooms: one her step-parents share, another is occupied by her step-sister, and the third bedroom, which is larger than her step-sister's and has its own bathroom, OP resides in.
Article continues below advertisement

OP's step-sister is pregnant and was informed by her parents that her boyfriend would probably be moving in with them, and since she was going to have a baby, they would need to make some changes to their current living arrangement. Her parents thought that a solution to this conundrum would be to make more room for her step-sister's boyfriend and the soon-to-be-baby.
Article continues below advertisement

That meant dedicating an entire room to the baby and forcing OP to sleep on the couch while moving her belongings to the shed to make a more comfortable living situation for her stepsister's BF.
Article continues below advertisement
OP saw this as a crumby thing to do because the only reason her step-family had access to the home was through her half-brother on her mother's side. She spoke with her brother and wanted to know if she was in the wrong for thinking she was getting screwed over. He agreed that they were, indeed, overstepping their boundaries.

Article continues below advertisement
So she asked if it would be better to just evict her than have to deal with all of the drama, and her half-brother agreed. In the interim, she moved in with him in order to avoid any conflict with her parents.
"I asked him if he can just evict my parents, so I don't have to deal with my stepmom and stepsister anymore."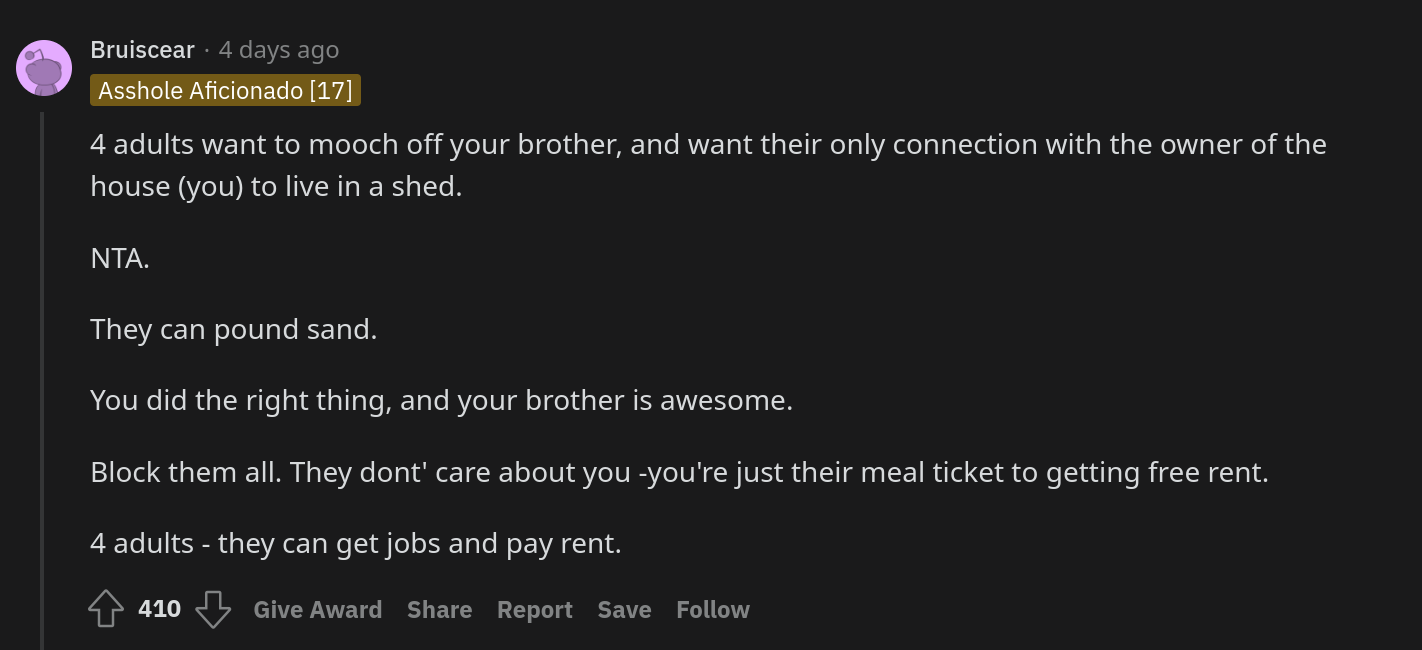 Article continues below advertisement
She continued, "My brother suggested that I move in with him so that I won't live there when they serve the eviction notice, as he was worried that they would blame me and it wouldn't be nice if I was living there."
The eviction notice went out around the time her step-sister's boyfriend moved in. Her step-family has two months to leave the premises, according to her post.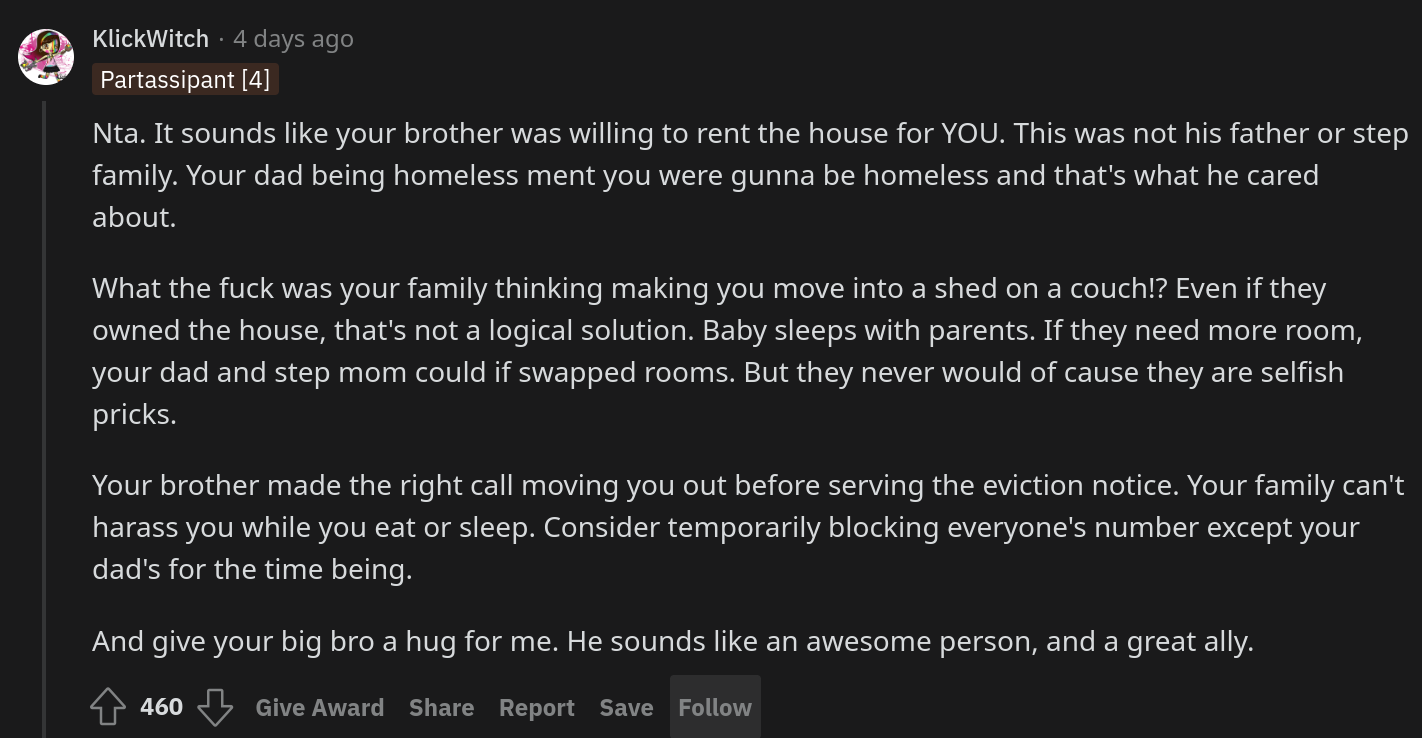 Article continues below advertisement
"So just about a week ago, my stepsister's boyfriend moved in as well. I have now moved in with my brother, and they have been served the eviction notice, which is two months. My dad, stepmom and stepsister have been calling me nonstop, asking me to convince my brother to reconsider and calling me heartless. My step sister texted me saying I'm the biggest a**hole she's ever met because I'm making her homeless at the peak of her pregnancy, and it's her baby that I'm punishing."

Article continues below advertisement
The vast majority of Redditors who saw her post commented that no, she was not an a**hole for standing her ground, and thought that it was deceptive, grimy, rude, and manipulative of her parents to essentially try and push her out of her own living situation for the sake of her stepsister.

Others added that it was inconsiderate of her half-brother's earning potential, as he could've easily rented out those rooms and earned more of a profit on the home, instead of worrying about doing favors for someone who's related to his half-sister.
What do you think? Should she have tried to talk it out with her family more? Or was it nasty of them to suggest she throw her belongings in a shed, to begin with?