Crying Teenage Girl Sends Mom to Find Guy Who Flipped Her off While Driving
A young girl started crying after a driver flipped her off, and people can't believe that her mother went after the dude.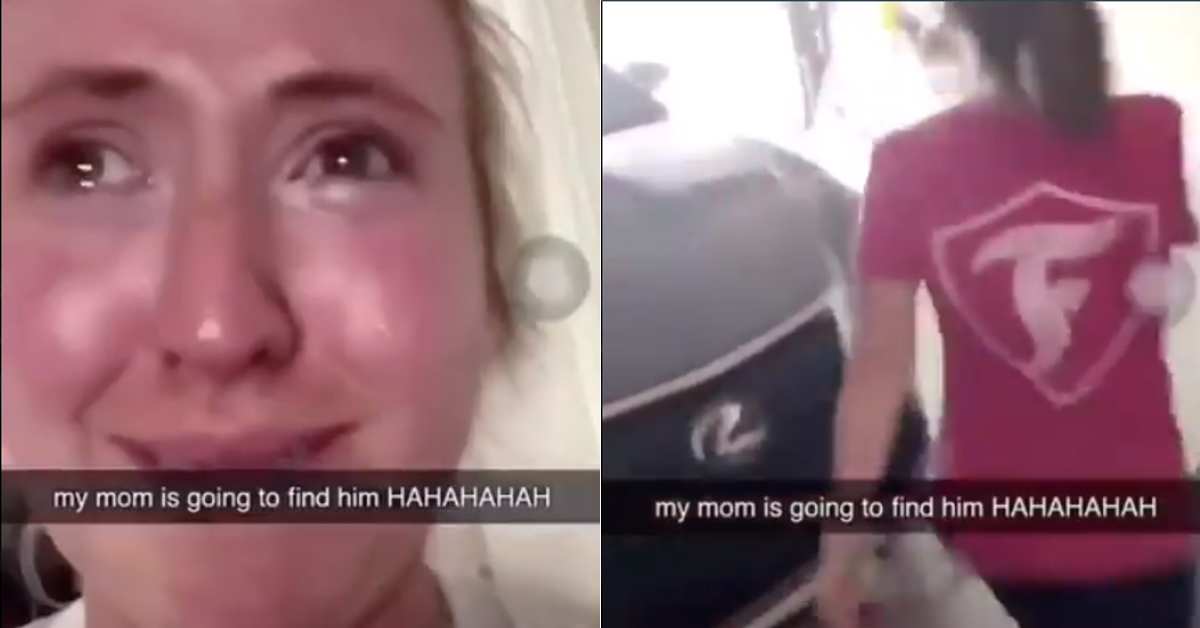 One of the hardest things to do as a parent is to temper when to give your kid a helping hand or when to tell them to suck it up and face a personal challenge on their own. Depending on the situation, both of these reactions can be forms of love, but having the strength to implement them in the correct situations is everything.
Article continues below advertisement
I'm going to go out on a limb and say that the way this mother handled her daughter's "run-in" with a driver who flipped her off is probably when of those times a bit of "tough love" is necessary.
It was pretty jarring for me, as child, to be coddled by my mother and father and told that everything I did was fine because I was "just a kid," but then, all of a sudden, once I turned 12, everything changed.
It seemed like there was a tidal wave of "tough luck", "do it yourself", and "that's not my problem" and while it was jarring and temporarily fomented some malice on my part towards my parents, I ultimately thanked them for it. Otherwise I'd probably be a 34-year-old loser relying on them for everything until this very day.
And if I came running to them with tears in my eyes like this young woman whose feelings were "so hurt" by a driver who flipped her off, I'd get laughed out of the house.
Article continues below advertisement
What's more is that the young girl thought it'd be a good idea to save this video of her crying over this random driver flipping her off, cut with clips of her mom leaving the home in a tizzy on the hunt for the big meanie who had the nerve of giving the middle finger to her baby girl.
The teenager's crying so hard it's easy to see she's forcing it.
Article continues below advertisement
Article continues below advertisement
But is she forcing the tears like a kid throwing a temper tantrum to get what they want, some type of awful toddler behavior that's managed to carry on throughout the years because her parents always left that attitude unchecked? Or is she forcing the tears because this is a totally faked TikTok video and no one could be that much of a grown-ass-child that they'd cry because someone flipped them the bird?
Article continues below advertisement
The clip found its way to Twitter, where people relentlessly roasted the young girl. Some, correctly I might add, offered that she wouldn't be able to last driving in New Jersey for a single day. I'd reduce that to two hours, probably.
Article continues below advertisement
Article continues below advertisement
Other people wanted to know just what in the world the young girl's mother intended on doing if she ever found the person who flipped her daughter off? Is she going to give this man the middle finger back or lecture him on how he doesn't know how to properly drive? Or was she going to throw a brick through the guy's windshield or something?
Article continues below advertisement
What really shone through for folks was the crazy amount of entitlement and coddling this young woman must've been brought up with to legitimately cry at the thought of a driver showing her a finger. I know the word "snowflake" has certain political connotations, but seriously, it's hard to not find that term completely appropriate in this scenario.
Article continues below advertisement
What do you think? Is it totally normal for someone who's old enough to drive to send their mom off in a tizzy to go and find a driver who flipped them off?