Teenager's Lung Collapses After Vaping for 18 Months
Chance Ammirata needed emergency surgery because his lung was so damaged after using a Juul. He's now urging people to give up vaping.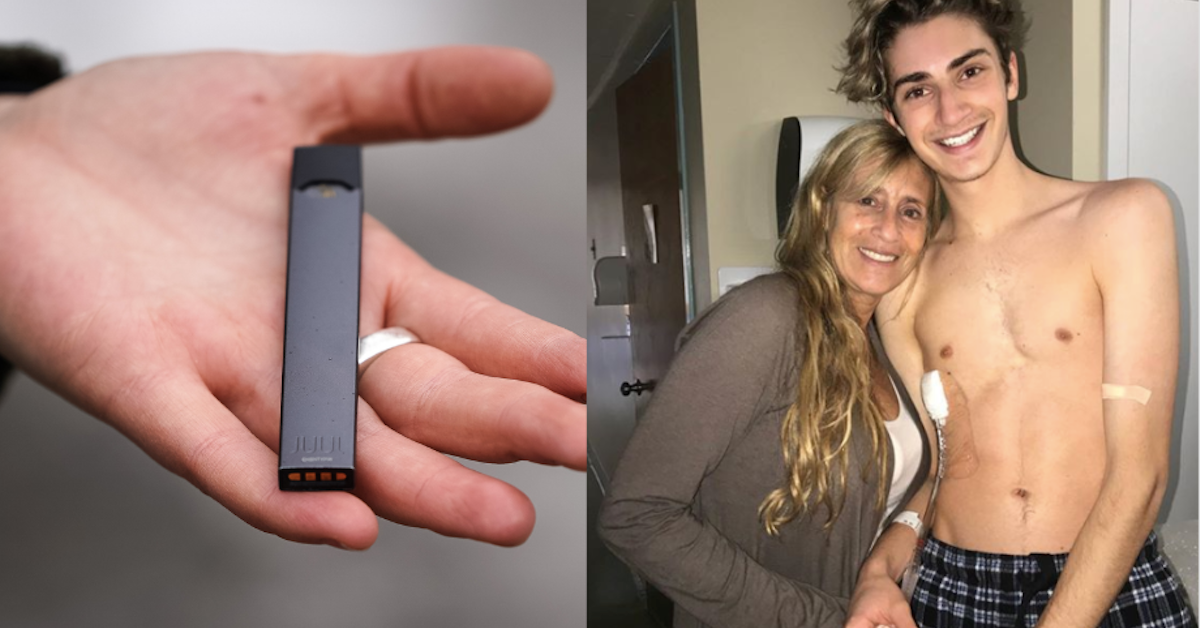 Chance Ammirata is only 18 years old, and already his body has been ravaged by the effects of vaping. It's a habit he picked up when he was only 16 years old. As we are well aware, Juul and other e-cigarettes have become insanely popular with young teens who have no idea how dangerous they can really be.
Article continues below advertisement
But now, after Chance's ordeal, he is urging others, especially young people like him, to give up their Juuls and stop vaping altogether. After 18 months of vaping, the Florida teen started to feel "a crushing pain" in his chest that made it difficult to sleep on his left side, according to the Daily Star.
Article continues below advertisement
Then one day he went bowling with friends and ended up in the hospital undergoing emergency surgery. "I remember she made me laugh and it felt like my chest was collapsing, like I was having a heart attack," Chance told DailyMail.com.
He was rushed to the hospital where, according to Chance, a whole team of surgeons took on his case. "Seven surgeons came in, and it's scary when you see seven surgeons come in, you think they're going to tell you you have like five days to live," Chance said. It was then that they told him they found black spots and a hole in his lung.
Article continues below advertisement
They did surgery to re-inflate Chance's collapsed lung. The surgeon told Chance that whatever he had been smoking was responsible for these black dots on his lung. Chance immediately knew that it was due to his Juul. He'd never smoked cigarettes.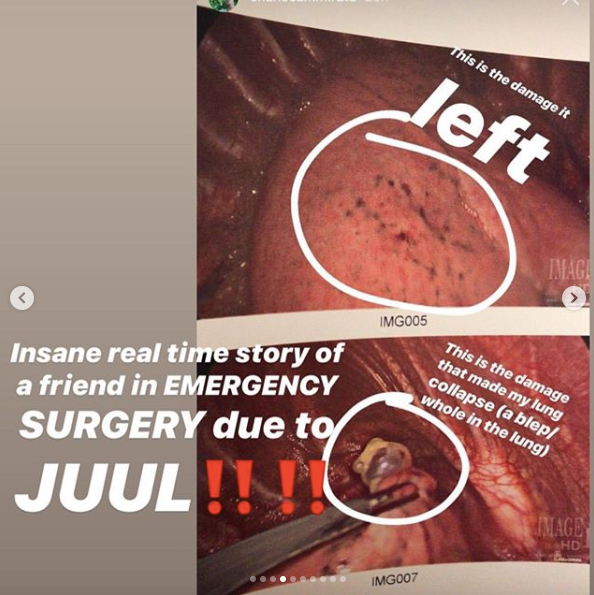 Article continues below advertisement
Chance had never considered that regular use of his Juul would have such disastrous effects on his health. After all, everyone did it. How bad could it be? "Everyone was doing it," Chance said, "and the problem was no one was saying they were addicted, just using it occasionally when they were stressed, so it was different from a cigarette."
But as we know, it's not. In fact, Juul contains one of the highest levels of nicotine of any e-cigarette on the market. Many young people have no idea that e-cigarettes contain nicotine at all.
Article continues below advertisement
But Chance wants to change that. He's used his ordeal to warn others about the effects of vaping, sharing his story on Twitter and Instagram. "This whole experience is absolutely insane and life changing," he wrote on Instagram. "I came into this experience completely negative, mad at the world, and scared of how things were gonna turn out after my lung collapsed.
"But I decided to take this negative and completely find another meaning. I decided that spreading my story could help others not have to go through the same thing as me." While Chance is now on the road to recovery, he says medics told him he'd never be able to run cross-country again.
Article continues below advertisement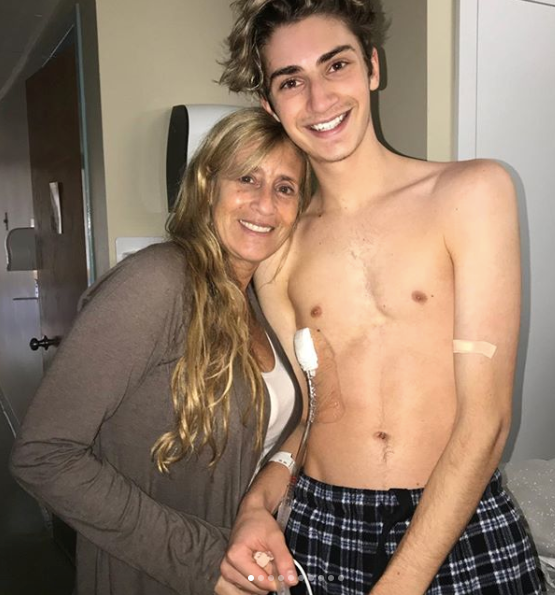 Since he shared his story, which went viral on both Twitter and Instagram, Chance claims that more than 100 people have told him that he's inspired them to get rid of their e-cigarettes and stop vaping. "If I can keep doing that, that's what I'm going to do...I don't want anyone else to end up in the hospital like this," he said.
Article continues below advertisement
Chance, like many teens, believed that vaping was safer than smoking cigarettes, especially because they're flavored and pretty openly marketed to young people. Chance had been vaping mint-flavored Juul pods.
"Juul is really manipulating it like it's OK, and it's not and there's not enough evidence, but I feel like it's my responsibility as a victim to let people know it isn't safe," Chance said. "Even if they said I could smoke again, I would never pick up a Juul or anything that has smoke, I'm never going to pick up again."