These TikTok Thanksgiving Decor Ideas Will Set the Festivities in Motion
With Turkey Day almost here, families are likely scrambling to finalize decorations. But TikTok's got us covered with Thanksgiving decor ideas.
It's the most wonderful time of the year for foodies: Thanksgiving! The holiday that's filled with delicious cuisines, loved ones, and loads of memorable experiences is almost upon us. And while many of us are determined to master specific recipes, catch up with family, or simply enjoy a much-needed break from work, it's a great time to flex your home decor skills.
Article continues below advertisement
Every good host knows that Thanksgiving decor sets the tone for the holiday. After all, with so many picture-perfect moments at your disposal, it's only right that your background falls in line with the festivities. While most people believe that you have to spend serious cash on decor, you can transform your home into a festive wonderland without breaking the bank. And of course, TikTok has become the hub of all things Thanksgiving decor. So with all of that said, here are five decor ideas to get into the Turkey Day spirit.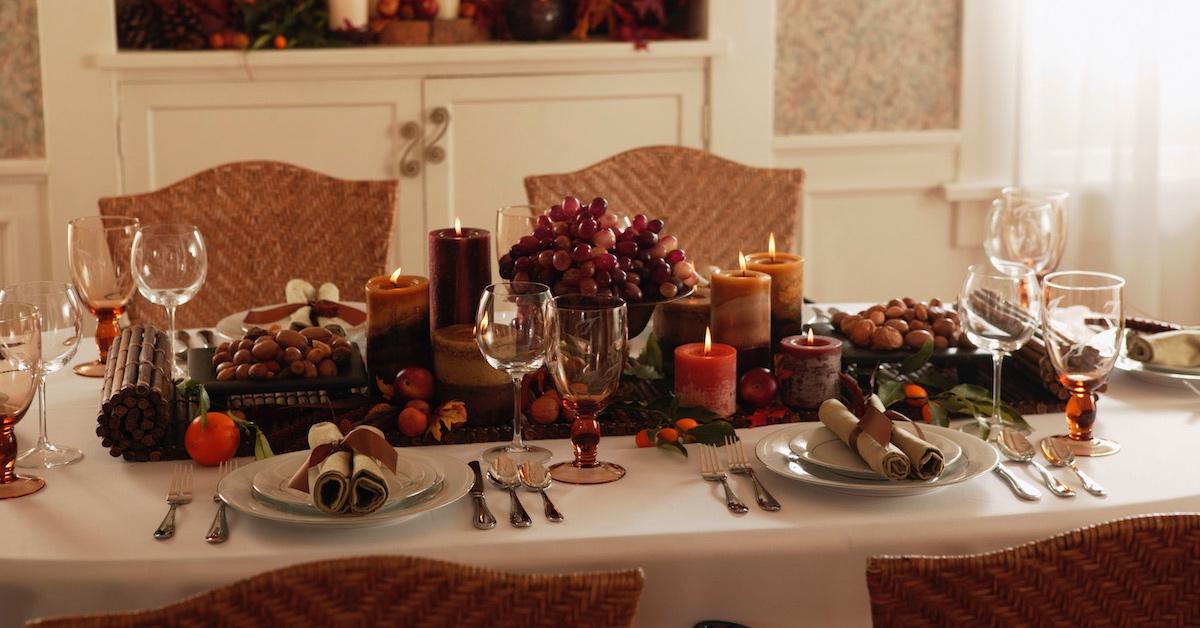 1. Yarn Pumpkins
Can't get your hands on mini pumpkins? TikTok has come to the rescue. Instead of having to search high and low for the mini vegetable, all your creativity can shine with the use of yarn. TikToker @carftylumberjacks's video shows how to use a Styrofoam ball and wrap the yarn around it until completely covered. And with the finishing touch of a yarn leaf, your work is complete.
Article continues below advertisement
Pine Cone Garlands
Even though pine cones are considered to be a Christmas staple, you can also use them for your Thanksgiving decor. Kick things off by baking a few pine cones at 250 degrees for 45 minutes. Next, paint the tips of the pine cones with gold paint. At the center of the pine cones, apply a bit of glue and use some twine to create a garland. Be sure to place the pine cones a few inches apart — and voilà!
Article continues below advertisement
3. A Floral Basket
As beautiful as bouquets of flowers are, they end up dying after a few days. So, in order to add some floral flair into the mix, fake flowers are a great alternative. All you have to do is get a Thanksgiving-inspired bucket from a dollar store. Next, glue two floral foams in the center of the bucket. Using the fake flowers, pumpkins, and other greenery, stick them into the foam.
Article continues below advertisement
4. Pumpkin Napkins
With so many napkins layered on your Thanksgiving table, it's common to find cool ways to spice up your decor. And with pumpkin napkins, the job is simple. To start, lay the napkin flat and put a napkin ring in the center. Pull the napkin through the center a few inches up. Take the corners and fold them into the ring. Fold the new corners into squares inside the napkin folds. Pick up the napkin and fluff up the sides.
Article continues below advertisement
5. Napkin Rings
There's almost nothing worse than misplacing your napkin rings. But instead of running out and buying a new set, you can create them at home. Using leaf coasters and shower rod rings, simply glue the ring on the center of the leaf. Allow it to dry and you're golden!