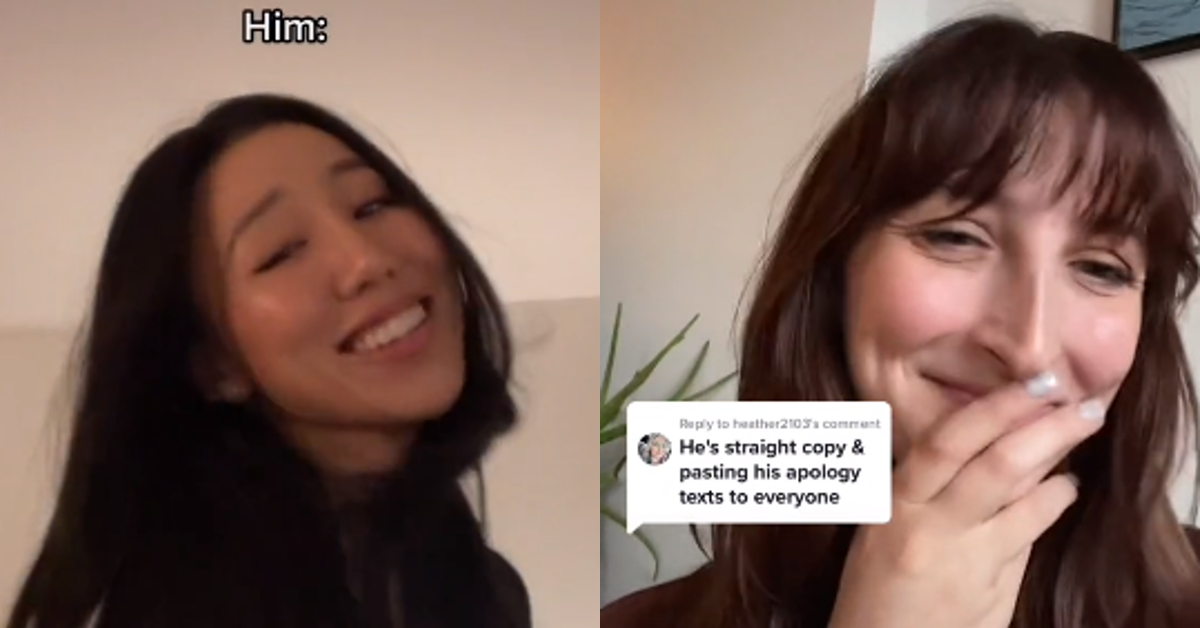 NYC Man Who Ghosted Tons of Women at Once Sent Them All Identical Apologizes
The world of online dating can be pretty scary. Most of us are hardwired for love and finding our ultimate significant other, so we'll often throw caution to the wind in the hopes of potentially finding "the one."
This means that sometimes we're willing to go out of our comfort zone and element in order to go on a date and hopefully spark some romance with a stranger.
Article continues below advertisement
And while there are plenty of absolutely normal interactions with totally normal people folks have in their online dating excursions, there's no shortage of stories from folks who've had awful, cringe-inducing, and downright scary experiences.
And even though we're living in a day and age where it's becoming more and more difficult to keep one's privacy because everyone and their mother can take a video of you in public and upload it to the internet, more and more people are turning to online dating apps in order to cheat on their significant others.
And even if they're not cheating, there are people juggling between multiple romantic interests, like West Elm Caleb.
Article continues below advertisement
That's the name that's been given to a gentleman who was apparently dating multiple women at the same time, and the only way they found out was after a relationship post from a jewelry designer in New York City, Mimi Shou, was uploaded to TikTok.
In the post, Mimi relayed her experience of being on a wonderful first date with a tall man by the name of Caleb.
Then he ghosted her.
Article continues below advertisement
It didn't take long for other women who had a similar experience with a tall and good-looking dude by the name of Caleb, asking if he worked at West Elm as a furniture designer.
Mimi stated that she didn't date the West Elm Caleb, but as other commenters began talking with one another about their Caleb experiences, they found a lot of similarities in one another's tales.
Article continues below advertisement
The biggest one is that Caleb would re-use the same messages by "love-bombing" them. He'd go hot and heavy right from the get-go, asking women to decorate an apartment with him or straight up asking them to "marry" him.
He said he would name new couches he was designing after them, or he would send playlists, also named after the individual women, that contained the same songs.
Article continues below advertisement
West Elm Caleb had a wooing mechanism that he implemented on multiple women and it worked, at least for a date or so until he would drop them entirely.
But once women found out they were talking about the same guy, they ended up outing him on the internet. They put up screenshots of their conversations, links to his social media handles and LinkedIn page.
Article continues below advertisement
After the West Elm Caleb reckoning went down, many women said that the man in question sent them similarly worded apologies, saying he was sorry for ghosting them and that he was looking for personal validation and he was "actively seeking help."
TikTok commenters found his apology disingenuous, stating "He's straight copy & pasting his apology texts to everyone."
Article continues below advertisement
A woman by the name of Kellie stated that while he was hurt when she found Caleb played her, she ultimately found humor and comfort in the fact that so many other women had a similar experience.
Others claimed that Caleb sent unsolicited pictures of his genitals, and a common recurring theme was Caleb's blatant lies and background details differing from relationship to relationship.
Article continues below advertisement

Yahoo spoke with Dr. Ysabel Gerrard, a sociologist at the University of Sheffield who focuses her research on "digital media and society" stated that "a trend that I've really seen come out of this is that kind of, 'We need to warn each other. We need to look after each other because no one's going to do it for us.' At the end of the day, if he is not treating women well, and if some of his behaviors are emotionally abusive, then you kind of think it's a good thing that people are sharing those stories."
Article continues below advertisement
TikTokers are flooding West Elm's social media accounts with comments, and other companies are even jumping on the ribbing: Ruggable said that their carpets weren't designed by West Elm Caleb and DoorDash cited him as having "multiple delivery addresses."
Article continues below advertisement
It seems that a great conversation about privacy has arisen: once a niche of social media users decides it wants to set its sites on you, there really isn't anything you can do.
Then again, there's probably a lot of folks who would argue that ganging up on a dude who lied to a bunch of women about being single "deserves it." A NASA employee looking out for an intern? Not so much.