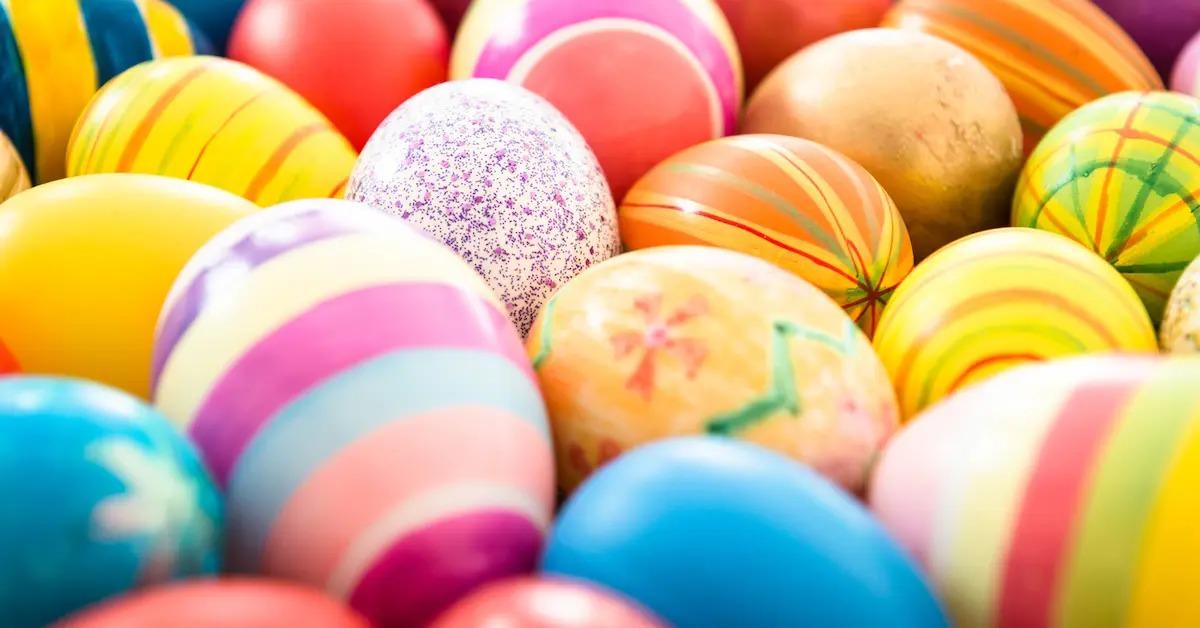 TikTok Has Tons of Alternatives To Coloring Easter Eggs the Old Fashioned Way
Even though TikTok isn't the place you'd want your small child hanging out at any given time, the app can be useful when it comes to holidays with the family.
And in this case, Easter is no different. But if you're over the typical Easter egg dying kits from the store that seem to dye everything but the eggs, TikTok has tons of alternatives and hacks to make things a little more fun and, in some cases, a lot less stressful.
Without further delay, the best Easter egg coloring idea from TikTok:
Article continues below advertisement
Dye your eggs the natural way.
This method for dying your Easter eggs includes boiling purple cabbage to have a natural color as opposed to food dye. You also boil your eggs with some vinegar poured in the pot and after, you wrap each egg in thin white fabric.
From there, you carefully dunk your eggs and you're left with some muted tones that are kind of sophisticated, to be honest.
Make marbled eggs to be extra *fancy.*
For this one, you'll need some squeeze tubes of food coloring, rubber gloves, and paper towels with your hard-boiled eggs. All you have to do is squirt random dots of color on your egg, covered in a paper towel or thin rag. Then, remove the paper towel or rag and you'll have a shiny marbled egg left over.
Article continues below advertisement
Or, use streamers to get the right effect.
Instead of using any sort of dyes or natural homemade colors, you can soak party streamers in water and use the run-off colors to transform your eggs. All you have to do once the water changes color is add your eggs to each individual dish and wait a little while.
There are no staining dye-droppers used and it's cost-effective too.
Article continues below advertisement
The color from tissue paper also works for Easter eggs.
Using different colors of tissue paper, you can make your eggs take the color to use as dye. For this method, spray your egg with water and wrap it with fragments of tissue paper. Then, spray more water on top of the tissue paper and wait for it to dry.
Once it's dry, take off the tissue paper and enjoy your pretty egg before you peel it and eat it.
Article continues below advertisement
TikTok is going wild for the rice egg coloring trick.
In perhaps one of the easiest ways to color your Easter eggs, the rice coloring technique makes things mess-free too. All you need is a plastic gallon-sized zip bag, some rice, and standard food coloring. Drop several drops of your preferred color in the bag, add your egg, and gently move the egg so the colored rice covers it.
Article continues below advertisement
Buy the Eggmazing Mini.
Another alternative to traditional egg dying involves the Eggmazing Mini. It's a device making the rounds on TikTok and only requires you to have a little patience and a steady hand. The egg-shaped indent contains little spinners to keep your egg spinning as you gently keep a marker in place to leave all kinds of lines and with no mess at all.
Article continues below advertisement
You can also use shaving cream as a base for food dye.
It might not be the most mess-free option, especially when it comes to little kids, but opting for the shaving cream and food dye combination is still a fun alternative way to dye eggs this year. Just drop a dollop of foaming shaving cream in each of the 12 cups in a cupcake pan.
Then, add a few drops of food coloring to each one and roll your eggs around in them.
Article continues below advertisement
Markers work for coloring eggs too.
For the youngest ones in your family, you can use washable markers and a plastic sandwich baggy. Just color lines on the plastic bag and wrap it around your eggs to add some color. Your eggs may not be as vibrant as they would be with other methods of coloring, but you probably won't even need to go to the store for supplies.
Article continues below advertisement
Use a whisk to keep things clean (for the most part).
One of the toughest things a lot of parents face with dying eggs is the mess. So instead of letting your little ones dunk their entire hands into each bowl of colored water, pop hard-boiled eggs into a whisk and gently dip those in each one.
We can't promise there won't be any spills, but it's pretty close.