There's a 16-Year-Old Who's Gone Viral on TikTok for Teaching Math
TikTok is known for viral videos of dancing and fun challenges that make people laugh. But, there's a TikTok math tutor who's helping and going viral.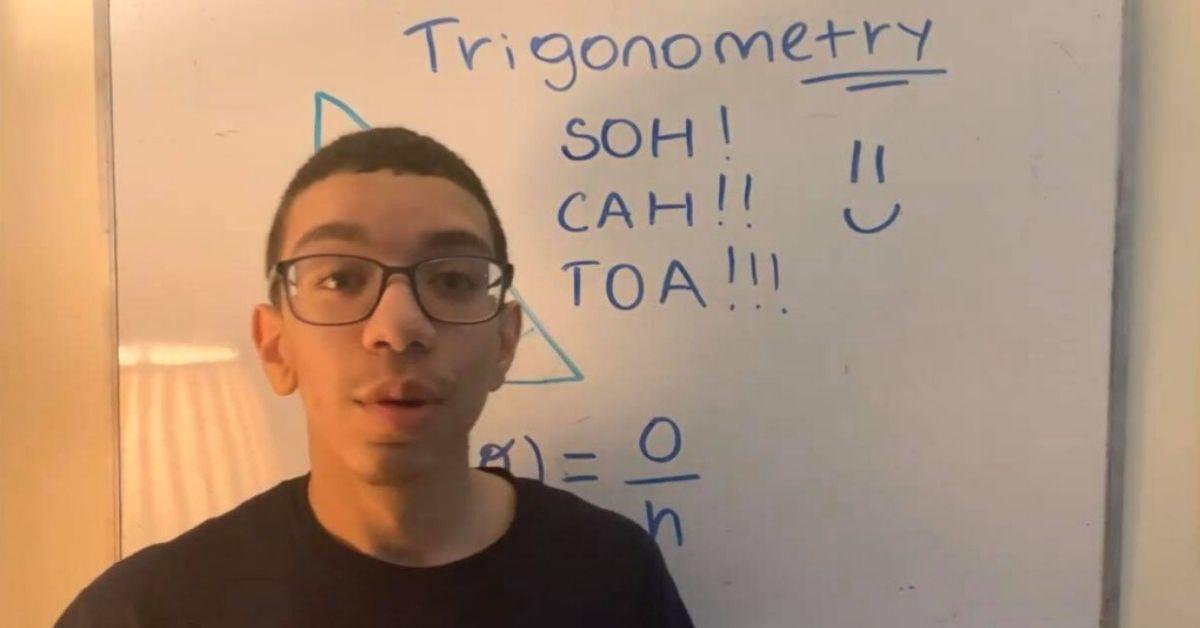 Most of us open our TikTok app to pass the time with hilarious videos or catchy dance routines. The app is full of videos that make us smile and are ridiculously silly. It's one of the big points of its popularity and how so many stars have had their careers launched on it. However, there are some users who go another direction and get their name out there. One teen has gone viral on the platform and is now known as the TikTok math tutor — and people love him.
Article continues below advertisement
Who is this 16-year-old TikTok math tutor?
Meet Alexis Loveraz. He lives in the Bronx, N.Y., and like so many teens, he decided to download TikTok and start his profile. Given the popularity of the app, standing out isn't as easy as some make it seem — so he went a different direction.
In February 2020, Alexis decided to connect with those scrolling on the app by sharing videos teaching others how to do math and science. He started releasing video lessons to help others pick up on math and science subjects.
Article continues below advertisement
According to CBS News, Alexis is "a junior with a 4.0 average at Harlem Prep High School," and he's quickly earned himself the title of TikTok math tutor.
Article continues below advertisement
He decided to post tutorials after his friends encouraged him to help them out with their schoolwork. Due to the worldwide COVID-19 pandemic, and the closing of schools, students were virtual or distance learning, and it didn't take long for others to find Alexis and his helpful videos.
Article continues below advertisement
He uses a white board on most of his videos and takes his followers step-by-step through the complex subjects. He's tackled the Pythagorean theory, inverse functions, and pH values in chemistry.
He has a continuing series where he helps prep SAT students by covering many lessons, including algebra and geometry. He also launched a Google Classroom and Discord, as well as posting his tutorials on YouTube.
"I want to make the most out of this school year for these students," he said to CTV News.
Article continues below advertisement
The TikTok math tutor is praised for how he teaches.
Math doesn't come easy for everyone, but Alexis has been praised for his ability to breakdown complex science and math subjects for others to digest. With 731,200 followers and nearly 7 million likes across all his videos, his popularity is steadily growing.
And his fame surprised him. Telling CBS News, "I was, like, really shocked. Things that they probably forgot like before COVID-19, this is like a refresher of what I'm, like, giving them out." Adding, "It's really cool because they understand it even better the way I'm explaining it to them."
Article continues below advertisement
He's been receiving a lot of attention across many news stations and his TikTok followers have been really supportive of seeing him get the attention he deserves.
"The fact im watching you on tv right now is absolutely crazy," one fan wrote in all-caps in the comments of his video. Adding, "Thank you for helping all of us who struggle with this subject. Youre amazing!!"
"You're so good at explaining math problems!" another said. "I'm a 6th grader and even I understood it. You would be the best teacher ever!"