A TikTok Celeb Supposedly Ended Their Videos Over the "Mayonnaise Incident" — Here's the Truth
Users on TikTok are spreading rumors about the mayonnaise incident after one user supposedly left their account over it. Here's what really happened.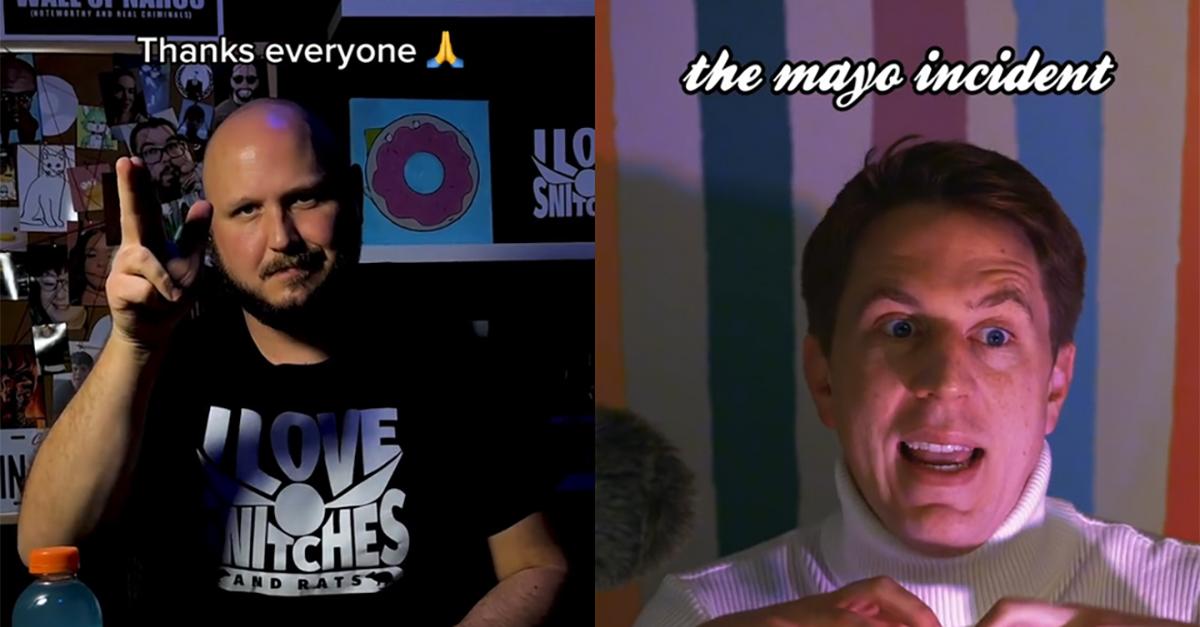 When something goes viral, it's often before you even realize it. Before you've had a chance to log on to a platform like TikTok, users from across the internet will already be discussing and dissecting the next hot topic. It can be difficult to keep up with whatever people are talking about, especially when the subject matter sounds vague and nonsensical to begin with. It's like a game of telephone where an initial TikTok trend gets all twisted before it even reaches your FYP.
Article continues below advertisement
Case in point, the mayonnaise incident. In early January 2023, folks on TikTok began presenting hot takes on some sort of event involving mayonnaise. Reportedly, a user on the platform announced that they were leaving their account over the alleged controversy. People chiming in on the mayonnaise incident aren't exactly clear on the details, but the drama is blowing up to exaggerated proportions. Here's what we know about the truth behind the mayonnaise incident on TikTok.
Article continues below advertisement
Let's break down the mayonnaise incident trending on TikTok.
On New Year's Eve 2022, TikTok user @not_an_undercover_cop shocked his fans when he implied in a TikTok video that he was leaving his account. @not_an_undercover_cop is a popular comedy TikToker who offers hilariously fake tips on how to avoid getting in trouble with the police.
His two-minute-long sign-off video showed him supposedly bidding farewell to his 2 million followers, followed by a replay of some of his greatest hits.
Fans in the comments began asking if his departure had anything to do with the "mayonnaise incident" with which @not_an_undercover_cop was involved. He even posted a follow-up video to try and explain the situation, though it was plagued by audio issues. Some users also implicated another TikTok influencer named @thefronk in the event. @thefronk even responded to the controversy, squarely placing the blame on @not_an_undercover_cop over whatever occurred during "the mayonnaise thing."
Article continues below advertisement
Details on the mayonnaise incident are incredibly sketchy, with folks discussing how ostriches and bubble wrap eventually come into play in this increasingly murky situation. However, if you watch the original sign-off video in its entirety, you'll know exactly what the mayonnaise incident is all about.
For all intents and purposes, the "mayonnaise incident" is completely made up.
Article continues below advertisement
In the initial "farewell" TikTok by @not_and_undercover_cop, the user put in a secret message at the very end of his video.
The message states, "I'm not actually leaving. LOL. Please start a rumor in the comments that I left because of the 'mayonnaise thing' that happened between @thefronk and me. Be vague and don't explain further. If people ask, just say it's complicated or that using certain words might get you banned."
Article continues below advertisement
Each of his follow-up videos is purposefully vague, wherein @not_an_undercover_cop perpetuates the rumors behind the mayonnaise incident with increasingly nonsensical details that don't actually have any basis in reality. @thefronk even plays along with the prank with his own poorly edited responses that still avoid talking about the mayonnaise incident in explicit detail.
If you were worried about being in the loop, then worry no more. The mayonnaise incident is simply a prank being pulled by two well-meaning content creators.