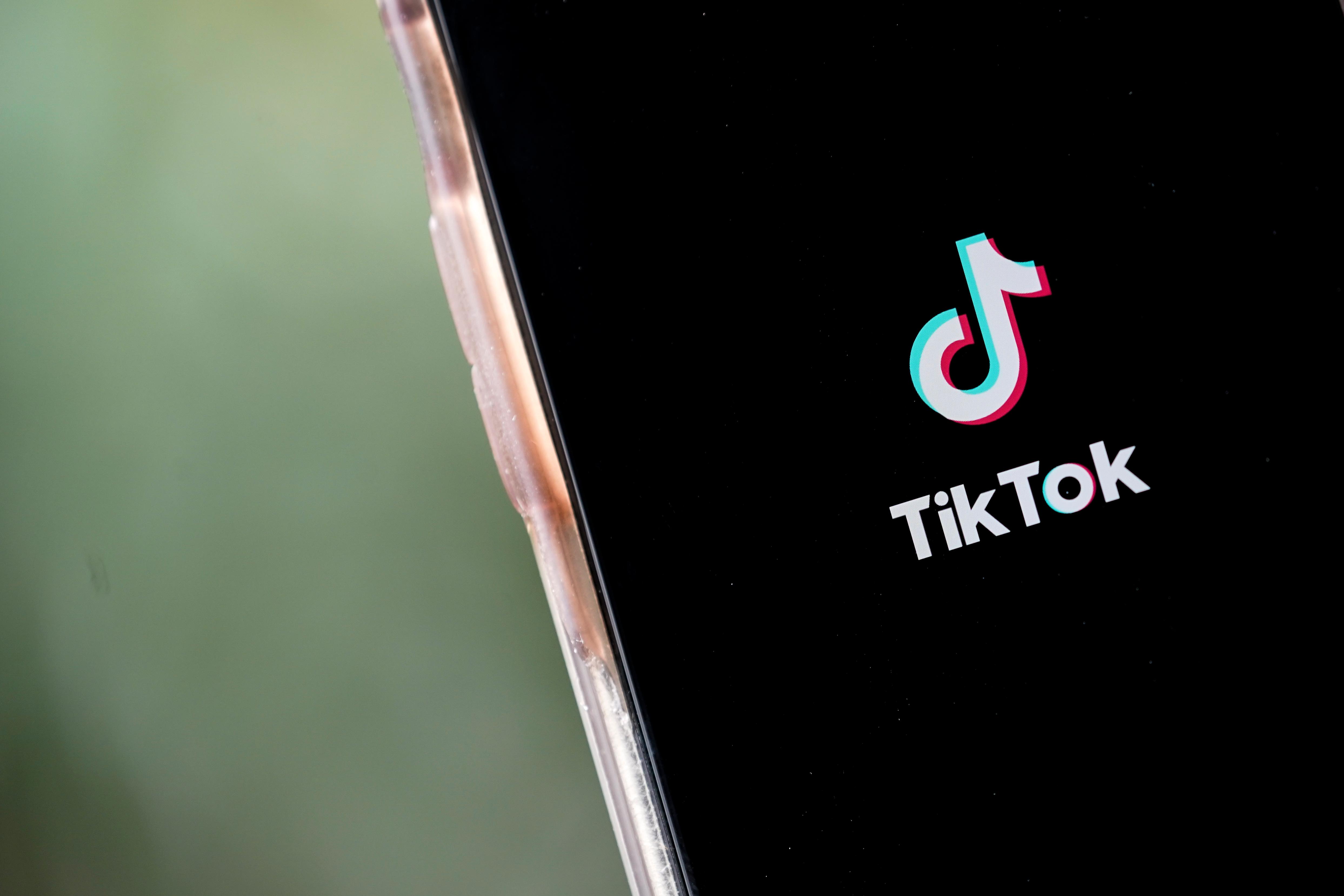 Use These Secret Emojis in Your Next TikTok Comment
Even if you weren't one of the millions of people who downloaded (and subsequently became obsessed with) TikTok during the COVID-19 pandemic, you're probably familiar with the popular video-sharing app. TikTok made U.S. headlines when former President Donald Trump threatened to ban the app from use in the country due to concerns over user data, and there is a litany of bad trends that have made the app a bit infamous among non-users.
Article continues below advertisement
But if you're one of the app's growing user base, then you're familiar with just how addictive TikTok can be.
Those whose screen time reflects hours of endless scrolling on the app are probably familiar with the countless hacks and secrets shared through it, but did you know there are secret emojis you can use only on TikTok?
There are almost 50 different emojis that are only available to use on TikTok, but aren't available on either iOS or Android.
Article continues below advertisement
TikTok has a series of secret emojis.
The comments section of a video on TikTok often features a bunch of emojis, depending on what device you access the app from. But TikTok itself offers even more colorful faces to use in the comments section than your average iPhone or Android does.
These emojis are just variations of your standard emojis, including vibrantly colored smiley faces. There is also a selection of emojis with similar expressions on a cartoon face. In total, there are 46 emojis exclusive to TikTok.
These are the codes you need to use TikTok's secret emojis.
Luckily, using these emojis is pretty simple, though you might want to have a reference for them until you get used to them.
To add these secret emojis to your comment on a user's videos, all you have to do is insert a code word in between two square brackets (these are different than your regular parenthesis). Once you post the comment, the text will turn into the emoji — only available on TikTok.
Article continues below advertisement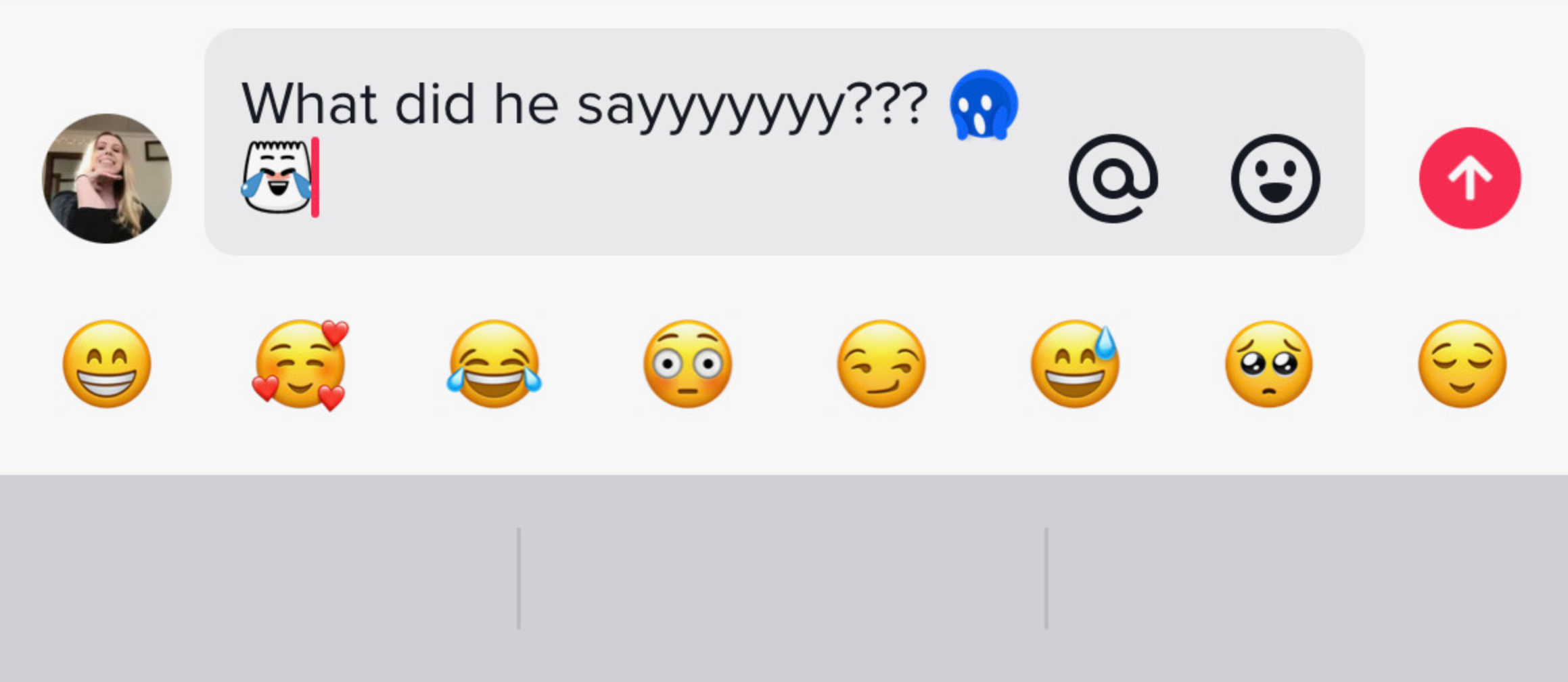 These codes are similar to Slack's feature to add emojis to messages, where you enter a code word between two colons before sending your message.
Here's a list of all of the code words you need to access the secret emojis on TikTok (in the order they appear in the image above):
[smile]
[happy]
[angry]
[cry]
[embarrassed]
[surprised]
[wronged]
[shout]
[flushed]
[yummy]
[complacent]
[drool]
[scream]
[weep]
[speechless]
[funnyface]
[laughwithtears]
[wicked]
[facewithrollingeyes]
[sulk]
[thinking]
[lovely]
[greedy]
Article continues below advertisement
[wow]
[joyful]
[hehe]
[slap]
[tears]
[stun]
[cute]
[blink]
[disdain]
[astonish]
[rage]
[cool]
[excited]
[proud]
[smileface]
[evil]
[angel]
[laugh]
[pride]
[nap]
[loveface]
[awkward]
[shock]
Using any of these emojis in your next comment will guarantee that the emojis are the same across platforms. Most active social media users know that emojis don't always translate between phones, and sometimes your iPhone emoji looks odd to an Android user (or vice versa). Luckily, this eliminates that problem.
TikTok has not officially shared why they decided to do this, nor have they offered any official guide to these emojis.
Since these emojis can really only be accessed by memorizing the codes, it might be helpful to bookmark this article to refer to until you get used to using them during your next TikTok binge.
TikTok is not the only app to use custom emojis, as most social media sites have their own codes for emotes, but these ones are certainly some of the more creative options.