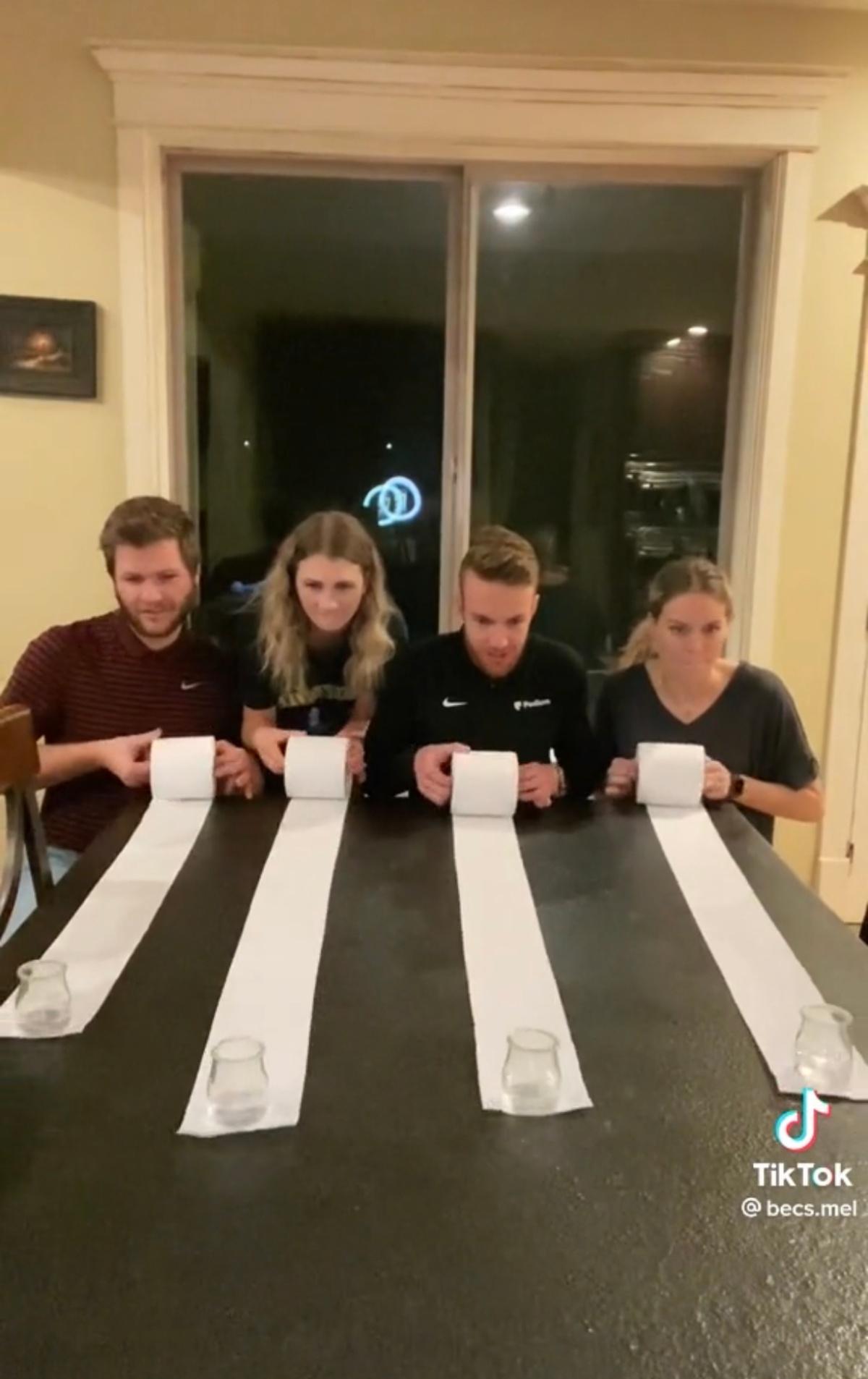 TikTok Has Made Use of a Once Coveted Pandemic Item for Viral Challenges — Toilet Paper
Remember at the start of the pandemic how toilet paper became a coveted item by many, as if it was going to be the new currency in a post-covid world? Well, while that's no longer the case, toilet paper has entered the world of TikTok in a pretty big way. One such trend on the popular social media app is the TikTok Toilet Paper Challenge.
Article continues below advertisement
What is the TikTok Toilet Paper Challenge?
If you've ever been hunkering down at home during a storm without power and don't want to risk never speaking to your family again because of a game of Monopoly gone awry, this might be the challenge for you.
For the TikTok Toilet Paper Challenge, and to make it competitive, you'll need two or more people and just as many rolls of toilet paper. Next, you'll need a cup, wine glass, whatever you'd like to use, and fill it up to the very top with water.
Unroll the toilet paper to the opposite end of a table and place the cup on the last sheet of toilet paper. Each player will sit on the opposite side, holding the roll and facing the cup of water. The objective is to reel in the toilet paper without spilling any water and the first one to do that successfully wins.
Article continues below advertisement
Now, to make this challenge a little more interesting and to raise the stakes, you could put a little wager on the challenge.
For example, you could place several dollar bills along the length of the toilet paper — with enough space between each dollar bill — and the first player to reel in their cup of water without spilling anything walks away with the cash.
Article continues below advertisement
Are there any other toilet paper-related challenges on TikTok?
There is never a shortage of TikTok challenges and toilet paper-related challenges are no different. Another challenge that went viral on the app was the toilet paper flip, or the aptly hashtagged "booty flip" challenge.
Basically, what you would do is assume the standard twerking position, and place a roll of toilet paper on your aforementioned booty, and try to flip it without it falling over. Think of flipping a water bottle so it lands upright on a table.
Another toilet paper challenge revolves around the best content creators on TikTok: dogs and cats. Have you ever wondered how high your pet can jump, or if they're even willing to try? Then this is the challenge for you.
Article continues below advertisement
Amass several rolls of toilet paper and line them up to form a barrier in a doorway or hallway. As your pet clears each "level," continue to add one more layer of toilet paper on top of the previous one. Be sure to record this because the world deserves to see your pets in all their glory.
Never count TikTok out when it comes to introducing new, sometimes bizarre, challenges that somehow find their way onto your feed. The next one just might involve even more toilet paper.