Woman Records Customers Dine and Dash, Alerts Restaurant Owners in Viral TikTok
A TikToker unknowingly recorded a dine and dash while getting footage of their meal and their clip went viral.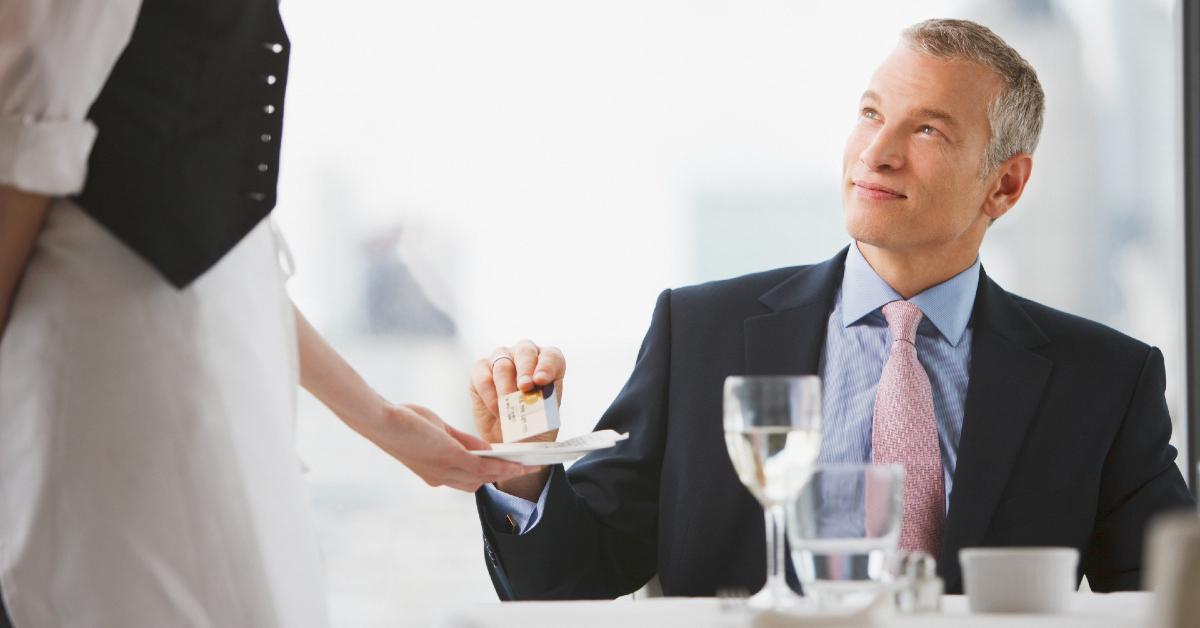 We've all seen scenes in movies and TV shows where folks didn't have enough money to pay for a meal at their restaurant, so they put on an apron and head to the back to "work off" their debt. While most restaurant owners would probably tell you they'd never accept this as a form of payment, they will tell you that there are plenty of instances where folks have tried to dine and dash.
Article continues below advertisement
According to Epos Now, 5 percent of diners have at one point or another attempted to "dine and dash,." Many respondents cited "poor or slow service" as their impetus for trying to leave without paying. Sounds like a convenient way of saying they're cheapskates, but who am I to judge (not that it'll stop me from doing so)?
Many instances of dipping-before-paying-and-tipping occur when eateries are busy or servers are occupied with other customers, so it's not every day these instances are captured on camera — and certainly rarely in a viral TikTok.
But that's exactly what happened when Sierra Perea (@sierraperea) was recording herself eating at one of her favorite restaurants.
Article continues below advertisement
In the video, a woman can be seen enjoying a meal as a text overlay reads: "I was going to film what I ate at one of our favorite restaurants but then the table next to us dined and dash and I got it on camera."
Article continues below advertisement

She chews food, slurps soup, and then takes a plate from someone off camera and exchanges some pleasantries. However, she seems to react to some other diners nearby, and another text overlay pops up on the screen. "This is when they started complaining..." it reads.
Article continues below advertisement

According to the TikToker, it didn't seem like the customers in question were having a bad time at the restaurant or took issue with the food as they had ordered and eaten a decent amount thus far.
Article continues below advertisement

A third caption in the video reads: "She had already gotten appetizers, soup and salad and gotten her food and had started eating it and told them she wanted teriyaki chicken, not what she ordered. So he was going to make her a teriyaki chicken."
Article continues below advertisement

At this point in the video, the TikToker seems to take notice, and because she has a personal relationship with the restaurants owners, she kept an eye on the customers. Then she caught them in the act of dining and dashing, adjusting her camera to capture their exit from the restaurant.
Article continues below advertisement

"The owner, Imam and his wife, are our friend, so I let him know as soon as I saw them leave," she wrote in another caption. She recorded the customers exiting the restaurant and walking to a late model Lexus sedan. She leaves her seat to inform the owners of what happened.
Article continues below advertisement

Sierra sits back down at her table and keeps looking around the restaurant to see what's going to happen next. "It sucks that there are people like this" she writes in another caption.
Article continues below advertisement

In a final caption, she urged folks near the area of Rivergate, Tenn., to visit the restaurant as she can be heard apologizing to the owners for the other customers' behavior. "That's so sad, I'm sorry."
Commenters thought it was extra embarrassing that the couple drove a luxury car and couldn't be bothered to pay their tab.
Article continues below advertisement