Tim Smith From 'Moonshiners' Is a Real Spirited Guy — Let's Take a Shot at His Net Worth
Other than possessing a secret family recipe and the knowledge needed to stay away from authorities, you only need one more thing to become a top-notch moonshine distiller. You need to be a character, and Tim Smith is definitely a character. Tim has been a fixture on the Discovery Channel's popular show Moonshiners since Season 1 dropped in 2011.
Article continues below advertisement
With his signature overalls, often sans shirt, and endearing commitment to his family's moonshine legacy, it's hard not to like Tim Smith. It was especially touching to witness Tim turn his illegal business into something bona fide in May 2013. It's been nearly a decade since he partnered up with Belmont Farm Distillery where his signature Climax Moonshine was born, and it's still going strong. With Moonshiners, its spinoffs, and his own legal moonshine, folks are curious about Tim Smith's net worth.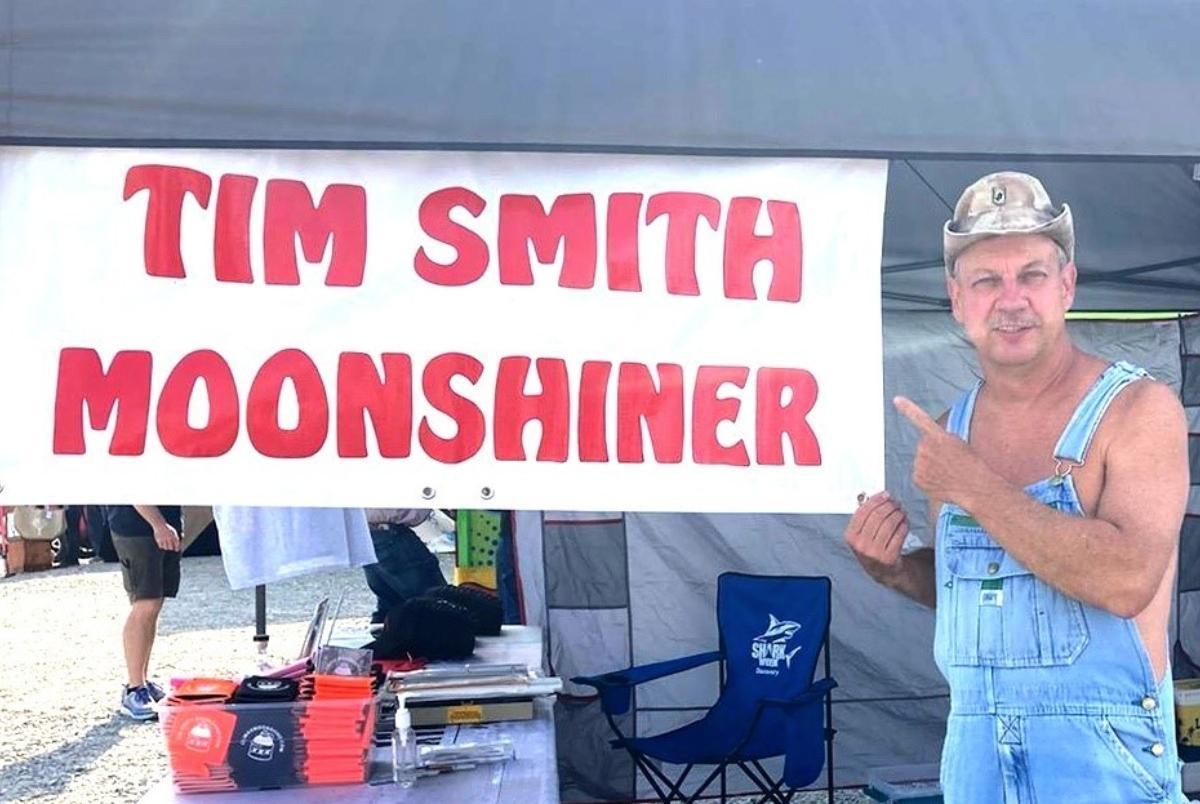 Article continues below advertisement
What is Tim Smith's net worth?
As of the time of this writing, TV Show Casts has estimated Tim Smith's net worth to be at about $700,000. One could say Tim has really diversified his portfolio since the show began, shifting out of the very illegal business of making and selling moonshine and into the very legal business of an actual company that sells moonshine.
He spoke with Zombies In My Blog (real name) in 2013, soon after he partnered up with Belmont Farm Distillery to make and sell his family's recipe. At the time, Season 3 of Moonshiners was just beginning and the world was well on its way to falling in love with Tim and his wacky antics. When asked why he named his moonshine Climax, Tim had a pretty G-rated response.
"Climax refers back to my community. I live in Climax, Virginia and I'm also the Fire Chief of Climax Fire Department," he explained.
Article continues below advertisement
Tim Smith
Reality TV star, Moonshine distiller
Birth date: December 23, 1966
Birth place: Climax, VA
Birth name: Timothy Smith
Marriages: Shelby Smith (m. 1986)
Children: JT Smith
Moonshine is in Tim Smith's blood.
When Tim talks about making moonshine, and the way it has been passed down through a few generations, it's almost romantic. In an April 2014 interview with WHHITV, Tim was still pretty evasive about the process despite the fact that he had been on the legal side of things for almost a year at that point.
"We make it from an old-time recipe, just like they used to do it in the woods," Tim shared. He went on to hilariously say, "I don't wanna say I did it. That'd be incriminating, right?"
Article continues below advertisement
Tim has been pretty open about the fact that the recipe is his father's, but when asked how far back that recipe goes, you simply won't get a straight answer.
"It could [go back several generations]. I wouldn't know that. That's before my time," he said cryptically. Of course, Tim has finessed the recipe a bit in his "40 years" of making it, which is what makes it so special as each generation learns the big secret.
Tim's son, JT, is already following in his footsteps with his own company. According to their website, JT Rye "was born from a desire to introduce an old spirit to a new generation of drinkers while respecting family heritage and past generations."
And just like that, the torch is passed yet again. Someday JT might tell his children the secret recipe so they can share it with a new generation.