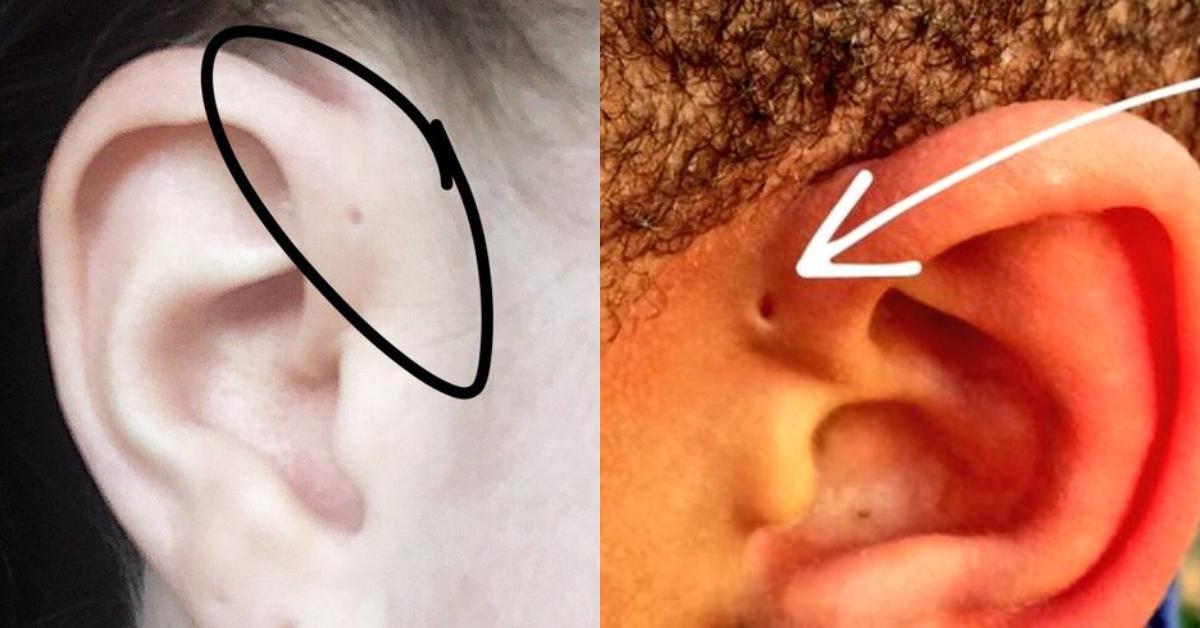 Do You Have a Tiny Hole Above Your Ear? There May Be an Evolutionary Reason For It
Do you or someone you know have a teeny tiny hold above their ear? It's technically a birth defect called preauricular sinuses, cysts, or pits. They often present as tiny holes or pits near where the top of people's ears meets their heads. And there may be a fascinating evolutionary reason some people have them.
Article continues below advertisement
According to News.com.au, about one percent of people have preauricular sinuses. About half of those affected have them on just one side while half have them on both sides. The condition was first documented by scientist Van Heusinger in 1864.
Article continues below advertisement
More recently, though, evolutionary biologist Neil Shubin provided a possible explanation. He thinks that they might be an "evolutionary remnant of fish gills." In fact, his Twitter bio says that he's been "telling people they are fish since 2008." Keep on keeping on, Neil.
But back to the preauricular sinuses... They're so cool. Who doesn't want to be part fish? Now I'm jealous of all the fish people walking around with tiny holes in their ears.
Article continues below advertisement
The good news is that preauricular sinuses are usually totally harmless. The worst that could happen is that they may get infected or form a cyst and require an antibiotic to clear up. In rare cases, a cyst may have to be drained by a doctor.
Article continues below advertisement
For some reason, preauricular sinuses are more rare in the United States than they are in Europe, Asia, and Africa. But overall, they're extremely rare, so you should feel really special if you have them.
And often, they are passed down from generation to generation. You have more of a chance of being born with preauricular sinuses if your parents and / or grandparents also have them.
Article continues below advertisement
Strangely, researchers have realized that while they are found on both sides of the head, you are more likely to have them on the right side, according to Business Insider. Evolutionary science is fascinating, isn't it?
Article continues below advertisement
The Children's Hospital of Philadelphia explains that basically, these little holes are sinus tracts "traveling under the skin that don't belong there." The holes or pits are the openings of the tracts. The tracts themselves can be either short or long, and they can be simple and straight or long and "convoluted, with extensive branching."
There's another similar...and yet very different...called preauricular tags, or ear tags, which are growths, instead of holes, which usually grow in a similar place. These are also usually benign and form early on in development when soft tissue fuses together incorrectly. Sometimes doctors recommend surgery to remove them.
Article continues below advertisement
But when it comes to preauricular pits or sinuses, they're usually left alone when babies are born with them. Do you have preauricular sinuses? If you do, congratulations! You're an evolutionary wonder! Not to mention, you're more unique than most of the world's population!
According to one Twitter user, these little holes are considered a sign of good luck in some cultures around the world. So if you have them, consider yourself lucky!