Here's What Really Happened With Tom Brady and Tyrann Mathieu at the Super Bowl
Tom Brady was accused of racism following a heat-of-the-moment altercation with Tyrann Mathieu during Super Bowl LV. What did he say?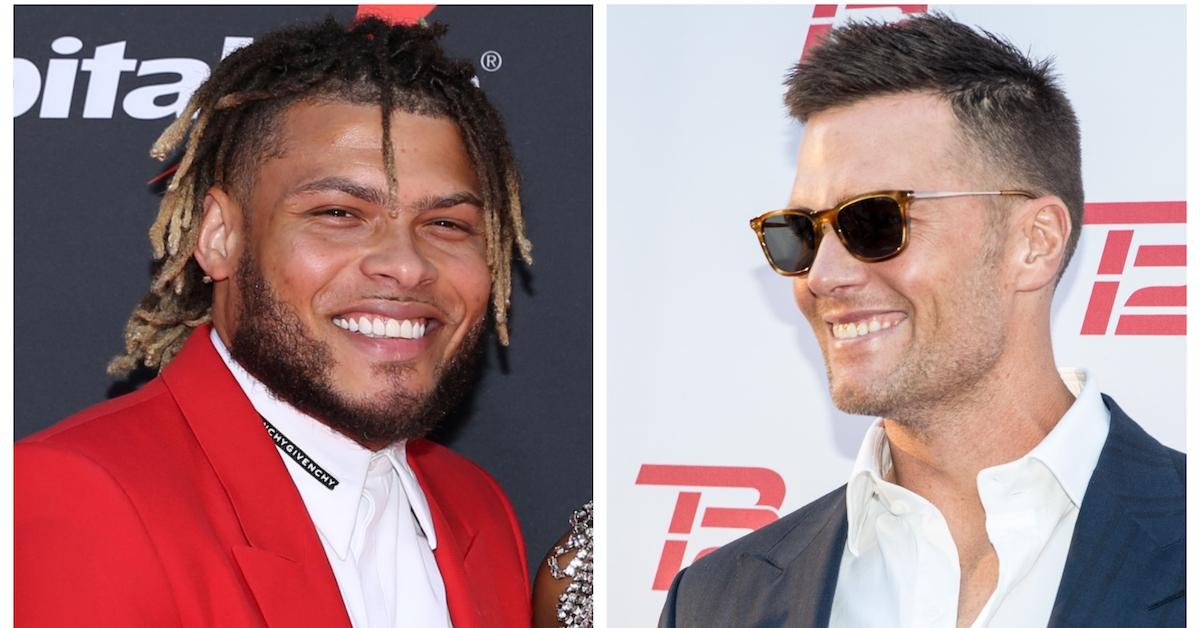 In the heat of the moment during a high-stakes competition, even the most mild-tempered athletes can allow their emotions to get the best of them. This is especially true during the Super Bowl. Voices are raised, trash talk is laid down, and it can get downright ugly. However, Tampa Bay Buccaneers quarterback Tom Brady reportedly crossed a line on Feb. 7, 2021 — and he was even accused of racism during Super Bowl LV.
So what happened between Tom and Kansas City Chiefs star Tyrann Mathieu?
Article continues below advertisement
Tom Brady was accused of racism during Super Bowl LV, but what happened?
During the Super Bowl on Sunday, Feb. 7, cameras caught Tom and Tyrann in a heated exchange on more than one occasion — presumably engaging in typical trash talk that happens among players. The Buccaneers went on to win the game 31-9, and fans mostly forgot it.
"It's football," Tyrann said after the Chiefs lost. "Guys are gonna go back and forth."
Article continues below advertisement
However, the Kansas City Chiefs safety later took to Twitter to elaborate.
"He called me something I won't repeat but yeah I'll let all the media throw me under the bus as if I did something or said something to him," wrote in a since-deleted tweet. "Go back to my previous games against TB12 I showed him nothing but respect. Look at my interviews about him ... I show grace."
Although Tyrann didn't get into the specifics of what, exactly, Tom called him, some people were quick to assume the Buccaneers quarterback used a racial slur during the Super Bowl altercation. Sources later confirmed that Tom sent a text message to Tyrann apologizing for the trash talk. But reportedly, their exchange of words had nothing to do with a racist comment from Tom, according to the sources.
Article continues below advertisement
Twitter users accused Tom Brady of racism for winning another Super Bowl during Black History Month.
Apart from Tom and Tyrann butting heads during the Super Bowl, some people took to Twitter following the big game to declare that Tom's team winning was racist — simply because it happened during Black History Month.
One Twitter user (who later clarified they were joking) wrote, "Patrick Mahomes half black right? And Tom Brady doing this to him on Black History Month? This gotta be racist someway it has to be man [sic]."
Article continues below advertisement
Another person tweeted, "Tom Brady winning all these Super Bowls during black history month kinda racist."
Meanwhile, yet another Twitter user wrote, "Tom Brady winning a SB on Black History Month don't sit right with me."
Article continues below advertisement
It seems like the majority of the tweets claiming that the Buccaneers winning the Super Bowl is racist were made in jest. Unfortunately, the jokes didn't exactly help quell rumors that Tom used a racial slur while trash-talking Tyrann; they only intensified the scrutiny.
Although Tom Brady might have some work to do in acknowledging his white privilege, fans can rest assured: There have been no confirmed reports of his saying or doing anything that might be considered racist — despite what Twitter might otherwise suggest.