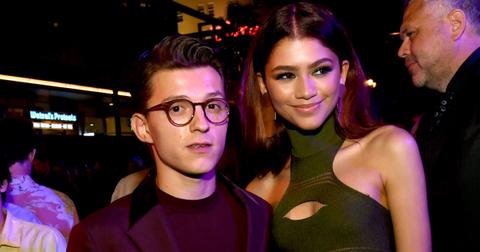 Does Tom Holland Have a New Girlfriend?
By Ashley Vega
Hold your spidey senses, Tom Holland was seen engaging in PDA with a mysterious blonde girl. The two were seen out in London heading to British Summer Time Hyde Park Festival to enjoy The Black Eyed Peas concert. No, this is not an outdated article —The Black Eyed Peas are still very much putting out new hits. Anyways, could this mysterious blonde be Tom's new girlfriend?
The two were seen grabbing a drink together while she went in for the kill and touched Tom's butt. On top of that, the two were also seen holding hands. Though Tom Holland fans may feel a little bitter, everyone loves a confident woman who makes the first move.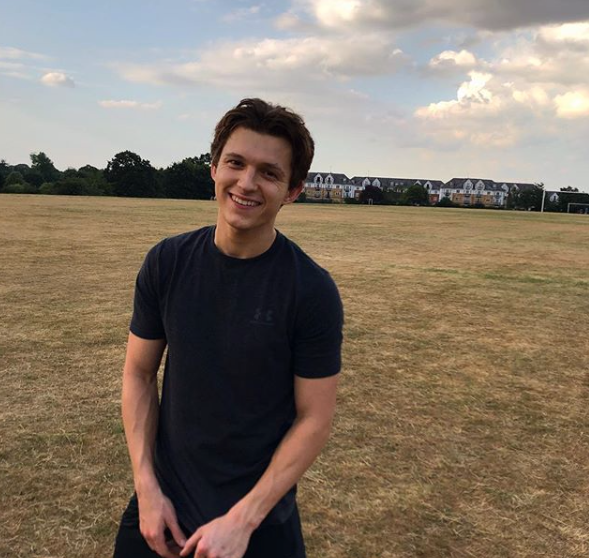 Is the mysterious girl Tom Holland's girlfriend?
Tom's alleged girlfriend goes by the name of Olivia Bolton. She's a digital producer and gives off major Gwen Stacy vibes from Spider-Man. Her resemblance to Peter Parker's former love is pretty uncanny. Could Tom Holland be living out Spider-Man in real life?
Whether he is or isn't, these rumors about Tom's new girl has everyone wondering about his MJ, Zendaya. Though the two have nipped the rumor in the bud, no one really believes it. Have you seen their chemistry?
The two Spiderman co-stars are literally the best of friends. They're super vocal about their support towards one another and they're always seen bantering with each other. The two even battled it out on Paramount Network's Lip Sync Battle where Zendaya delivered a top-notch performance to Bruno Mars' "24k Magic." However, Tom suited up — well more like suited down — in what should be a Grammy-winning performance to Rihanna's "Umbrella."
Even though Tom and Zendaya are "just friends," back in July 2017, People reported that two sources confirmed their "low-key" relationship. One source said, "They started seeing each other while they were filming d. They've been super careful to keep it private an out of the public eye, but they've going on vacations with each other."
Zendaya humorously retweeted and responded with, "Wait wait…my favorite is when it says we go on vacations together HA! I haven't been on a vacation in years! Hbu @tomholland1996 ???" Tom responded, "Does the press tour count?" So clearly, they aren't dating.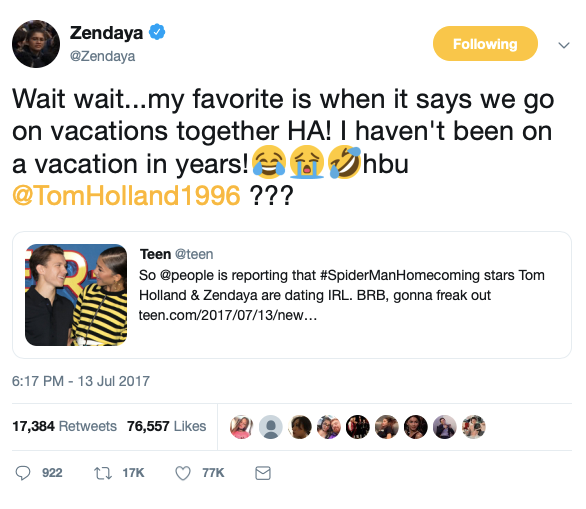 Who else has Tom Holland been linked to romantically?
Apart from Zendaya, which is the biggest dating rumor linked to Tom Holland's love life, Tom has also been linked to other women. These rumors included Miss Peregrine's Home for Peculiar Children's Ella Purnell. The two were seen being smitten with each other at a BAFTA after party and were even rumored to have extended the after-party to Tom's hotel.
Before Ella, there was his actual ex-girlfriend Elle Lotherington. Elle was Tom's childhood sweetheart and the couple shared sweet messages with each other via social media. However, the two seemed to have split in 2017. Tom is very quiet about his dating life regardless of the rumors. Though he may seem to be dating Olivia at the moment, Tom has not confirmed or denied any allegations — and everyone shouldn't expect him to.
That being said, Tom Holland stans are not happy with the circulating rumors.
Not only are they upset because it seems they've missed their chance, but because the rumors about Zendaya and Tom have come to an end. Fans have not been shy in expressing their agony on social media.
One fan on Twitter said, " so you're telling me Tom Holland has a girlfriend and it's not miss ZENDAYA??????"
Regardless of who Tom Holland dates, hopefully his next boo will be the MJ to his Peter Parker.