Beverage Cart Driver Says It's So Hot She Can't Even Get Golfers to Buy Drinks
In a viral post, a beverage cart driver says it's too hot on golf course, but golfers won't buy any drinks from her as she goes around.
Most people prefer to partake in indoor activities when the temperatures are blazing. However, some folks refuse to allow the sizzling heat to get in the way of having a good time — from going on a beach day to enjoying a sports outing.
Article continues below advertisement
That said, we all know how important it is to remain hydrated, especially in hot temperatures. Some people typically bring their own refreshments or make it a point to purchase beverages to stay hydrated while outdoors.
So, when a beverage cart driver said that it was too hot outside and golfers refused to buy drinks on TikTok, folks were a bit surprised. Here's the full scoop.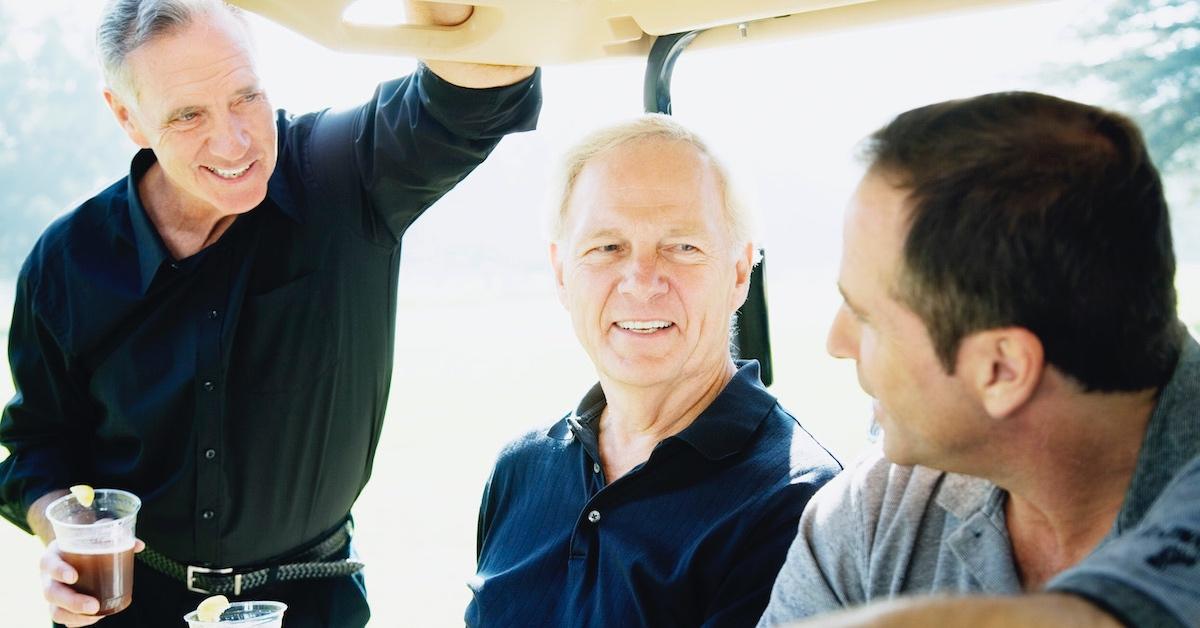 Article continues below advertisement
A beverage cart driver said it was too hot outside and golfers wouldn't buy drinks.
Surprisingly, hot days don't always yield huge beverage sales. In a July 24, 2023 TikTok video, creator @Zalaiyanefwani shared that while it was too hot outside, golfers wouldn't buy drinks from her beverage cart.
"Y'all see how this heat is affecting my MONEY?! I've never been turned down this much in my life," the video caption reads.
As the video starts, Zalaiya is seen on her beverage cart trying to make a sale.
"Who's ready for a chilled Fireball?" the creator asked before being turned down with silence.
She then pulled up to another location on the golf course to ask people if they were interested in purchasing a beverage.
Article continues below advertisement
"No ice-cold beers today?" Zalaiya asked.
"We were just laughing about that," a man out of the frame said.
"It's too hot," another man said.
"Have a good one," Zalaiya said as she drove off.
Article continues below advertisement
At another location, Zalaiya inquired about folks wanting a beverage and was turned down.
"Not me," one man said. "It's too hot."
"They're ice cold. They will cool you down," Zalaiya said.
"We're going to pass on it," the man replied.
Article continues below advertisement
As she tried to sell non-alcoholic beverages, the men turned her down again.
"Your girl is literally sweating her edges out. It's so hot. I just had a golfer ask for a cup of ice," Zalaiya said. "That's all I've been selling today and not even selling since ice is free and nine times out of 10 they don't tip, which is fine. But the moral of the story is that your girl isn't making any money or sales.
The creator continued: "I had a golfer get a cup of ice right now and he said, 'I'll catch you next time. Are you going to be back around?' And I was like, 'Yeah, if I start selling anything. If it stays like this I'll probably just go home.' And he was like, 'Next time I see you I'll take real good care of you.' And I was like, 'OK,' all excited. I come back around, I see him, and he drives right past me. Why break my heart like this? If you knew you weren't going to get anything, don't hype me up."
Article continues below advertisement
The video then showed Zalaiya talking to a golfer off-camera and telling him that seeing her come back around so quickly means that she's not making any money.
"You'll make a sale here," the golfer said off-camera.
"OK, I'll wait here and sit pretty," Zalaiya said.
Article continues below advertisement
Surprisingly, Zalaiya did make a sale with a few golfers purchasing Bud Light beers, a bag of ice, and two other beverages.
Once the video came to an end, it looked like the creator had potential for another sale, but the golfer turned her inquiry down.
Article continues below advertisement
TikTok users laughed at the creator's tone while trying to make a sale and gave her unsolicited advice.
Interestingly, many TikTok users were not surprised that Zalaiya struggled to make sales. In fact, some people who frequent golf courses (and those who don't) shared their opinion on why she may have had a hard time bringing in sales.
"I used to work at a course and they respond better to soft voices and polite small talk before any sale attempt," one person shared.
"Hear me out, get two ponytails and drop the valley girl voice too," another user shared.
"I think because you smile after you talk, not during. It makes it seem not genuine," one person said.
On the flip side, others were confused by her lack of sales since hot weather and cold drinks go together.
Article continues below advertisement
"Naw something is going on here. They done had a meeting about you," one user said.
"The heat is what motivates me to get a cold drink. I don't understand," another person said.
Based on Zalaiya's other videos, it appears that she may have just had a slow day. Other videos show her making sales and selling various drink options. Sometimes you win and sometimes you lose.