Several 'Tosh.0' Guests Have Died After Appearing on the Show
'Tosh.0' host Daniel Tosh has been entertaining viewers with his take on viral videos since 2009. Sadly, there are former guests who have died.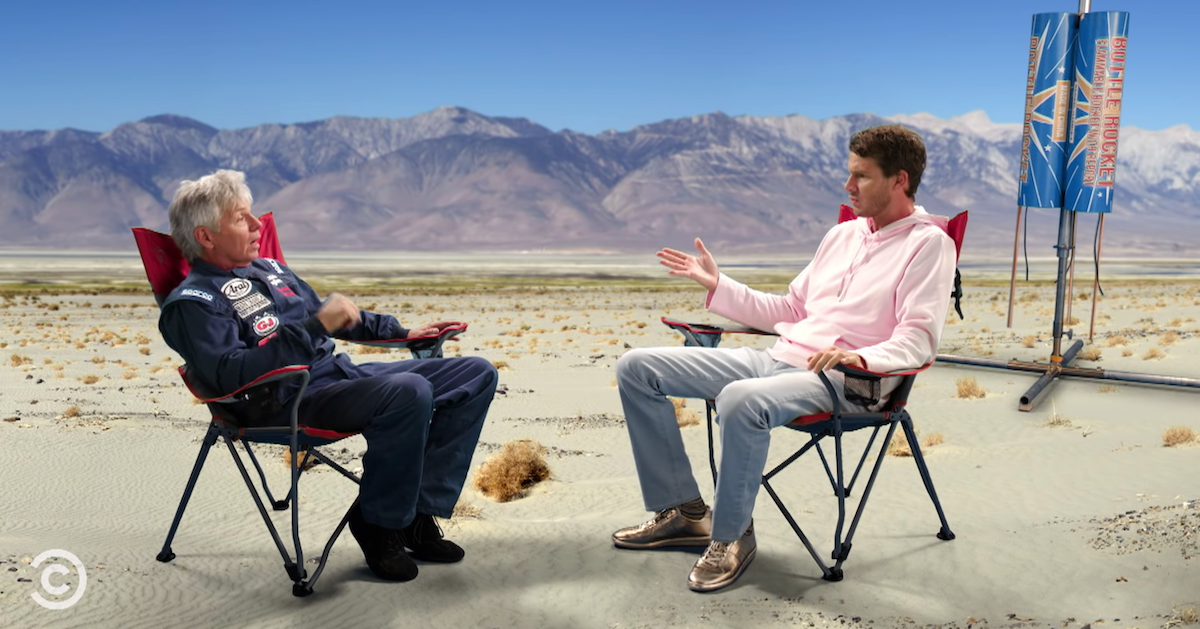 When videos go viral for featuring dangerous stunts, questionable dialogue, or epic fails, you can bet that they'll be shown on the Comedy Central series Tosh.0. Hosted by comedian Daniel Tosh, the 30-minute commentary show has been entertaining audiences with Video Breakdowns and Web Redemptions since 2009.
Article continues below advertisement
There are three 'Tosh.0' guests who have died since appearing on the show.
The format of Tosh.0 is largely focused on bringing up the people who are behind the viral videos for the opportunity to right their internet wrongs. Since the show debuted, hundreds of guests have gone on the air, and sadly, several Tosh.0 guests have died after appearing on the comedy series.
Article continues below advertisement
1. Michael "Mad Mike" Hughes
"Mad Mike" Hughes rose to fame for being a self-proclaimed home astronaut. His viral flat earth theory video earned him an interview with Daniel on the CeWEBrity portion of Tosh.0 in 2018. The clip with Daniel has since been viewed more than 2.5 million times.
Mad Mike passed away in February of 2020 from injuries resulting from his attempted homemade rocket launch. He was 64 years old, and he was filming a segment for the Science Channel show, Homemade Astronauts, at the time of his passing.
2. Paul Vasquez aka Double Rainbow Guy
Paul's 2010 "Double Rainbow" video left a huge mark on YouTube (it was viewed more than 48 million times), and it launched him into internet stardom. His pure reaction to seeing two rainbows in the Yosemite area got the attention of Jimmy Kimmel, who tweeted the video out, and ultimately to Daniel Tosh.
He appeared on the 22nd episode of Season 2 of Tosh.0 in 2010 for a sketch. On the show, Paul and Daniel decided to follow the rainbow to see where it went. It took them to Perez Hilton's house.
Article continues below advertisement
Paul Vasquez passed away at the age of 57 in May of 2020. Though an official cause of death was not publicly revealed, he posted about having a heart attack and about getting tested for COVID-19 on Facebook in the days leading up to his passing.
3. Rich Piana
Infamous competitive bodybuilder and internet personality Rich Piana died at the age of 46 in 2017 after collapsing following a haircut. In a 2014 YouTube, he had admitted to using steroids for more than 30 years, but it's unclear if they played a role in his death. After his fall on Aug. 7, 2017, he was placed in a medically-induced coma for two-and-a-half weeks. He later succumbed to his injuries.
The bodybuilder appeared on the seventh episode of Season 8, and he filmed a segment with Daniel at the gym.
Tosh.0 airs on Tuesdays at 10 p.m. on Comedy Central.