Right now, most millennials and Pixar buffs are raving aboutToy Story 4. The fourth film was released a full nine years after the previous third film, however, it's accumulated a ton of buzz just one day after its release.
But does Toy Story 4 have an after-credits scene?
Not unlike the other Toy Story movies, the fourth has additional scenes during and after the end credits. So take note, because it's important you stick around for them.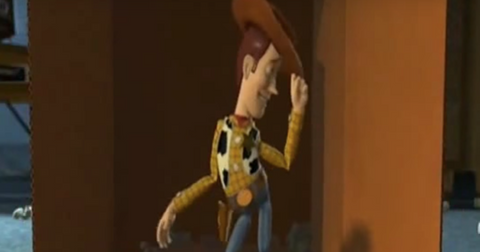 Assuming you watched Toy Story 2 when it came out in 1999, you most likely recall the after-credits scene that featured "bloopers" from the animated movie. It was kind of unforgettable... and somehow the irony of it all totally went over my head.
A few years later in 2010, a Toy Story 3 post-credits scene revealed what life was like at Sunnyside Daycare after defeating Lotso (played by Ned Beatty). Barbie and Ken ruled the room quite peacefully. It was all very wholesome, from what I remember.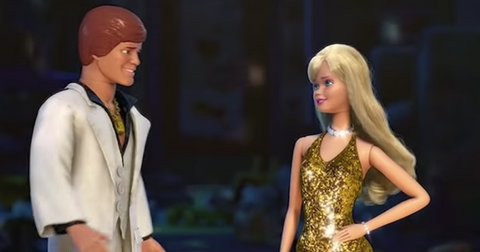 As for Toy Story 4... (SPOILERS, I REPEAT: SPOILERS!)
There are a few scenes during and after the end credits. In the film, Woody (played by Tom Hanks) embarks on a quest to return a rambunctious new toy, Forky (played by Tony Hale), to their child, Bonnie (played by Madeline McGraw).
Woody realizes Bonnie doesn't love him anymore, though, and decides to start a new life with Little Bo Peep (played by Annie Potts) and the rest of the crew, helping toys get claimed at a carnival.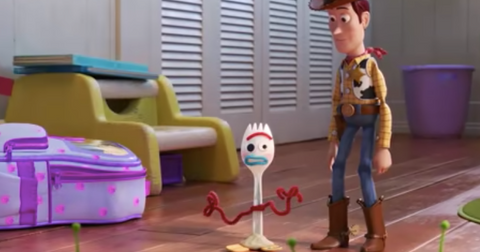 Mid-credit scene No. 1.
Bo Peep and Woody are helping kids win games at the carnival. This way, more toys will be sent to children's homes in an efficient manner.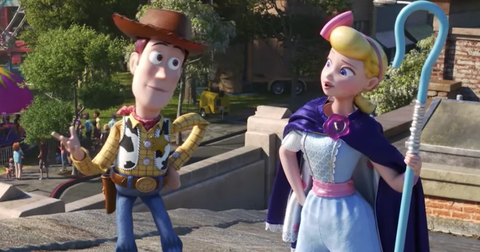 Mid-credit scene No. 2.
The second mid-credit scene builds off the first one. It shows Woody and his friends ensuring all the carnival prizes find new homes.
All of them seem far more focused on finding homes for other toys than for themselves, and Woody seems content with that.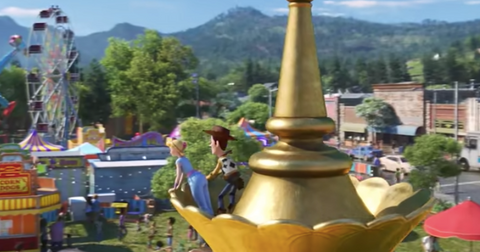 Mid-credit scene No. 3.
You see Ducky (played by Keegan-Michael Key) and Bunny (Jordan Peele) dream about shooting lasers out of their eyes, and taking over the entire carnival. It's pretty dark and I kind of love it.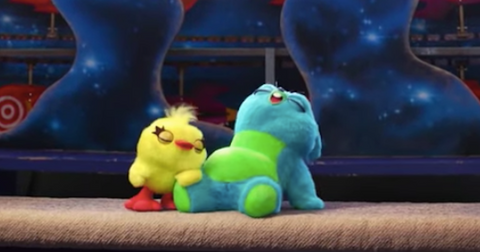 Then there's that one where Forky finds love.
"Well, what happened to Forky?" you're probably wondering. Lucky for that crazy little utensil, Bonnie brings home another "creation" of hers, which — of course — is a plastic knife.
The two utensils fall and love, despite the fact all the knife can say is "trash." Whatever — love is love.
The final end credit doesn't hint anything about upcoming movies, but it's cute nonetheless.
Anyone well-versed in the realm of Pixar knows that many of their films begin with the iconic lamp stomping out the "I" in "Pixar." You know, just like the one below.
Anyway, the final scene features similar "Pixar" lettering, with Duke Caboom (played by Keanu Reeves) taking the lamp's spot of hopping around. Combat Carl (played by Carl Weathers) appears and high-fives him, making up for the time Woody left him hanging. Again, so wholesome... but alas, no hints for a fifth film.
So, when you see Toy Story 4, don't rush out of the theatre — the end credits provide additional context (and a little extra movie time). In the words of Woody, "so long, partner."