This Guy's Response to Finding Out a Potential Date Is Trans Has People Divided
Twitter user Tiffany Monroe was so pleasantly surprised by the response she received from a guy after telling him she was trans, she had to share the message on Twitter.
It's a "problematic" trope that's been seen in countless movies, TV shows, and even written about in songs: the ire, embarrassment, and anger a guy feels once he discovers a person he's attracted to is transgender.
In fact, Jim Carrey's Ace Ventura: Pet Detective recently came under fire once fans who revisited the movie discovered just how much that fear of the trans community was used as a recurring joke in the movie.
Article continues below advertisement
Back when I was in the online dating game and swiping right like a madman on Tinder, I even came across people who I discovered were trans in my conversations with them. I have to admit I was uncomfortable with the idea of potentially entering into a relationship with someone who is trans and couldn't entertain it seriously, so I would end it right then and there and just respond less frequently to their messages.
Different guys have different ways of responding to the news that someone they expressed interest in was assigned male at birth. Even if I have certain biases in my head, the stories I've heard from some of my gym bros were absolutely horrifying to hear. Threats of violence, disparaging language, and unfiltered and gratuitously mean replies were the norm. What's worse is that some of these dudes even seemed to take pride in their dramatically disgusted reactions.
Article continues below advertisement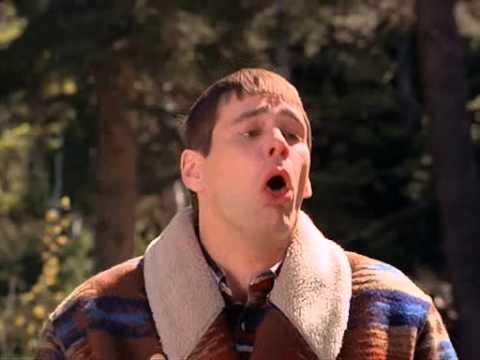 I can only imagine what it's like to enter the dating pool after transitioning and looking for a mate who's cool with that. Add in that internet-anonymity element of modern romance and dating apps and you're vulnerable to some pretty brutal comments from total strangers — or worse.
Article continues below advertisement
That's probably why so many people are responding positively to this text convo Tiffany Monroe screencapped and shared with her Twitter followers after she told a man that she was trans. He didn't respond back with a "sorry, see you later" or even an angry or mean-spirited message. Instead it was surprisingly... understanding.

Article continues below advertisement
There were a bevy of positive responses to the guy's open-mindedness, and people were praising the man for the way he handled the news. Some people told her to "trap him," to which Tiffany responded she couldn't because she can't get pregnant.
Because Twitter's the best, some offered to let her "borrow" their uteruses. Strangers' kindness, man.
Article continues below advertisement
Others pointed out that they wished this was the reaction people had to this news every single time. And then it didn't take long for the conversation to reach rather debaucherous heights.

Article continues below advertisement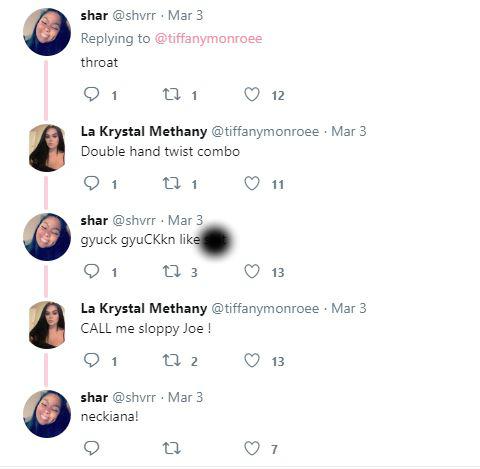 But then it opened up a conversation about the reality of trans dating: that someone's being praised for looking past the fact that Tiffany's trans in the first place. Tiffany herself wrote that she felt conflicted about feeling so happy about being treated with respect, and that respect doesn't seem to be a given for trans women.
Article continues below advertisement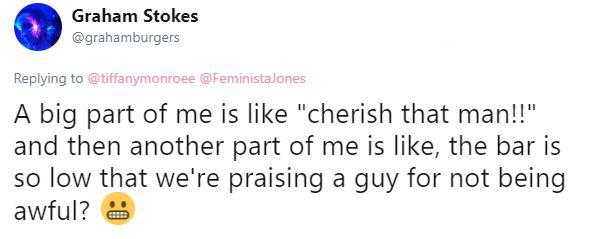 Article continues below advertisement
Although Tiffany received mostly positive replies, there were an overwhelming number of people who didn't have nice things to say. But Tiffany had a response for them.

Article continues below advertisement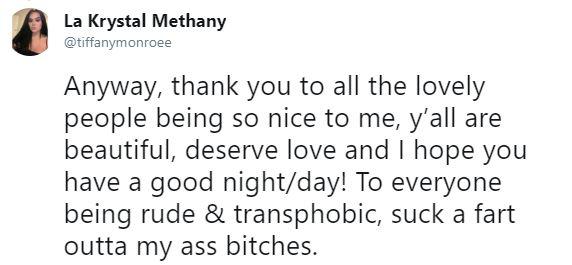 Well that's some vivid imagery.