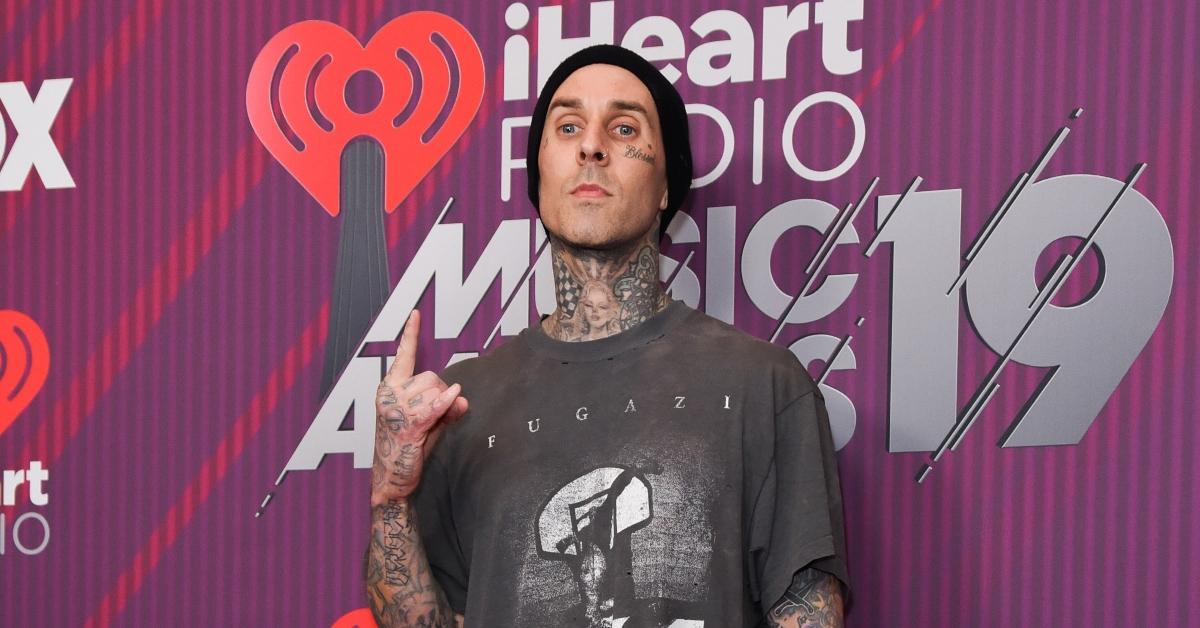 Travis Barker's Tumultuous Dating History, From Shanna Moakler to Paris Hilton
Blink-182 drummer Travis Barker has a very impressive dating history.
Following his divorce from his first wife, Melissa Kennedy, on Aug. 6, 2002, Travis went on to date Shanna Moakler, a Miss USA 1995 contestant. They were married for about two years. They have two kids, Landon Asher — who is good pals with Kourtney Kardashian's son, Mason Dash Disick — and Alabama Luella.
In the past, Travis was also linked with Paris Hilton, Miss USA 2006 winner Tara Conner, and others.
Article continues below advertisement
Travis Barker and Shanna Moakler had a tumultuous relationship.
Travis met Shanna in 2002, shortly after his divorce from his wife of nine months, Melissa, was finalized. They tied the knot at a The Nightmare Before Christmas-themed wedding ceremony held at The Ritz-Carlton Bacara Resort and Spa in Santa Barbara, Calif. on Oct. 30, 2004.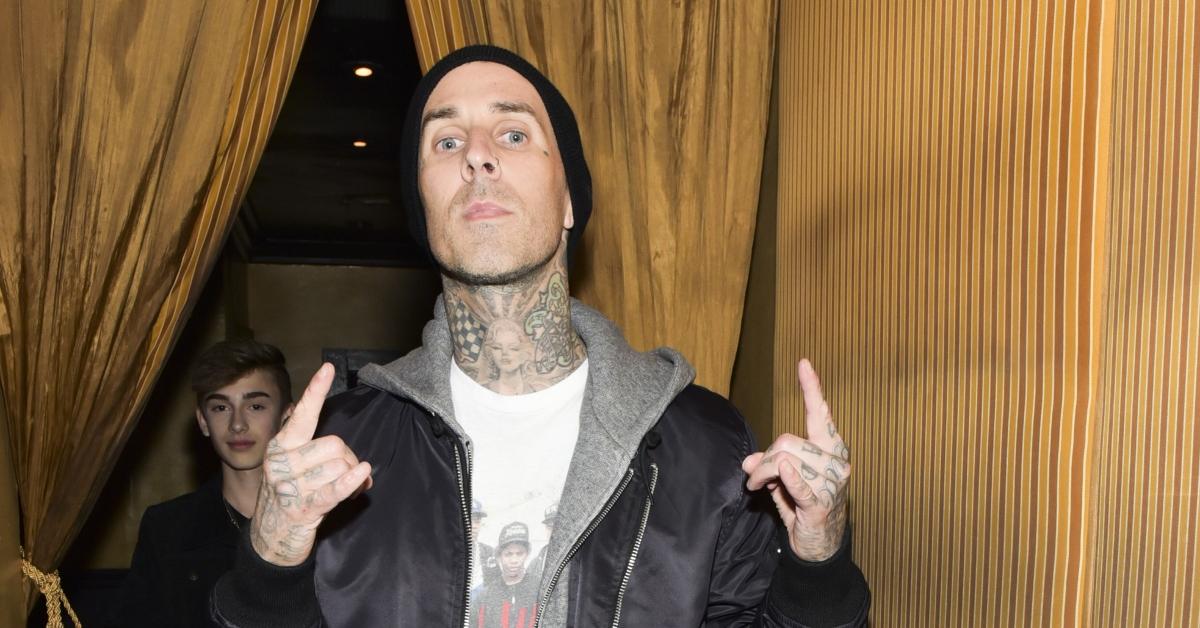 Article continues below advertisement
Travis and Shanna landed their first reality TV show on MTV soon afterward.
Season 1 of Meet the Barkers premiered on the channel in April 2005. It was canceled in 2006 after two seasons. It's understood that things started to go downhill between the stars roughly around the same time, and the scandals soon followed.
Travis filed for divorce on Aug. 8, 2006.
In 2006, Shanna Moakler caused a stir by engaging in an altercation with Paris Hilton, Travis' new partner.
At the height of their divorce battles, Travis and Shanna would reportedly take it to Myspace to air out dirty laundry. Shanna also sent rumors flying after getting into a scuffle — some believe it was verbal, some claim it was physical — with Travis' new partner, Paris Hilton.
"To my understanding there was no fight, there was an exchange of words that lasted 12 seconds," Susan Madore, Shanna's publicist, told People at the time.
Either way, police reports were filed.
Article continues below advertisement
"The relationship was always dysfunctional, they were always love and hate. It was volatile. He is a rock star, and she likes to go out. They both love and fight hard," a friend close to Travis and Shanna told People.
Their divorce was finalized in February 2008, but they continued to live together up until 2012, stating it was in the best interest of their kids.
On Dec. 7, 2014, the police had to be called to their home in Cheviot Hills, Los Angeles, after an explosive fight.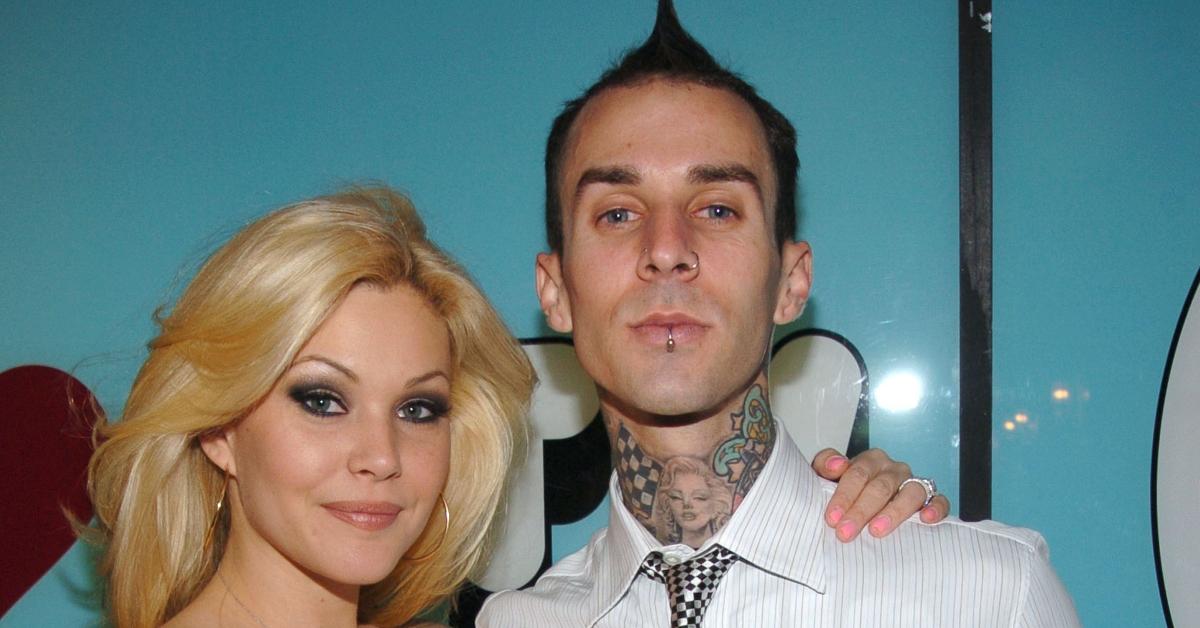 Article continues below advertisement
Travis started spending more time with celebs like Paris after the breakup. He opened up about his crush on Kim Kardashian — who was working as Paris' assistant at the time — in his 2015 autobiography, Can I Say: Living Large, Cheating Death, and Drums, Drums, Drums.
It's understood that Travis was first introduced to Kim while he was in Amsterdam with his band — and he immediately knew that he liked her.
"Kim was eye candy. I was [in] no way disrespectful to Paris, but I couldn't keep my eyes off Kim!" Travis told Us Weekly.
As Paris' assistant, Kim was off limits — but Travis ended up staying friends with her for years to come.
Article continues below advertisement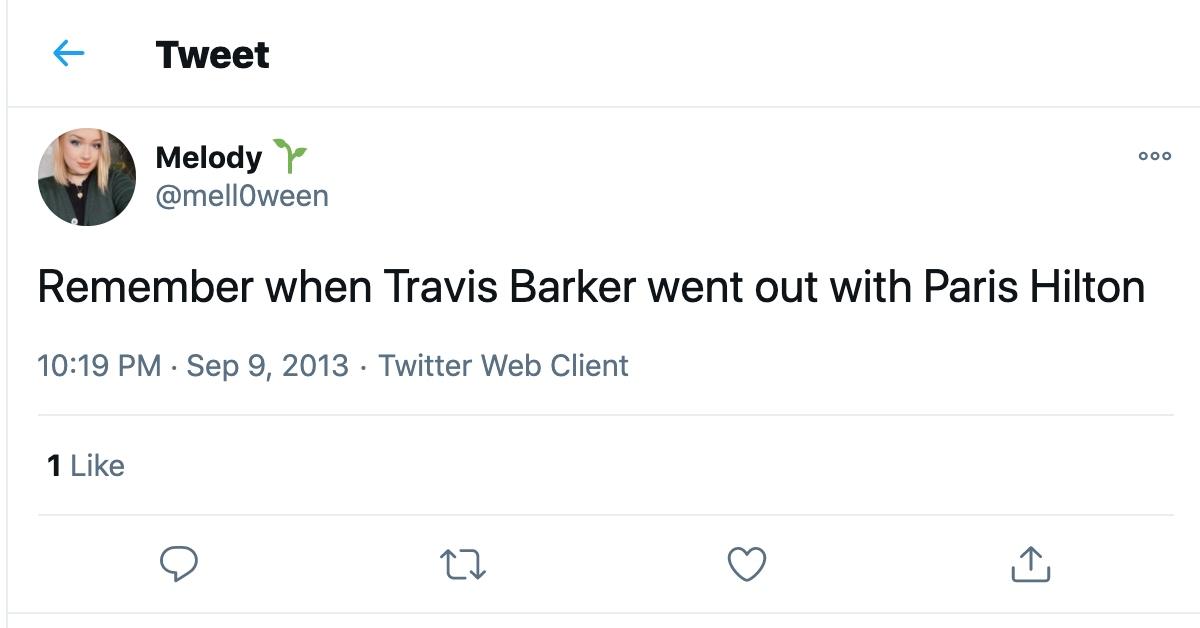 According to an urban legend, Travis and Paris even had an impromptu backyard wedding officiated by no other than Death Row Records CEO Suge Knight at one point in their relationship. Instead of traditional wedding vows, Suge presented the couple with more offbeat, informal options, as per Radar Online.
In 2015, Travis was dating "Phoenix" singer Rita Ora. It's understood that the relationship came to an abrupt end after just a few weeks.
Article continues below advertisement
Kourtney Kardashian confirmed that she is dating Travis Barker.
Travis and Kourtney have been friends for quite some time now — but rumors of their dating had been swirling in early 2021. They were spotted in Palm Springs, Calif., in January, and they also shared a few snaps with an uncannily similar background on Instagram. What's more, Travis and Kourtney also exchanged a few flirtatious comments, which many interpret as a sign that things are heating up between the two.
On Feb. 17, Kourtney made their relationship Instagram official by posting a photo of her holding hands with Travis. (OK, so you can't actually tell for sure if it's him because it's literally just their hands. But the tattoos pretty much gave it away.)
Article continues below advertisement
A source also confirmed that Kourtney and Travis are an item. "Kourtney is very happy with Travis. She wanted to confirm their relationship, because it's something positive," the source told People.
"She was single for a while and didn't expect that their relationship would turn romantic," they added. "She feels very fortunate. She loves spending time with Travis."