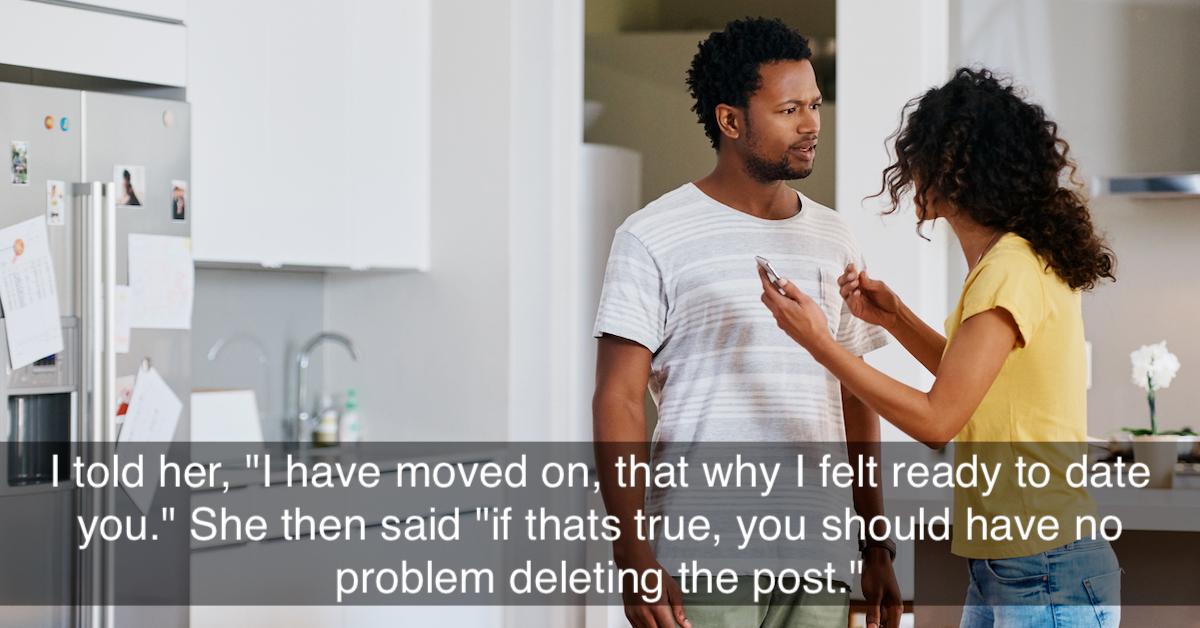 Man Asks What to Tell a Girlfriend Who Wants Him to Erase a Tribute to His Late Wife — And Reddit Delivers
A man asked reddit for advice regarding his current girlfriend's objection to a tribute to his late wife. And reddit fully delivered.
Let's start off this tale with some advice right off the bat to anyone who has fallen in love with a widow or widower. If you're going to try to erase your partner's late spouse, you're gonna lose. At least that's what reddit hopes is the outcome for a troubling relationship described in a recent "Am I the A-hole?" thread.
Article continues below advertisement
A young widower who lost his wife a couple years ago came to the subreddit for a ruling on whether he was being a jerk for refusing to delete or edit a post he made in tribute to his spouse. His current girlfriend asked him to take the post down because it referred to his love for his late wife in the "present tense."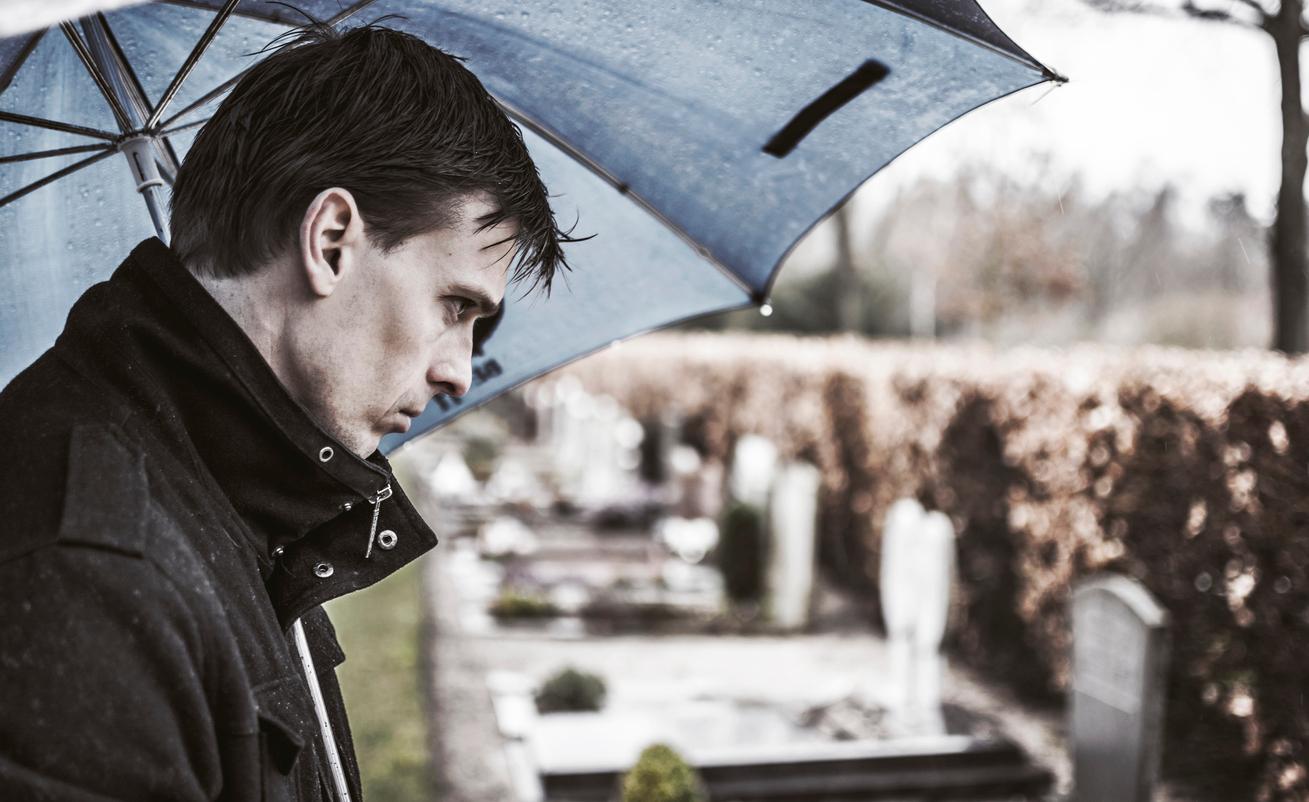 Article continues below advertisement
"A few months ago I met a new girl at work," writes a user with the name Leather_Material. "We hit off really well and things picked up fast." The widower alerts readers to their first red flag when he describes her as "a bit controlling," which he said he liked in the beginning because it showed she was protective. And he didn't find it to be overbearing — until a few days ago.
His new girlfriend told him she saw a tribute post he wrote to his wife shortly after she had passed and asked him to take it down. "I was really confused and asked why; she said, 'it has love, that is the present tense. Do you still love her?'" To make matters worse, she also claimed, "'It's been three years, you need to move on.'"
Article continues below advertisement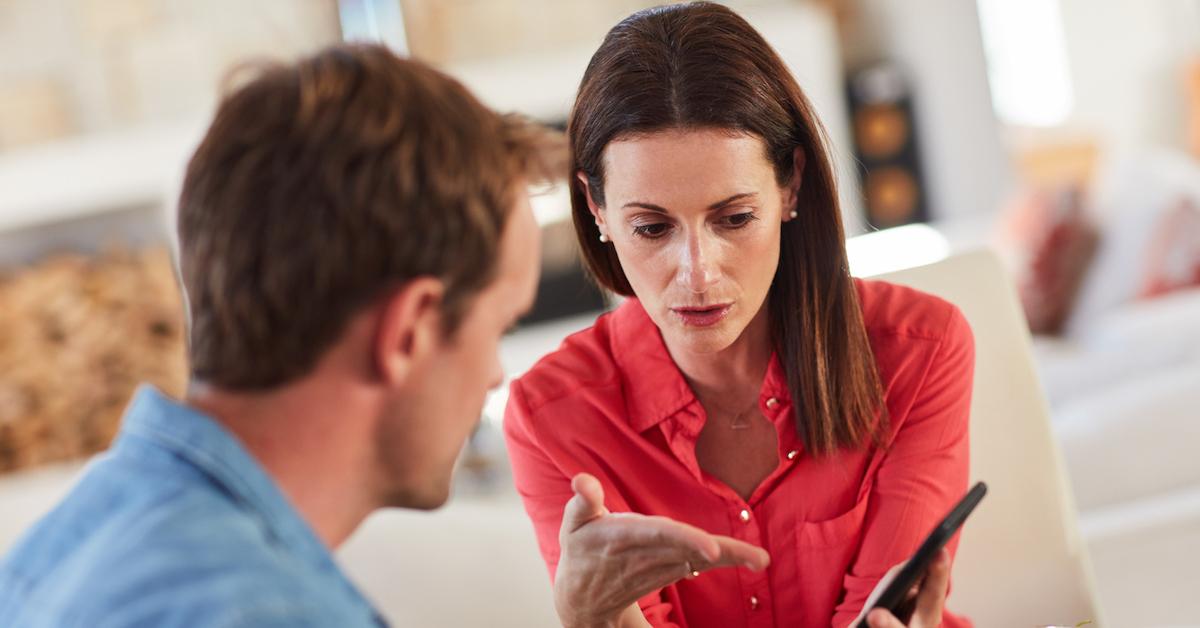 He explained that he had moved on — "that why I felt ready to date you." But the new girlfriend countered with, "if thats true, you should have no problem deleting the post." But, understandably, OP doesn't want to delete the post. "She was still my wife, she died tragically, she deserves to be remembered for more than just being a wife, she was great person — and a nurse, too."
Article continues below advertisement
When "Leather" asked what he should say to his girlfriend, reddit came through with the real talk he needed. "Bye," was the top-rated suggestion of what to say. They also included a long list of the reasons this poor dude is most definitely not the jerk in this situation.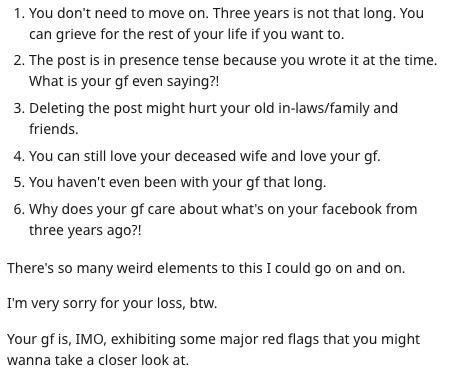 Article continues below advertisement
This commenter is spot on. Not only is three years not a long time when it comes to processing grief, but they rightly point out that deleting the post could hurt other loved ones affected by his wife's passing. Plus, considering how new his relationship is, the new girlfriend is really overstepping and exhibiting a very troubling red flag by wanting to dictate the contents of posts he made to social media years before they even met.
Others pointed out that red flags like this don't just go away — they often get bigger and more glaring. "You may like it, but she's controlling you and eventually you probably won't love it," writes another user. "You loved and probably still do love a woman who died. Every woman you deal with for the rest of your life will have to deal with that to some degree. This woman isn't dealing with it well. At. All."
Article continues below advertisement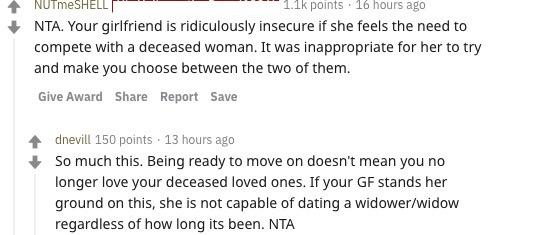 "Don't delete the post; delete your gf's number instead," advises another person in the thread. Instead, OP was encouraged to look for someone who not only accepts his love for his late wife but encourages him to talk about her and keep her memory alive.
"Do better for yourself and your wife's memory," says one person, referring to his current relationship with some tough love. "How would she feel to know the first relationship you had after her untimely death was with someone who wouldn't allow you to cherish the memory of her, and you weren't sure if you'd be the a-hole for removing that post?"
Here's hoping this widower took all this advice to heart.