A Deep-Dive to Find out How Triscuits Got Their Name Turns up Surprising Results
Comedy writer Sage Boggs decided to learn how Triscuits, everyone's favorite cough-inducing cracker, got their name, and it was way more complicated than you'd think.
Sage Boggs is a comedy writer and cracker detective who recently wrote a viral thread about his journey to discover the origin of the Triscuit name. The journey takes more turns than you could ever imagine a story about a cracker to take, and it doesn't get boring for one solitary second.
Article continues below advertisement
Tracing the origin of the name of the world's driest cracker seems like something a person locked in quarantine would take on, but Sage tells us this journey actually started several years ago. Buckle up, because the Triscuit Train is leaving the station, and you better be on it.
Now, I happen to like Triscuits, especially now that they have those thin triangle ones and all those different flavors. But if you've ever accidentally inhaled while taking a bite of a Triscuit, you know that they are potentially the most hazardous cracker in the world.
That didn't stop Sage from trying to learn everything he could about them, though.
Article continues below advertisement
It would make sense that "tri" stands for three, but three what? Those triangle Triscuits are a relatively new development in the Triscuit oeuvre. For the vast majority of Triscuits' existence, they've been square. That's means four corners, for the geometry nerds out there.
Since no amount of googling seemed to be able to produce a solid answer, Sage writes that they went "straight to the source." They emailed the official Triscuit email account. Here's the answer they got:
Article continues below advertisement
Wait, what? So the only thing that they could definitely tell them is that "tri" does not mean three, at least not when it comes to Triscuits. But there's a whole lot of mystery shrouded in this email, and Sage was quick to point that out.
Article continues below advertisement
Sage wrote, "'No business records survived?' What the HELL happened at the Triscuit factory? Did the building explode? Did someone run out of the doors and yell, 'It doesn't mean THREE!' right before perishing in a giant blaze?"
It is a real mystery. "No business records survived" is an extremely ominous way to word that email. It implies a tragic Triscuit disaster.
It seemed like Sage had hit a dead end. There were no answers about the origin of the Triscuit name. Not even the company itself could tell him where the name came from. But he wasn't about to give up. He continued to conduct his own research.
Article continues below advertisement
In the early days of Triscuits, which have apparently been around for over 100 years, they bragged about the crackers being "baked by electricity." I guess everything else in 1903 was cooked on a gas fire or a grill or just a straight-up fire.
According to this add, Triscuits were "the only product on the market" baked with this process in 1903. That's a big deal!
And that's when it all clicked for Sage. He'd figured it out. The Triscuit people were so proud that their cracker was "baked by electricity." Triscuit is the Electricity Biscuit. Shorten that, and what do you have?
Article continues below advertisement
Boom. Triscuit is short for Electricity Biscuit. If we didn't have the highly skilled detective work of Sage Boggs, we might never have known the real story. The origin of the Triscuit name would probably still be a mystery. And yes, it's for real. Triscuit itself confirmed.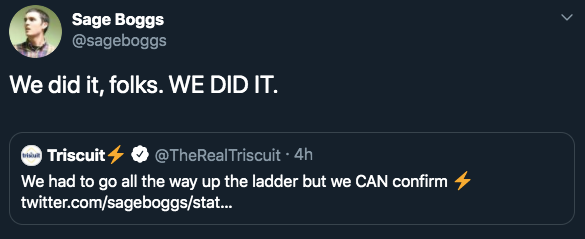 I am so curious as to what the Triscuit ladder looks like and who sits at the top of it. But that's a mystery for another day. Today, let's all be thankful that a curious comedy writer had enough time on his hands to explore the origin of the Triscuit name.
We owe this lovely, fascinating distraction to Sage. And we are so grateful for it.